In the vibrant BTSE ecosystem, the action never halts. Activities are consistently taking place, and rewards await claiming daily. This constant flurry of action embodies an essential aspect of the BTSE user experience from the get-go.
Today marks a momentous occasion as we unveil a significant enhancement to our platform that transforms how our users complete tasks and earn rewards. Introducing the BTSE Rewards Hub.
What Is the BTSE Rewards Hub
The BTSE Rewards Hub is engineered to refine the user journey, eliminating the obstacles encountered in our prior task-reward process.
The spectrum of rewards includes but is not limited to token airdrops, trial funds vouchers, and BTSE Cash (rebates on trading fees). Learn more about the reward types here.
Features of the BTSE Rewards Hub
Single Interface for Task and Reward Management
Our task and reward cards offer streamlined access to an array of opportunities on our platform. Every task and reward comes with a comprehensive guide outlining general rules, specific terms, and conditions. We've designed these tools to provide users with complete transparency into their participation, potential rewards, and claim processes.
Simplified Reward and Task Tracking
With an integrated dashboard, the BTSE Rewards Hub simplifies the process of tracking tasks and rewards.
Stay abreast of the newest offers and activities via our dynamic dashboard. Use the 'All Tasks' tab to keep tabs on your ongoing and past tasks. This way, you'll never lose sight of a reward or engagement opportunity within our ecosystem.
Accessing the BTSE Rewards Hub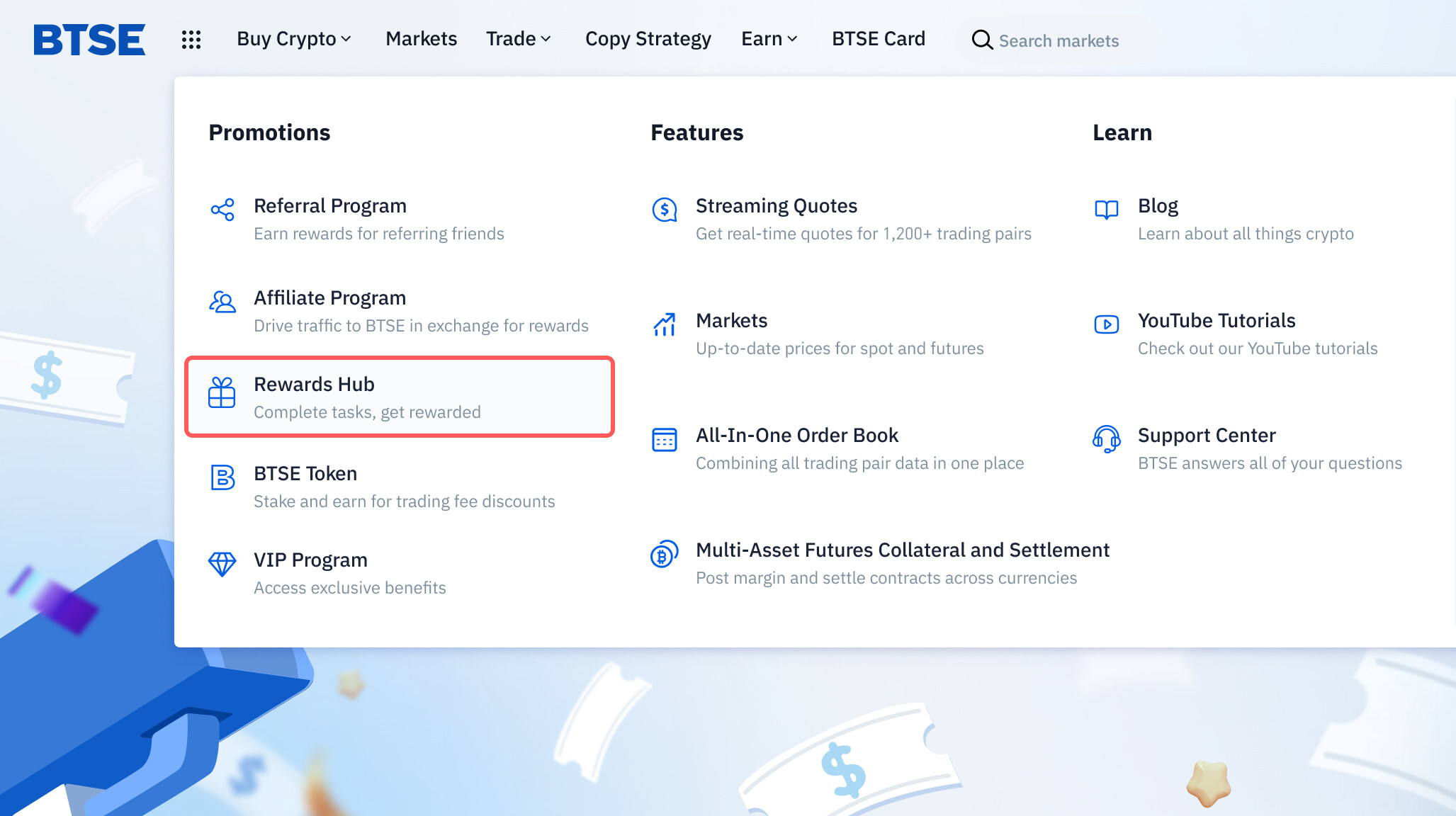 To access the Hub, simply select [Rewards Hub] from the drop-down menu as illustrated above.
What Kind of Tasks Await in BTSE Rewards Hub?
From day one as a BTSE user, every milestone — whether it's completing the verification process, making your very first deposit, or executing your first trade — is marked with intriguing tasks and accompanying rewards.
While the Rewards Hub aims to ease new users into our platform, its purpose extends beyond that. We seek to celebrate and reward those who engage with our products, trade with us, and participate in our promotions.
The Future of BTSE Rewards Hub
To kick off this launch, we've designed a series of welcome tasks with impressive rewards of up to 1,250 BTSE Cash for users who signed up after July 5, 2023. Don't hesitate to give them a try! Note: The event concluded on August 10, 2023. Thanks to all who participated! Stay tuned for future updates.
Looking ahead, the Rewards Hub will evolve into an expansive platform, offering users a plethora of opportunities to earn rewards while keeping them connected to the pulsating world of Web3. Stay on the lookout!
---
Our aim is to create a platform that offers users the most enjoyable trading experience. If you have any feedback, please reach out to us at feedback@btse.com or on Twitter @BTSE_Official.
Note: BTSE Blog contents are intended solely to provide varying insights and perspectives. Unless otherwise noted, they do not represent the views of BTSE and should in no way be treated as investment advice. Markets are volatile, and trading brings rewards and risks. Trade with caution.