At BTSE, we're always striving to improve our platform and provide the best experience for our users. That's why we're thrilled to announce our latest enhancement – a built-in QR code scanner that makes logging into your BTSE account easier than ever before!
We understand the importance of both security and ease of use for our valued users. With this new feature, you can now enjoy hassle-free logins by simply scanning a QR code using the BTSE app on your device. No more typing in passwords or remembering complex login details. Just a quick scan and you're in!
Here's how it works:
1. Open the BTSE app on your mobile device: Make sure you're logged in to your BTSE account on the app. If you haven't already, download the app from Google Play Store or Apple App Store.
2. Visit the BTSE website: Navigate to the login page on the BTSE website where you will find a unique QR code.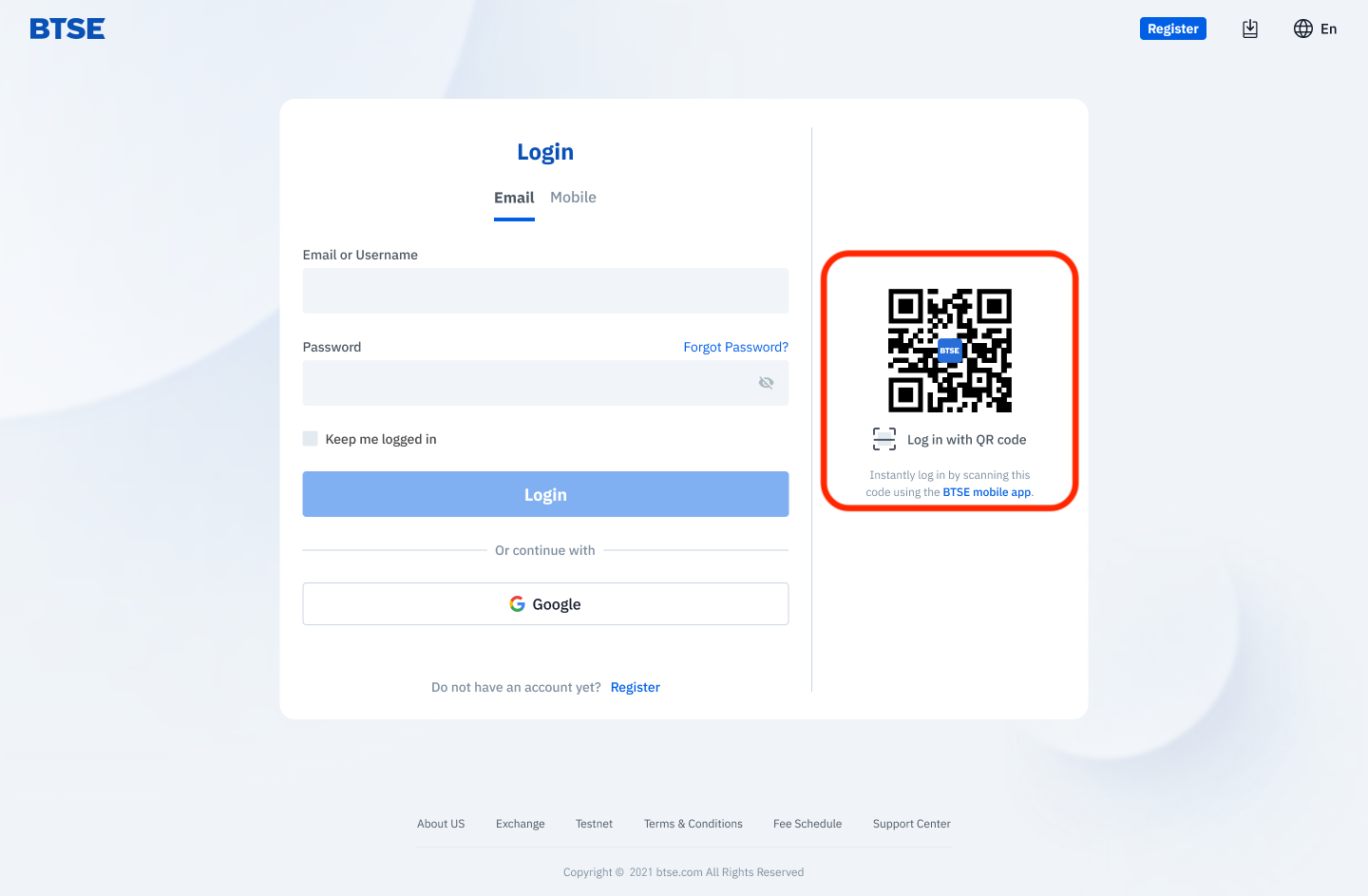 3. Scan the QR code with the BTSE app: In the app, go to the QR code scanner feature on the top right corner of the screen and point your mobile device's camera at the QR code on the website's login page.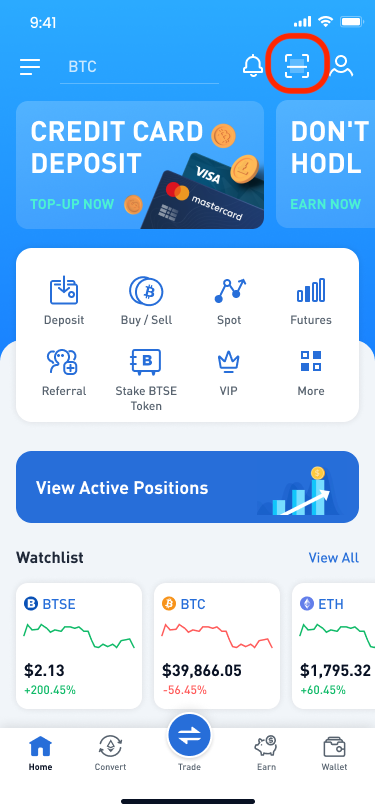 4. Once the QR code is scanned, you'll be logged in to your BTSE account on the website automatically. No need to enter your username, password, or 2FA codes.
Why is this feature useful?
Enhanced security: With the QR code login feature, your login information remains secure, as you don't need to enter your credentials manually, minimizing the risk of phishing attacks or keyloggers.
Time-saving: Logging in to your BTSE account on our website becomes a breeze, as you no longer have to go through the entire login process, including entering 2FA codes.
Convenience: You can now log in to your BTSE account on multiple devices or browsers easily without memorizing or entering your login details each time.
A Word from the Team
We hope this new feature brings you a more enjoyable and secure experience on BTSE. We're committed to providing our users with the best possible trading experience, and we'll continue to listen to your feedback and innovate to remain your favorite crypto exchange. As always, if you have any questions, concerns, or feedback, feel free to reach out to our support team at support@btse.com. Happy trading!
Try Our New QR Code Login Feature to Win a Prize Pool of $500 BTSE Tokens!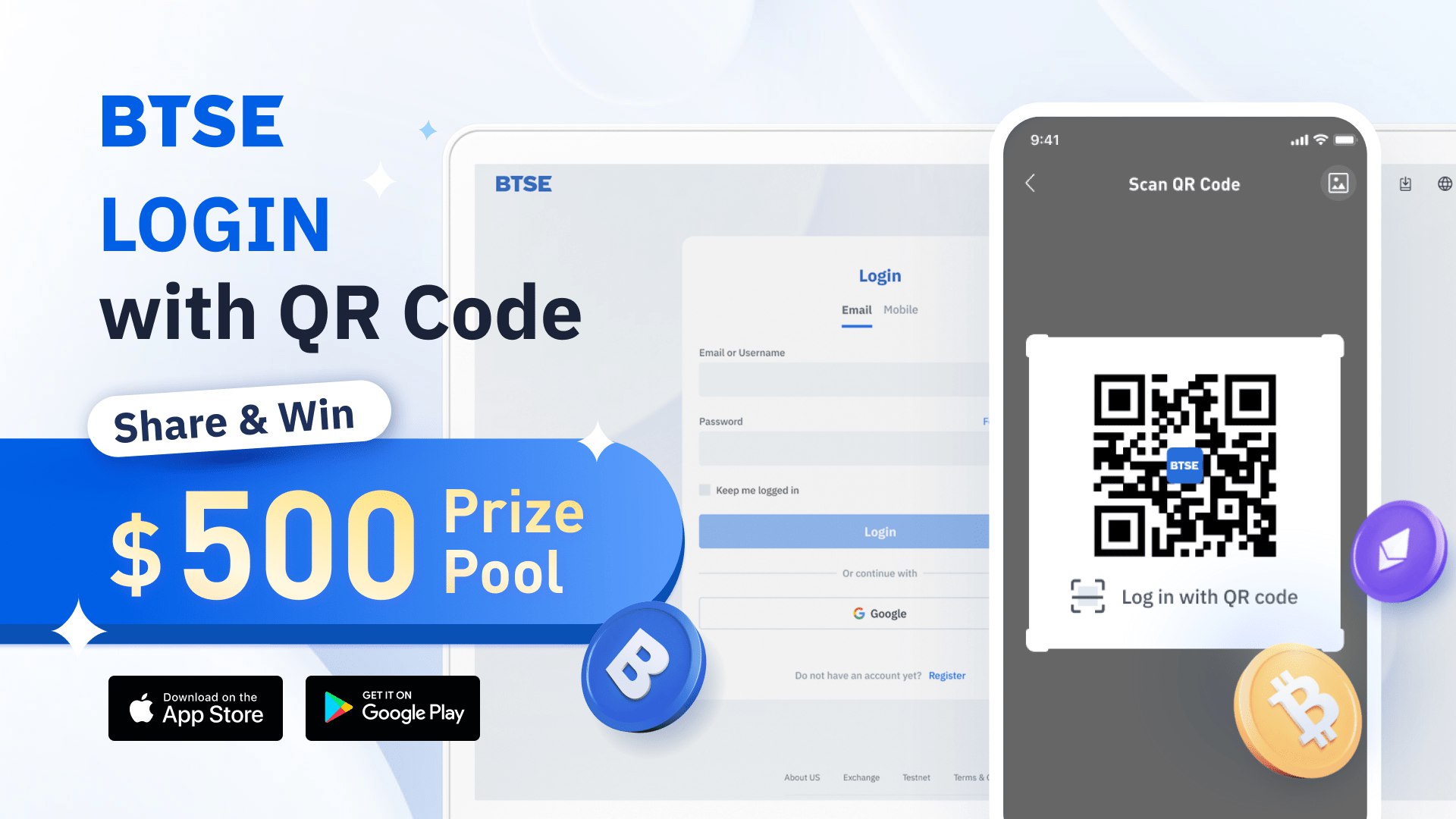 Get a chance to win a share of $500 worth of BTSE tokens by simply trying out our new QR code login feature during the campaign period! Winners will be selected at random from all eligible participants.
Campaign Period:
April 11, 2023, 9:00 AM (UTC) – April 26, 2023, 9:00 AM (UTC)
Eligibility:
1. Participants must have registered for the event through our Gleam event link to be considered eligible.
2. Participants must have logged in at least once using the QR code during the campaign period.
Terms and Conditions:
1. All rewards will be credited to the winners' accounts within 30 business days after April 26, 2023, 10:00 AM (UTC).
2. Multiple registrations of BTSE accounts are strictly prohibited. Users who violate this rule will be disqualified from this event.
3. BTSE reserves the right of final interpretation for all aspects of this event, and the right to disqualify any participant if, at BTSE's sole discretion, it reasonably believes that the participant has attempted to undermine the event's legitimate operations by cheating, deception, or other fraudulent behavior, or annoys, abuses, threatens or harasses other participants or BTSE's event administrators.
4. BTSE reserves the right to amend the Terms and Conditions of this event without prior notice.
---
Our aim is to create a platform that offers users the most enjoyable trading experience. If you have any feedback, please reach out to us at feedback@btse.com or on Twitter @BTSE_Official.
Note: BTSE Blog contents are intended solely to provide varying insights and perspectives. Unless otherwise noted, they do not represent the views of BTSE and should in no way be treated as investment advice. Markets are volatile, and trading brings rewards and risks. Trade with caution.