Welcome to the latest edition of our newsletter, where we cover the highlights of the past week in the rapidly evolving world of blockchain and decentralized technologies.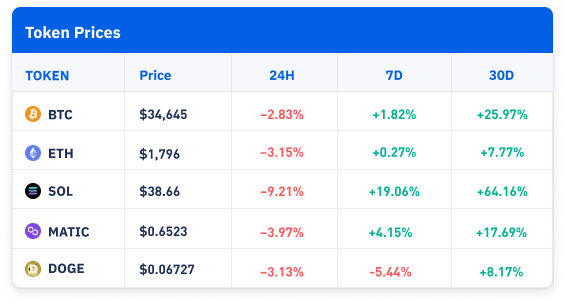 (as of 9:30 AM Singapore Time, November 3, 2023)
The week's winner was undoubtedly SOL, which rose over the past seven days to hit a 14-month high, going above US$46. The token gained 50% in October and added US$6 billion in market cap for the month, outperforming other top cryptocurrencies. Notably, at the end of October, SOL was up 250% year-to-date. The last time for SOL to be on such a bullish tear was 2021, when it reached its all-time high at US$260 in November that year.
Since its climb to US$46, SOL's price has retreated back to US$38.66 by time of writing, approximately 9.21% below its position 24 hours earlier. Despite this, Solana still remains well above its 20-day average of US$29.18.
Overall, there have been positive strides in the crypto space. Inflows for crypto products spiked, with US$326 million heading into digital asset investment products in late October, the highest figure since July 2022. In that amount, 90% went into bitcoin products. 
ProShares Bitcoin Strategy ETF (BITO) traded US$1.7 billion last week, the second highest since its debut week. Meanwhile, Grayscale Bitcoin Trust (GBTC) did US$800 million in volume. These instruments are less desirable than a spot ETF, so it's clear that there is still a massive appetite for crypto exposure in traditional finance.
For more insights about market movements, be sure to check out the routine updates on BTSE's blog.
Web3 News
Stories You May Have Missed
---
Our aim is to create a platform that offers users the most enjoyable trading experience. If you have any feedback, please reach out to us at feedback@btse.com or on X @BTSE_Official.
Note: BTSE Blog contents are intended solely to provide varying insights and perspectives. Unless otherwise noted, they do not represent the views of BTSE and should in no way be treated as investment advice. Markets are volatile, and trading brings rewards and risks. Trade with caution.