Welcome to the latest edition of our newsletter, where we cover the highlights of the past week in the rapidly evolving world of blockchain and decentralized technologies.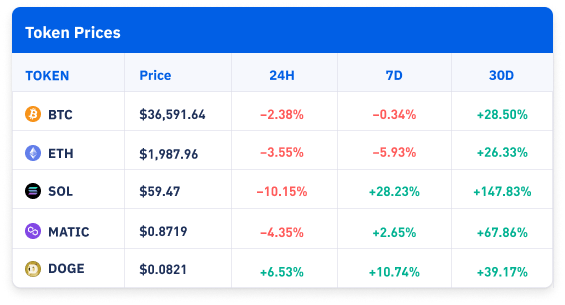 (as of 10:30 AM Singapore Time, November 17, 2023)
Solana was again the highlight this week. Its network activity overtook that of Ethereum mainnet last weekend, with 356,300 unique users. That was a major leap from the 208,000 active addresses on Solana just days prior. That could be the beginning of Solana's recovery after a fast drop in the fallout from the devastation of FTX's collapse, when the value of SOL dropped by more than 96%.
The value of SOL has gained 28.23% over the past 7 days, and 147.83% over the past 30 days. Its comeback — if this is indeed a return to strength — could herald rapid growth in the Solana ecosystem. Already, long crypto watchers and investors are speculating about the airdrops that projects built on Solana will offer, and the buildout that will take place.
Aside from the optimism about Solana's future, inflows into exchange-traded products (ETPs) have already gone above US$1 billion for the year — most of which took place over the past seven weeks. This includes US$293 million worth of inflows from just last week. In particular, bitcoin ETPs formed 19.5% of total BTC trading volume on major exchanges, suggesting investors see much more room for the value of BTC to rise.
Meanwhile, millions of dollars worth of SOL was moved from wallets associated with FTX. In all, the assets that were transferred to Binance and trading firm Wintermute include 250,000 SOL (valued at US$13.5 million during the transfer at the beginning of the week) and US$4 million in USDT stablecoins. The FTX estate may be preparing for a sale, but it's also possible that some or all of the SOL tokens were meant to be staked, which was the choice by the debtor group in October.
For more insights about market movements, be sure to check out the routine updates on BTSE's blog.
Web3 News
Stories You May Have Missed
---
Our aim is to create a platform that offers users the most enjoyable trading experience. If you have any feedback, please reach out to us at feedback@btse.com or on X @BTSE_Official.
Note: BTSE Blog contents are intended solely to provide varying insights and perspectives. Unless otherwise noted, they do not represent the views of BTSE and should in no way be treated as investment advice. Markets are volatile, and trading brings rewards and risks. Trade with caution.