Welcome to the latest edition of our Market Roundup, where we cover the highlights of the past week in the rapidly evolving world of blockchain and decentralized technologies.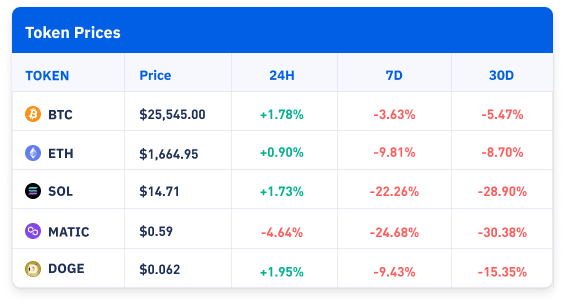 (as of 1:30 AM UTC, June 16, 2023)
One agency's actions is sending ripples across the crypto space. It's the U.S. Securities and Exchange Commission (SEC).
The Commission filed lawsuits against Coinbase and Binance, alleging that a bouquet of cryptocurrencies are unregistered securities, including Cardano (ADA), Polygon (MATIC), and Solana (SOL). Subsequently, the commission-free stock trading and investing app Robinhood announced that it will no longer support trading for ADA, MATIC, and SOL starting from June 27, 2023. Robinhood cited the regulatory uncertainty surrounding these assets as the reason for delisting them. Users have until the deadline to withdraw or sell these assets, after which they will be swapped at market prices, with the proceeds going to the users. The move reduces Robinhood's crypto offerings from 18 to 15 tokens.
Similarly, trading platform eToro has announced that it will delist four crypto assets, namely MATIC, Decentraland (MANA), Dash (DASH), and Algorand (ALGO), for its US customers. The decision comes as a conclusion of eToro's review framework, which evaluates crypto assets in light of regulatory changes. Like Robinhood, the move is attributed to recent developments, including legal action taken by the SEC against Coinbase and Binance.
Even though the SEC has taken an aggressive stance against the crypto sector, other jurisdictions around the world are adopting sober attitudes while evaluating ways to regulate cryptocurrency trading and ownership. Check out our recent blog about the friendliest locations for on-chain finance to find out more about how the application and usage of digital assets are evolving around the world.
Web3 News
Stories You Might Have Missed
---
Our aim is to create a platform that offers users the most enjoyable trading experience. If you have any feedback, please reach out to us at feedback@btse.com or on Twitter @BTSE_Official.
Note: BTSE Blog contents are intended solely to provide varying insights and perspectives. Unless otherwise noted, they do not represent the views of BTSE and should in no way be treated as investment advice. Markets are volatile, and trading brings rewards and risks. Trade with caution.