Welcome to the latest edition of our Market Roundup, where we cover the highlights of the past week in the rapidly evolving world of blockchain and decentralized technologies.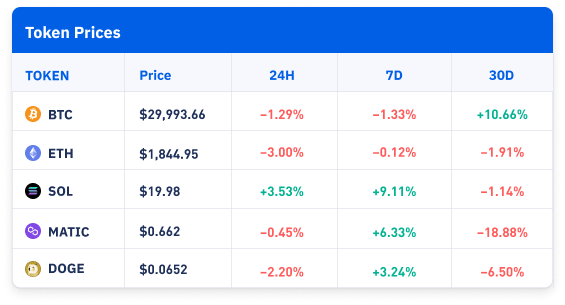 (as of 1:30 AM UTC, July 7, 2023)
Crypto trading volumes rose in June for the first time in three months, according to data solutions and market insights provider CCData. This was likely due to a positive outlook brought on by high-profile financial institutions filing for spot Bitcoin exchange-traded funds (ETFs) with the United States Securities and Exchange Commission (SEC) last month.
There are other bullish signals, including a 25% increase in bitcoin open interest since BlackRock filed its bitcoin ETF application, the highest point since March 2022, less than two months before the Terra ecosystem's crash weighed down the broader crypto market. For two weeks starting around June 19, US$3 billion was poured into the futures market, taking its value to US$14.4 billion, according to crypto derivatives data analysis platform CoinGlass.
Even though the SEC has yet to approve a spot bitcoin ETF, investors hold expectations that the commission will eventually give the green light to some applicants, given intense institutional interest. When viewed along with the upcoming bitcoin halving in April 2024, some traders hold the view that the value of BTC will generally move up.
Meanwhile, the US Federal Reserve said it intends to resume interest rate hikes after a pause in June. If that happens, then this may be one factor that weighs down crypto prices. 
For more insights about market movements, be sure to check out the routine updates on BTSE Blog.
Web3 News
Stories You Might Have Missed
---
Our aim is to create a platform that offers users the most enjoyable trading experience. If you have any feedback, please reach out to us at feedback@btse.com or on Twitter @BTSE_Official.
Note: BTSE Blog contents are intended solely to provide varying insights and perspectives. Unless otherwise noted, they do not represent the views of BTSE and should in no way be treated as investment advice. Markets are volatile, and trading brings rewards and risks. Trade with caution.