The price of XRP tokens surged between Monday and Wednesday, reaching a five-month peak, in response to a US Commodity Futures Trading Commission (CFTC) filing against Binance. This development could potentially lead to XRP tokens being categorized as commodities rather than securities, with broader implications for the classification of digital assets.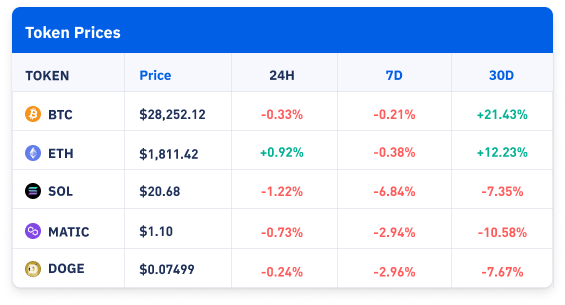 (as of 1:30 AM UTC, Mar 31, 2023)
In 2020, the SEC sued Ripple for allegedly conducting unregistered securities sales. The cryptocurrency community is growing more convinced that the legal dispute between blockchain firm Ripple and the Securities Exchange Commission (SEC) is approaching its conclusion. The case's outcome is expected to significantly influence the regulatory landscape of crypto markets, particularly concerning asset classification.
The case's recent progress has served as a positive driving force for XRP, allowing its price to outperform the broader market. On Wednesday, XRP was trading above 57 cents, with 24-hour trading volume exceeding US$4 billion.
Historically, Ripple has sought to distance itself from its connection to XRP. However, any advancements in the company's legal proceedings continue to impact the token's price.
Reports
Crypto Tech
Major Partnerships
Regulations
Web3 Gaming
Stories You Might Have Missed
---
Our aim is to create a platform that offers users the most enjoyable trading experience. If you have any feedback, please reach out to us at feedback@btse.com or on Twitter @BTSE_Official.
Note: BTSE Blog contents are intended solely to provide varying insights and perspectives. Unless otherwise noted, they do not represent the views of BTSE and should in no way be treated as investment advice. Markets are volatile, and trading brings rewards and risks. Trade with caution.