Welcome to the latest edition of our Market Roundup, where we cover the highlights of the past week in the rapidly evolving world of blockchain and decentralized technologies.
The past seven days' movement has been largely sideways, although a few of the top tokens were exceptional. SOL climbed by 9.44% as part of an altcoin resurgence, while XRP fell by 4.43% on news that the US Securities and Exchange Commission (SEC) will appeal a previous ruling that the token is not a security.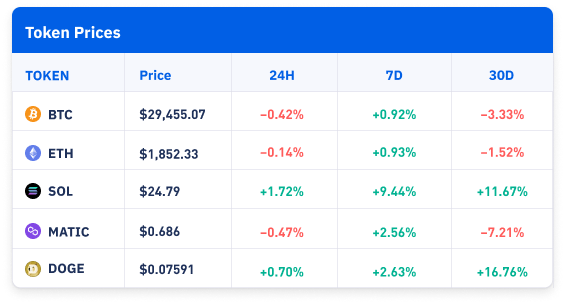 (as of 9:30 AM Singapore Time, August 11, 2023)
But the crypto space has been buzzing with chatter about a forthcoming stablecoin instead. PayPal has revealed plans to launch PayPal USD, or PYUSD, which will be pegged to the US dollar and backed by cash equivalents and short-term treasuries. The stablecoin will be issued on the Ethereum network as an ERC-20 token and is expected to integrate with PayPal's existing crypto offerings, allowing users to swap the tokens for cash or other assets on the platform. 
Paxos Trust Company, which is behind Binance's BUSD stablecoin, will issue PYUSD and publish monthly reserve reports and third-party attestations, ensuring transparency and compliance. 
PayPal's development of PYUSD is yet another signal that traditional financial services are moving into crypto. One important consideration is that it isn't meant to attract DeFi users; PYUSD is fully centralized and controlled by PayPal. The company can freeze accounts and halt transfers. 
But if the technology behind crypto can be turned into an enticing offering from a major fintech platform, then there's a good chance that mainstream users will see crypto's appeal, learn about it, and in turn invest in it.
Besides, now that PayPal has made its way into the US$125 billion stablecoin segment, it's reasonable to expect other major financial service providers to do the same. The future's looking bright indeed.
For more insights about market movements, be sure to check out the routine updates on BTSE's blog.
Web3 News
Stories You Might Have Missed
---
Our aim is to create a platform that offers users the most enjoyable trading experience. If you have any feedback, please reach out to us at feedback@btse.com or on Twitter @BTSE_Official.
Note: BTSE Blog contents are intended solely to provide varying insights and perspectives. Unless otherwise noted, they do not represent the views of BTSE and should in no way be treated as investment advice. Markets are volatile, and trading brings rewards and risks. Trade with caution.