Welcome to the latest edition of our Market Roundup, where we cover the highlights of the past week in the rapidly evolving world of blockchain and decentralized technologies.
Fees on two blockchains have reached elevated levels over the past week.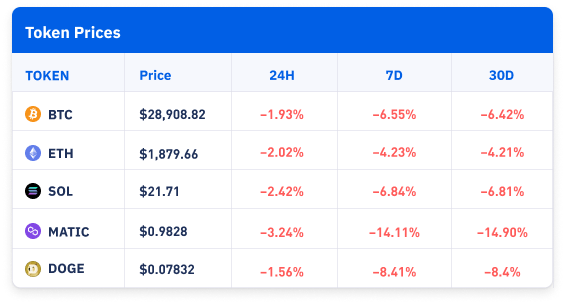 (as of 1:15 AM UTC, May 12, 2023)
Just two months after the BRC-20 protocol was created, tokens built on this standard surpassed US$1 billion market capitalization, and their rising popularity has pushed Bitcoin transaction fees to a level unseen since May 2021, when the price of BTC hit a peak of roughly US$64,000. The advent of BRC-20 tokens has sparked controversy and debate among the Bitcoin community, with some individuals initially interpreting the demand for block space as an attack on the Bitcoin network. But the adoption of BRC-20 tokens can be considered an important milestone for the Bitcoin protocol as it continues evolving and serving new purposes.
Transaction fees on Ethereum also surged, reaching a 12-month high. This was driven by a meme coin frenzy, chiefly due to swaps for PEPE. But the PEPE has lost roughly 2/3 of its value since its all-time high in the first week of May, and many traders have apparently moved on to seek profit elsewhere. Memecoin mania isn't quite over — one trader paid 64 ETH, or roughly US$118,000, in transaction fees to purchase US$155,000 worth of another meme coin, FOUR. Also, the Milady (LADYS) meme coin, which has no association with the Milady NFT collection, surged over 5,250% in 24 hours after Elon Musk tweeted about it.
One thing is certain: traders and investors are still bullish on crypto and see it as a way to generate fresh profit.
When investing in cryptocurrency or any other volatile asset, it's important to have a clear plan in terms of trading goals and the time horizon for an exit. Aside from conducting research to ensure your acquisitions fit your objectives, it's crucial to be clear-eyed about your trading strategy. Find out more by reading our blog about trading styles.
Web3 News
Several companies have recently applied for patents related to Web3 and NFTs to secure intellectual property rights and gain a competitive advantage. German candy maker Haribo filed an NFT-related trademark application, while global analytics software firm FICO patented its use of blockchain for data and model governance. Japanese electronic giant Fujitsu filed a trademark application covering various crypto-related services, and investment management firm Fidelity Investments filed trademark applications indicating plans to service customers in a virtual world powered by digital currencies. Auto racing league Formula One also filed trademarks for Web3 and NFT-related initiatives.
Disney has partnered with Cryptoys

to release Star Wars-themed NFTs. The limited-edition digital toys featuring Luke Skywalker, Princess Leia, and Darth Vader will be available for purchase for US$39.99, with transactions being facilitated through Apple Pay and Google Pay.
The

Kenyan government and Abu Dhabi-based Venom Foundation

have partnered to establish a blockchain and Web3 hub in Africa. The hub aims to drive innovation in sectors like finance, supply chain, agriculture, and cross-border trade, and foster collaboration among African tech companies and government entities. Venom will provide tools and resources for digital transformation, with blockchain solutions for supply chain management, land registry, voting systems, and asset tokenization. 
Crypto Tech
Sui, a recently launched blockchain network, has

gained popularity among game developers

due to its unique technical features and approach to on-chain assets. With over 40 games already building on Sui, its ability to process transactions in parallel, scale horizontally, and support dynamically updated NFTs make it an appealing platform for game makers. Developers appreciate Sui's game-first approach, which prioritizes gameplay and allows for the evolution of in-game asset NFTs over time, enhancing player experiences and engagement.
Dfns, a Paris-based crypto security firm, plans to

add biometric identification to its crypto wallet tools

. This will help developers create wallets that use features like Face ID, fingerprint scanners, or other biometrics for better user experience and safety. The firm has raised US$15 million in funding and uses multi-party computation (MPC) in combination with delegated signing to enhance wallet security and regulatory compliance.
Stories You Might Have Missed
Mattel has partnered with Boss Beauties

to release a line of on-chain virtual collectibles that pay homage to the 250 careers of Barbie. The collection, called "Boss Beauties x Barbie," features NFTs designed in Boss Beauties' signature style and will be sold for US$25 for a pack of four. The collectibles will live on Flow, the NFT-focused blockchain behind NBA Top Shot. The collection will also feature various rarity levels, with "Ultra Rare" NFTs unlocking a limited-edition Barbie "Career of the Year" doll and "Exclusive" NFTs granting the holder a ticket to the "World of Barbie" exhibition in Los Angeles. The collection will officially launch on May 18, 2023, at Veecon.
Blockchain provider Chiliz has announced the launch of the public mainnet of Chiliz Chain

, which aims to become the home for leading sports brands in Web3. Chiliz Chain features 11 active Proof of Stake Authority node validators and includes lower fees, shorter block time, and less energy. The ecosystem growth will be supported by Chiliz Labs and a US$50 million Jump Crypto-backed accelerator and incubator for early-stage sports-focused blockchain projects. Chiliz Chain's projects will include metaverse-based sports, football, and football manager games, rewards and engagement-driven community platforms, social gaming platforms, AI-based content platforms, 3D quality digital sports collectibles, and NFT ticketing programs.
---
Our aim is to create a platform that offers users the most enjoyable trading experience. If you have any feedback, please reach out to us at feedback@btse.com or on Twitter @BTSE_Official.
Note: BTSE Blog contents are intended solely to provide varying insights and perspectives. Unless otherwise noted, they do not represent the views of BTSE and should in no way be treated as investment advice. Markets are volatile, and trading brings rewards and risks. Trade with caution.