Welcome to the latest edition of our Market Roundup, where we cover the highlights of the past week in the rapidly evolving world of blockchain and decentralized technologies.
The past seven days were a week for meme coins. DOGE remained on an upward trend through most of the week, rising nearly 10% between April 15 and April 19. But a market-wide selloff toward the end of the week plunged the token back into the red, shaving off more than 11%.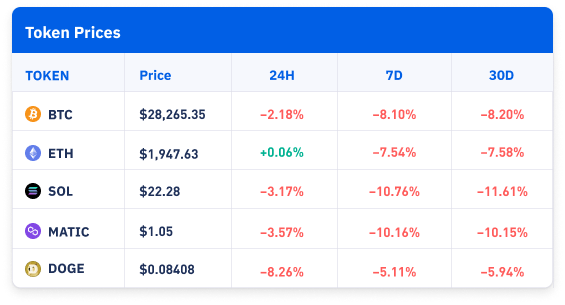 (as of 1:30 AM UTC, Apr 21, 2023)
A notable newcomer was PEPE. After the token's release on April 15, one investor swapped 0.125 ETH, or US$250 at the time, for 5.9 trillion PEPE tokens. At their peak, these tokens were worth US$1.02 million, giving the holder a handsome 4,000x return — on paper. The four-day run appeared to yield impressive results, but realizing those profits is an entirely different matter. With low demand for PEPE tokens, there wasn't sufficient liquidity to support the investor's exit (if they wanted to seek one). In fact, moving forward with a swap could have collapsed PEPE's price. 
On an entirely different note, after Etherem's Shanghai hard fork last week, more than 1 million ETH has been withdrawn. Meanwhile, 17 million ETH remains staked on the Beacon Chain. ETH's price held above the $2,000 mark until April 19, when it dived alongside most tokens.
Governments x Web3
Crypto Tech
Web3 Gaming
Stories You Might Have Missed
---
Our aim is to create a platform that offers users the most enjoyable trading experience. If you have any feedback, please reach out to us at feedback@btse.com or on Twitter @BTSE_Official.
Note: BTSE Blog contents are intended solely to provide varying insights and perspectives. Unless otherwise noted, they do not represent the views of BTSE and should in no way be treated as investment advice. Markets are volatile, and trading brings rewards and risks. Trade with caution.