Welcome to the latest edition of our Market Roundup, where we cover the highlights of the past week in the rapidly evolving world of blockchain and decentralized technologies.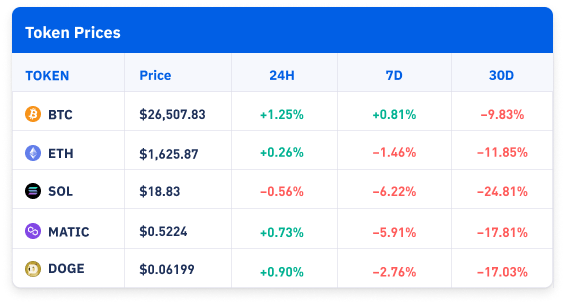 (as of 9:30 AM Singapore Time, September 15, 2023)
The FTX saga's next chapter is unfolding. This week, the failed exchange received the green light to sell off billions of dollars worth of cryptocurrency, with the proceeds earmarked to be distributed to its creditors. This token sale was proposed in August 2022, with the requirement that a financial advisor will be involved to guide each stage of the sale. 
FTX has US$3.4 billion worth of tokens that are ready to be released on the market. The tokens that are part of this stash are US$1.6 billion worth of SOL, US$560 million in BTC, US$196 million in ETH, and other coins. 
Under the proposed plan, FTX would sell US$100 million worth of cryptocurrency at a time, with the possibility of doubling the threshold amount. 
Crypto investors responded immediately, with token prices tanking on Monday. Some cryptocurrencies have since recovered, with BTC and ETH trading at roughly the same level as one week ago. But there are coins that have not pulled out of the rut yet, including SOL, which is down 6.22% week-on-week.
For now, it's back to business as usual. But do brace for possible volatility as the US$3.4 billion stash is unloaded.
For more insights about market movements, be sure to check out the routine updates on BTSE's blog.
Web3 News
Stories You Might Have Missed
---
Our aim is to create a platform that offers users the most enjoyable trading experience. If you have any feedback, please reach out to us at feedback@btse.com or on X @BTSE_Official.
Note: BTSE Blog contents are intended solely to provide varying insights and perspectives. Unless otherwise noted, they do not represent the views of BTSE and should in no way be treated as investment advice. Markets are volatile, and trading brings rewards and risks. Trade with caution.