Welcome to the latest edition of our Market Roundup, where we cover the highlights of the past week in the rapidly evolving world of blockchain and decentralized technologies.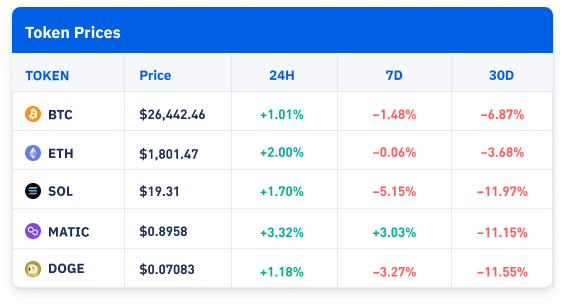 (as of 1:30 AM UTC, May 26, 2023)
Price movements for major tokens mostly trended downward in the past week, with many touching their monthly lows before rallying toward the end of the week. Crypto's total market capitalization has been trending downward since mid-April. Some traders see this as a bullish pattern as the current movement signals a possible breakout.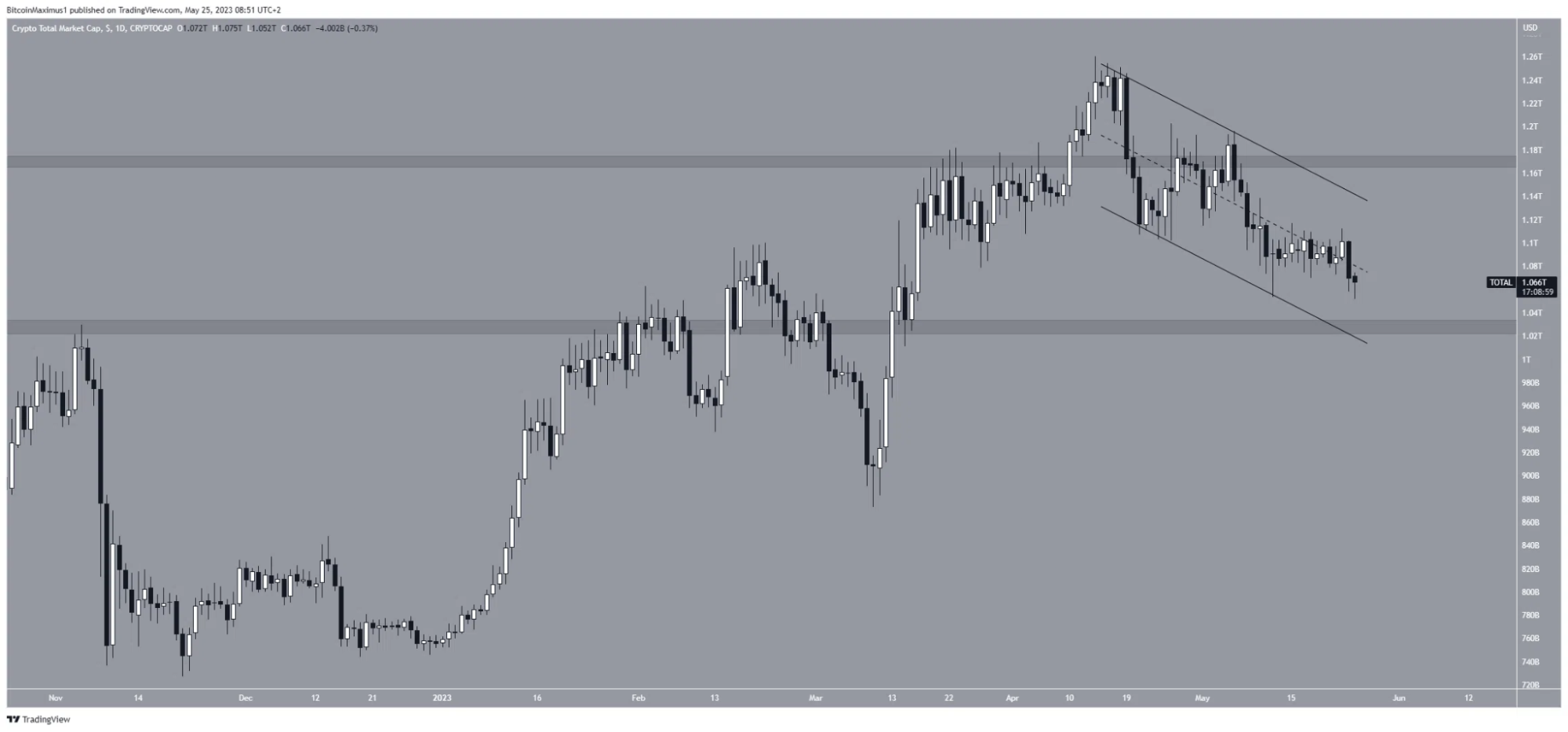 Controversy is still brewing around Ledger's Recover feature, which the company designed to allow anyone to retrieve their wallet's seed phrase. Recover is meant to be an opt-in subscription service, and the company's CTO, Charles Guillemet, said Recover has "no backdoor for anyone." To appease critics, Ledger is delaying Recover's release until its code is open-sourced so that it can be audited by any third party. 
Meanwhile, cybersecurity firm Unciphered claimed that it has hacked into the Trezor T hardware wallet made by Satoshi Labs. The company said it managed to exploit a hardware vulnerability, and the hack is possible only with physical possession of a device.
Hardware wallets were once seen as the gold standard for safeguarding one's digital assets against hackers. That narrative is now being challenged. BTSE continually improves its security measures to ensure all user accounts and funds are kept in safe custody, so users can trade and invest using BTSE with peace of mind.
Web3 News
This week, the market cap of Tether (

USDT

)

neared its all-time high

, US$83.2 billion, achieved in May 2022. The stablecoin's supply shot up because users minted the token on Tron in large volumes, although there wasn't a corresponding increase in trading volume. The surge in USDT's market cap is happening while USDC trading volume is dropping, dragging down the latter's market capitalization.
Meme coin mania continues

, with Samoyedcoin (SAMO), a dog-themed token built on Solana, surging more than 500% after it appeared on China's CCTV in a news segment discussing license applications for crypto exchanges in Hong Kong, with a QR code that leads to its website. While some meme coins have brought paper profits to many traders, investing in them remains a risky proposition, as most have no intrinsic value or utility.
Blockchain security firm PeckShield has detected a surge in the number of scam meme tokens within the cryptocurrency industry. Over the past 10 days,

PeckShield has identified approximately 24 scam meme tokens

, including SHITMEME, BENS, WorldCoin, MONKEYS, ERDR, Magneto, and more. One of the tokens, SEI, had its liquidity removed just three hours after its creation, leaving investors stranded. Rug pulls, where project developers deceive investors and disappear with their funds, are a dark side of the decentralized nature of the cryptocurrency industry. PeckShield warns users to be cautious and avoid falling victim to these scam meme coins.
Japan is positioning itself as a global leader in the Web3 industry

by embracing cryptocurrency and creating a friendly regulatory environment. Recognizing the transformative potential of blockchain technology and the decentralized internet, the Japanese government has outlined a national strategy to foster crypto adoption and promote innovation. Japan is actively creating a supportive environment for Web3 companies and attracting foreign investments. Major corporations, including Sony and Toyota, are embracing Web3 technologies and exploring blockchain use cases.
A cross-party group of politicians in the UK has called for

cryptocurrency to be treated as gambling rather than being regulated

, claiming that crypto assets have "no intrinsic value" and "no discernible social good." The report from the Treasury select committee has been met with strong opposition from the digital assets industry, which argues that crypto brings numerous benefits across financial markets. If crypto were treated as gambling, it would fall under the purview of the UK's Gambling Commission instead of the Financial Conduct Authority. The industry is concerned that such a move would hinder the UK's ambition to become a crypto innovation hub.
Crypto Tech
Manta Network, a Polkadot-based layer-1 blockchain, has partnered with Linea to introduce

zero-knowledge soulbound tokens (zkSBTs)

, aiming to address privacy concerns in cryptocurrency projects. By utilizing zkSBTs, users can verify their identities without sharing personal details or undergoing know-your-customer screenings. The tokens, which cannot be traded and are linked to individuals or entities, offer a decentralized and private method for verifying real identities without compromising data confidentiality. Manta Network's NFT Private Offerings platform allows users to mint zkSBTs after completing specific Linea NFT campaigns. The collaboration aims to enhance the user experience for SocialFi and GameFi applications while ensuring minimal risks and safeguarding assets on EVM addresses.
Brave, the privacy-first browser, has introduced a

token-gating feature to its Web3 calling service

, Brave Talk. Users with premium subscriptions can now token-gate access to calls using non-fungible tokens (NFTs) and POAPs (Proof of Attendance Protocol). This feature mimics real-life events where attendees must present a ticket for entry. It allows hosts to configure avatars, assign moderator permissions, and create members-only events accessible exclusively to token holders. Brave aims to create the first fully integrated Web3 live event platform. The company plans to expand support for non-Ethereum NFTs and introduce token-gating based on specific token ownership and past ownership.
Stories You Might Have Missed
Bhutan, the Himalayan kingdom known for its focus on gross national happiness, is turning to

cryptocurrency in search of fast growth and returns

. Druk Holding & Investments (DHI), the state-owned commercial holding company, has partnered with Singapore-based Bitdeer to raise up to US$500 million for a crypto mining business. Bhutan's abundant hydropower resources provide a renewable electricity source for Bitcoin mining. Despite the volatility in the crypto sector, Bhutan sees these ventures as opportunities to speed up innovation and diversify its economy.
Rules for crypto-focused companies

are taking shape in Hong Kong, as the city seeks to draw upon its legacy as a financial city and reinvent itself as a crypto hub. New regulations state the token listing criteria for digital asset exchanges, as well as other requirements such as implementing "suitable" onboarding processes. The rules will come into effect on June 1, 2023.
The Hong Kong Monetary Authority (HKMA) has announced the launch of its

e-HKD Pilot Program

, involving 16 selected firms from the financial, payment, and technology sectors. The program aims to explore potential use cases for a retail central bank digital currency (CBDC) in Hong Kong. The pilots will delve into six categories, including various payment methods and the settlement of digital assets. The HKMA plans to share key learnings with the public at Hong Kong FinTech Week 2023 and expects to conduct further rounds of pilots in the future.
U.S. President Joe Biden has

expressed opposition to a proposal

that could result in low taxes for crypto investors, stating that he will not agree to a deal that protects "tax cheats and crypto traders" while risking food assistance for nearly 1 million Americans. The comments came in response to competing government spending cut proposals, with the Biden administration aiming to eliminate cryptocurrency tax loopholes to save US$18 billion, while Republicans prefer cuts to food safety inspections to save US$15 billion.
---
Our aim is to create a platform that offers users the most enjoyable trading experience. If you have any feedback, please reach out to us at feedback@btse.com or on Twitter @BTSE_Official.
Note: BTSE Blog contents are intended solely to provide varying insights and perspectives. Unless otherwise noted, they do not represent the views of BTSE and should in no way be treated as investment advice. Markets are volatile, and trading brings rewards and risks. Trade with caution.