Welcome to the latest edition of our Market Roundup, where we cover the highlights of the past week in the rapidly evolving world of blockchain and decentralized technologies.
The number of daily traders on Ethereum's decentralized exchanges reached a high not seen since the end of 2021, with over 72,000 unique traders on April 19. This surge is attributed to the recent popularity of memecoins, which have attracted the interest of traders in the past two weeks. However, NFT traders on Ethereum have declined to their lowest point since July 2021, with floor prices dropping and the hype around certain collections dying down. The increased DEX trading activity has also led to a surge in Ethereum gas fees.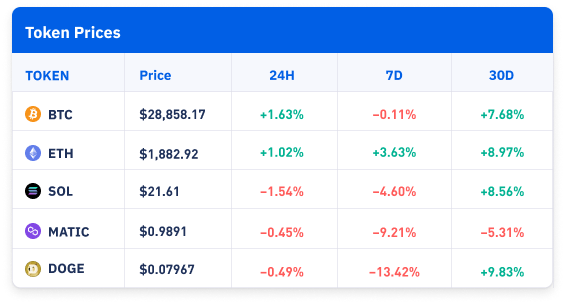 (as of 8:15 AM UTC, Apr 27, 2023)
It's been a largely red week, with most major tokens trending down over the past seven days. Most major tokens saw spikes in their value on Wednesday, April 26, although their prices retreated by the next day. In particular, BTC hit highs above US$29,000 as the share price of First Republic Bank dived by more than 40% on news that it was having trouble locating buyers for its assets. This was another case after the March run on Silicon Valley Bank that strengthened some investors' belief that large-cap cryptocurrencies can serve as safe havens during volatile times in traditional financial markets.
Crypto Tech
Crypto startup Dapper Labs'

NFL All Day digital collectibles fell short of revenue expectations

, prompting a months-long renegotiation with the NFL players association JV OneTeam Partners. The NFT market worsened during negotiations, and Dapper Labs failed to onboard more consumers, with the majority of NFL All Day buyers also having bought NBA Top Shot NFTs. Despite Kansas City Chiefs quarterback Patrick Mahomes promoting the collection, it failed to take off and Dapper Labs had to lay off staff.
Mastercard has launched the Artist Accelerator program

to prepare five emerging musical artists from around the world to harness Web3 technologies to reimagine their creative processes and grow their careers in the digital economy. The program includes the release of the limited Mastercard Music Pass NFT that unlocks access to exclusive content and experiences. The program will connect music fans, artists, and mentors in the digital economy, and the Mastercard Music Pass NFT is being minted on the Polygon blockchain and is free to redeem until April 2023.
Web3 News
Visa is seeking backend developers for its crypto team

who are experienced in public blockchains and stablecoins. The company is particularly interested in individuals who have worked with Github Copilot to develop and debug smart contracts and who are passionate about Web3 technologies. Preferred experience includes knowledge of testing frameworks such as Truffle, Mocha, and Hardhat, as well as writing smart contracts using Solidity. Visa has previously confirmed its commitment to expand its offerings in the crypto space, and has been testing settlement payments that use the USDC stablecoin on Ethereum.
Google Cloud has announced that it is extending its Startups Cloud Program benefits

to allow Web3 startups to apply for grants from foundation partners, including Aptos, Celo, Solana Foundation, HBAR Foundation, and NEAR. The benefits also include access to Alchemy University and credits worth US$10,000 in Alchemy, as well as access to the Polygon Ventures Ecosystem Fund, which gives access to around US$3 million in investments. There are two tiers for startups to apply through; the starting tier is optimized for pre-seed projects and startups that have been around for less than five years, while the scale tier is designed for seed to Series A startups that were founded in the last 10 years.
Crypto revenue growth is expected to more than double in both the UK and the US by 2023

. The UK is projected to increase its crypto revenue by 125% and the US is expected to have the highest crypto-driven revenue in 2023, with an expected US$17.96 billion. However, regulatory pressures in the US have many in the space questioning whether the crypto industry will continue to exist in the region. Lawmakers and federal agencies are currently split on key issues impacting the sector.
Stories You Might Have Missed
Deloitte appears to be the only one of the "Big Four" accounting firms

actively seeking crypto-related job candidates

, with 331 available roles posted on LinkedIn in the US alone. These roles include Blockchain & Digital Assets Manager, Tax Manager for Blockchain & Cryptocurrency, and Tax Manager for Blockchain & Cryptocurrency in NFTs. Deloitte has also recently worked with Circle on a proof-of-reserves audit. The company is seeking applicants who can audit blockchain and digital asset transactions, design governance models, identify new risks, and evaluate blockchain reliability.
---
Our aim is to create a platform that offers users the most enjoyable trading experience. If you have any feedback, please reach out to us at feedback@btse.com or on Twitter @BTSE_Official.
Note: BTSE Blog contents are intended solely to provide varying insights and perspectives. Unless otherwise noted, they do not represent the views of BTSE and should in no way be treated as investment advice. Markets are volatile, and trading brings rewards and risks. Trade with caution.