Welcome to the latest edition of our Market Roundup, where we cover the highlights of the past week in the rapidly-evolving world of blockchain and decentralized technologies. Despite the recent collapse of some major banking institutions, the Web3 ecosystem continues to march forward, with innovative new projects and applications emerging on a regular basis.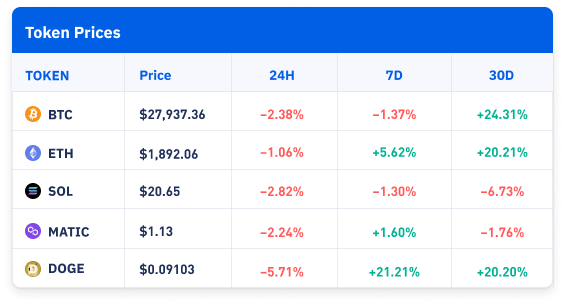 (as of 1:30 AM UTC, Apr 6, 2023)
Yet this week's big mover was DOGE, the token based on the famed meme of a Shibu Inu. DOGE has long been a favorite of Tesla Technoking and Twitter Chief Twit Elon Musk, whose tweets about the token can move its price in wild upswings. 
When Twitter's blue bird logo was replaced with the meme that spawned DOGE on twitter.com, the token was sent soaring from US$0.077 to above US$0.10 on April 3, its highest in around four months.
DOGE's movements are a reminder that crypto is still a space where fun and memes can translate into real financial value. But it's also important to keep an eye on more serious developments, like Ethereum's upcoming Shapella upgrade — which enables unstaking and the payout of staking rewards — on April 12 and how it might impact the price of ETH. 
At the same time, governments around the globe are beginning to take notice of the potential of Web3, and are ramping up their efforts to implement new rules for the space. From new partnerships and major investment announcements to regulatory updates and industry insights, we've got you covered on all the latest developments in the exciting world of Web3. So sit back, relax, and let's dive in!
Reports
Crypto Tech
Major Partnerships
Regulations
Web3 Gaming
Stories You Might Have Missed
---
Our aim is to create a platform that offers users the most enjoyable trading experience. If you have any feedback, please reach out to us at feedback@btse.com or on Twitter @BTSE_Official.
Note: BTSE Blog contents are intended solely to provide varying insights and perspectives. Unless otherwise noted, they do not represent the views of BTSE and should in no way be treated as investment advice. Markets are volatile, and trading brings rewards and risks. Trade with caution.