Welcome to the latest edition of our Market Roundup, where we cover the highlights of the past week in the rapidly evolving world of blockchain and decentralized technologies.
Most major cryptocurrencies traded flat this week, with one exception: DOGE rose throughout the week, climbing as changes at Twitter were implemented, including the replacement of its iconic blue bird logo with the letter X — reflecting the company's new branding. By Friday morning, DOGE had risen 9.31% compared to a week ago, benefitting from its association with Elon Musk. In fact, the X owner set the Dogecoin symbol, Ð, as his location shown on his profile.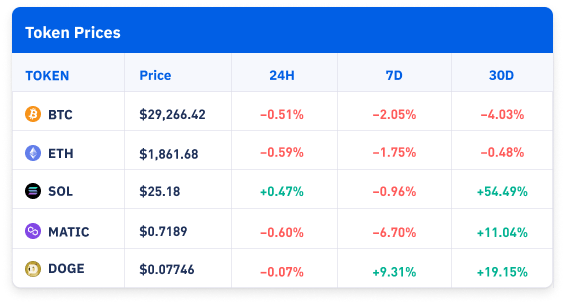 (as of 1:30 AM UTC, July 28, 2023)
Elsewhere, it was another week of institutional adoption of cryptocurrency. Italy's central bank has tapped Polygon Labs and infrastructure provider Fireblocks in a bid to assist the country's financial institutions with experimenting with decentralized finance and tokenized assets. The move is in line with the acceptance of cryptocurrency in many jurisdictions worldwide as financial firms attempt to determine how blockchain technology can be integrated into existing payment systems.
While the United States' regulators grapple with how to regulate the crypto space, the traditional financial sector has already made up its mind. JPMorgan and Citi appear committed to tokenizing assets and using blockchain technology to speed up Wall Street trading. The goal is to trim the current two-day transaction settlement period to a matter of seconds or minutes. There's plenty at stake: in June, an analyst note released by Bernstein said as much as US$5 trillion worth of assets could be tokenized on-chain over the next five years. 
With this level of institutional adoption, it's just a matter of time before the infrastructure behind cryptocurrency will become a fact of life for consumers around the world.
For more insights about market movements, be sure to check out the routine updates on BTSE's blog.
Web3 News
The job market for central bank digital currencies (CBDCs) is booming

in both the public and private sectors, with several Federal Reserve outposts actively seeking candidates for CBDC research and system improvement. A recent survey revealed that 93% of central banks are interested in exploring CBDCs, and three fully-fledged CBDCs are already in operation. While some CBDC projects have been canceled, many others are in pilot or proof of concept phases. The United States has also seen split views among lawmakers, with one representative likening CBDCs to the "financial equivalent of the Death Star" and proposing a ban, while others highlight the potential benefits, such as increased financial inclusion. The crypto job market is also hot, with various attractive opportunities available, including roles at Coinbase and venture capital giant Andreessen Horowitz.
The UK's privacy regulator, the Information Commissioner's Office (ICO), is expressing

concerns over Worldcoin

, a controversial crypto project co-founded by Sam Altman of OpenAI. Worldcoin plans to offer digital passports by scanning individuals' irises, raising fears about the collection of sensitive biometric data. The ICO requires organizations to conduct a Data Protection Impact Assessment before processing "high-risk" data like Worldcoin's operations. Despite ongoing inquiries by the ICO, Worldcoin is proceeding with its rollout in the UK, installing iris-scanning orbs in three London locations. However, GDPR, which governs data protection, no longer applies to the UK after Brexit, though it is still mostly retained in domestic laws.
USDC, the stablecoin issued by Circle and pegged to the US dollar, experienced a

significant decline in its market capitalization

, dropping from a peak of US$55 billion in July 2022 to approximately US$26.57 billion as of Friday morning, representing a nearly 50% decrease. The loss in confidence came after USDC temporarily depegged to US$0.97 in March due to the insolvency of Silicon Valley Bank, where Circle had deposited US$3.3 billion in reserves. Despite this hiccup, Circle managed redemptions smoothly, and the withdrawal pause was due to the company's ties to the traditional banking system. Additionally, USDC faces stiff competition from Tether (USDT), which has been attracting traders with its lack of custodial risk and deep liquidity. Tether's market cap was nearly US$84 billion on Friday morning, a 27% increase from July 2022. Despite the decline, USDC remains popular in the US, especially in regulated settings and tokenizing real-world assets, while USDT dominates the Asian market and is favored by crypto-native investors.
Cryptojacking attacks increased by 399% in the first half of 2023

compared to the previous year, with a staggering 332 million attacks recorded. Hackers exploit servers and devices to mine cryptocurrencies like Monero, often without the victims' knowledge. Market downturns surprisingly led to a surge in attacks, and cybercriminals are targeting schools, governments, and retail organizations. Healthcare and education sectors also experienced a significant rise in attacks. SonicWall warns that the adoption of cryptojacking by various threat actors, including nation-state-backed groups and unauthorized employees, indicates the trend will continue to grow.
Stories You Might Have Missed
Indonesia's newly operational

national cryptocurrency exchange and clearinghouse

comes as the country takes a significant step towards embracing the crypto market. In contrast to the approach taken by the US Securities and Exchange Commission (SEC), Indonesia's Commodity Futures Trading Supervisory Agency (CFTSA) has officially classified

501 cryptocurrencies as commodities

, including well-known tokens like BTC, ETH, and LTC, among others. This move paves the way for regional adoption and indicates the Indonesian government's commitment to strengthening cryptocurrency regulations. The country's regulatory stance diverges from that of the United States, as more than three dozen crypto assets have been classified as securities there. Additionally, Indonesia's support for de-dollarization efforts and non-US fiat currencies aligns with the plans of the BRICS countries. With Indonesia taking the lead in recognizing crypto assets as commodities, it is likely that other countries in the region will follow suit.
Deloitte and Chainalysis have joined forces

to enhance crypto compliance for their mutual clients, with a particular focus on US public sector customers and financial institutions. The partnership will enable clients to leverage Chainalysis' blockchain dataset, analytics software, and training program alongside Deloitte's services for managing forensic, investigative, and compliance programs. The collaboration aims to provide new, collaborative solutions that aid law enforcement efforts and support regulatory compliance, risk management, and anti-money laundering (AML) and know-your-customer (KYC) requirements. This strategic alliance signifies another step forward in the institutional adoption of cryptocurrency and blockchain technologies.
---
Our aim is to create a platform that offers users the most enjoyable trading experience. If you have any feedback, please reach out to us at feedback@btse.com or on Twitter @BTSE_Official.
Note: BTSE Blog contents are intended solely to provide varying insights and perspectives. Unless otherwise noted, they do not represent the views of BTSE and should in no way be treated as investment advice. Markets are volatile, and trading brings rewards and risks. Trade with caution.