Welcome to the latest edition of our Market Roundup, where we cover the highlights of the past week in the rapidly evolving world of blockchain and decentralized technologies.
Overall, it was a week of cryptocurrencies going into the red. The tokens with the highest market capitalization mostly dipped slightly, although a few dived, including XRP (–7.08%), DOGE (–4.71%), and SOL (–10.26%).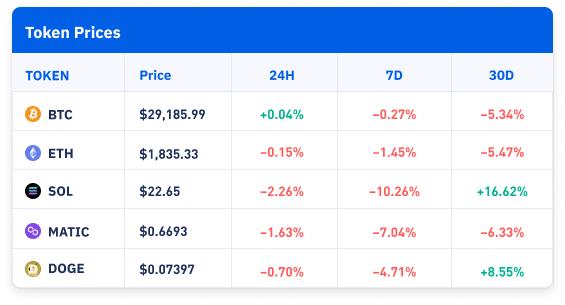 (as of 1:30 AM UTC, August 4, 2023)
The halving of Litecoin (LTC) took place on Wednesday, August 2. This shrank the rewards for mining LTC by half, taking it down to 6.25 LTC per block, meaning the rate at which new LTC tokens are minted will be slower. The objective is to also create conditions such that the value of LTC rises. But this didn't happen after the halving. In fact, the price of LTC has moved down, bucking the intended bullish action. LTC had previously climbed to US$110 in July, but has been sliding since then.
Meanwhile, BTC crept lower than US$29,000, hitting a six-week low. It see-sawed between US$28,785 and US$29,955, wrapping up the week slightly above the US$29,000 mark.
Although the crypto market slumped for the week, conventional institutions continue to demonstrate interest in this space. This time, financial service providers Direxion and ProShares filed to launch exchange-traded funds that would hold futures contracts involving BTC and ETH. 
The growing roster of crypto ETF applicants is a clear signal that mainstream investors are expressing demand for exposure to crypto assets. And when these applications begin to receive approval, a range of financial instruments involving different on-chain assets may emerge to fit investors with different objectives.
For more insights about market movements, be sure to check out the routine updates on BTSE's blog.
Web3 News
Stories You Might Have Missed
---
Our aim is to create a platform that offers users the most enjoyable trading experience. If you have any feedback, please reach out to us at feedback@btse.com or on Twitter @BTSE_Official.
Note: BTSE Blog contents are intended solely to provide varying insights and perspectives. Unless otherwise noted, they do not represent the views of BTSE and should in no way be treated as investment advice. Markets are volatile, and trading brings rewards and risks. Trade with caution.