Welcome to the latest edition of our Market Roundup, where we cover the highlights of the past week in the rapidly evolving world of blockchain and decentralized technologies.
It's been a week of green. The cryptocurrencies with the largest market caps traded upward over the past week, with SOL (+19%) and BTC (+23.43%) climbing rapidly.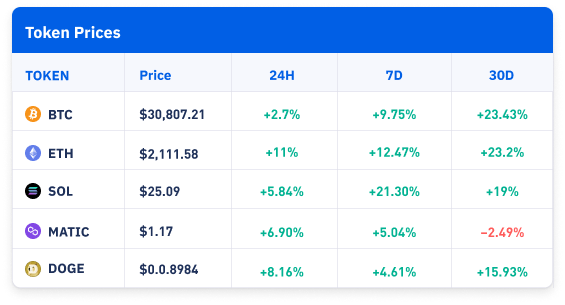 (as of 1:30 AM UTC, Apr 14, 2023)
A major catalyst behind Solana's movement was the April 13 launch of the Saga mobile phone, an Android device that is meant to allow users to easily and securely trade tokens, mint NFTs, play Web3 games, and access decentralized applications.
BTC crossed the US$30,000 mark this week, the first time since June 2022. Some observers attribute the rally to investor confidence in BTC, while others point out that it's tied to the nine interest rate hikes implemented by the United States Federal Reserve over the past year.
Meanwhile, the Ethereum network's Shapella upgrade went smoothly, unlocking 1.1 million ETH, or roughly US$2 billion, in accrued validator rewards. To distribute selling pressure and prevent the value of ETH from dipping, there are daily withdrawal limits and waiting periods for node operators who wish to claim partial or full rewards. The Shapella upgrade completes Ethereum's transition into a proof-of-stake network.
Reports
Crypto Tech
Web3 Gaming
Stories You Might Have Missed
---
Our aim is to create a platform that offers users the most enjoyable trading experience. If you have any feedback, please reach out to us at feedback@btse.com or on Twitter @BTSE_Official.
Note: BTSE Blog contents are intended solely to provide varying insights and perspectives. Unless otherwise noted, they do not represent the views of BTSE and should in no way be treated as investment advice. Markets are volatile, and trading brings rewards and risks. Trade with caution.