Welcome to the latest edition of our Market Roundup, where we cover the highlights of the past week in the rapidly evolving world of blockchain and decentralized technologies.
As the week kicked off, Bitcoin (BTC) and Ethereum (ETH) both climbed after news broke about the US government dodging a debt default, with BTC edging above US$28,000 briefly. A deal would avert devastation for not only crypto markets, but also the traditional financial sector and the broader economy.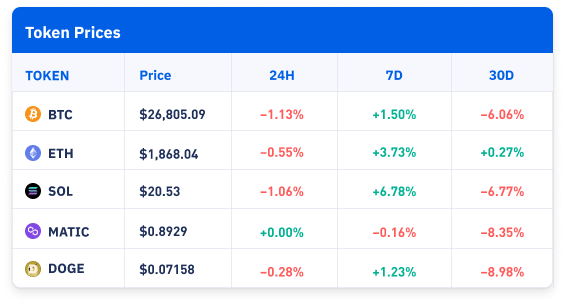 (as of 1:30 AM UTC, June 2, 2023)
Later in the week, the U.S. House of Representatives passed a bill to raise the debt ceiling, but there is still more work for lawmakers to do: the bill needs to pass the Senate and be signed by President Joe Biden before it comes into effect.
Most of the cryptocurrencies with the largest market capitalizations trended up over the week, with Ripple (XRP) and Solana (SOL) making the largest moves, up 10.56% and 6.78%, respectively. Litecoin (LTC) continues to rise as we approach its next halving on August 2, 2023, with its token price increasing by 8.24% over the past seven days.
While things look rosy at the moment, it's worth weighing what may take place in the near future. JPMorgan analysts have noted that the U.S. Treasury will issue nearly US$1.1 trillion in new T-bills soon. This could attract significant levels of liquidity that would otherwise be invested into other assets, such as crypto. 
This may mean that crypto markets will be extremely volatile soon. For a primer on how to capitalize on upcoming developments, check out BTSE's guide to crypto trading strategies.
Web3 News
Crypto Tech
Stories You Might Have Missed
---
Our aim is to create a platform that offers users the most enjoyable trading experience. If you have any feedback, please reach out to us at feedback@btse.com or on Twitter @BTSE_Official.
Note: BTSE Blog contents are intended solely to provide varying insights and perspectives. Unless otherwise noted, they do not represent the views of BTSE and should in no way be treated as investment advice. Markets are volatile, and trading brings rewards and risks. Trade with caution.