Welcome to the latest edition of our Market Roundup, where we cover the highlights of the past week in the rapidly evolving world of blockchain and decentralized technologies.
Top tokens trended slightly down this week, ending up at roughly the same levels at seven days prior after seesaw movements. This included BTC and ETH. Meanwhile, XRP — the token of Ripple Labs, which added new attorneys as it continues to defend itself against the US Securities and Exchange Commission in a lawsuit — rose by 2.50%.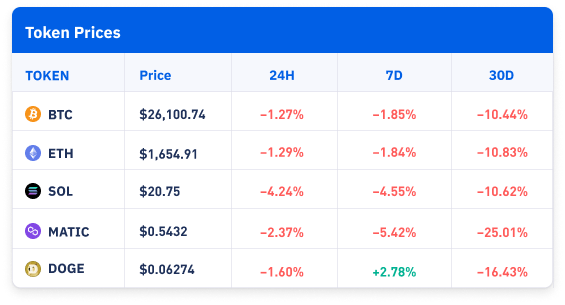 (as of 9:30 AM Singapore Time, August 25, 2023)
Many crypto investors are still reeling from last week's flash crash. Specifically, investors who bought BTC within the past five months are in the red, but most long-term investors, meaning those who have been holding their tokens for at least five months, have generated profits. 
Short-term BTC traders appear to be offloading their holdings to cut their losses, pushing prices lower. Couple that with global economic uncertainty, and the market looks bearish in the near term.
Meanwhile, 1,580 BTC was moved by North Korean hackers. The trove is worth around US$40 million, and the United States Federal Bureau of Investigation warned platform operators that the state-affiliated groups may try to swap the bitcoin on their exchanges. This is far from the entire amount of crypto that North Korean cybercriminals have stolen. In one hack that took place in July, they drained US$60 million from Alphapo, a payments processor that also operates gambling sites and e-commerce platforms. Before that, they took US$100 million by conducting an attack on Atomic Wallet.
There are simple but effective ways for crypto users to protect their holdings. Cold wallets (or hard wallets) are a great way to store digital assets, and BTSE also ensures that its exchange offers users the best possible security while maintaining a high degree of convenience.
For more insights about market movements, be sure to check out the routine updates on BTSE's blog.
Web3 News
Stories You Might Have Missed
---
Our aim is to create a platform that offers users the most enjoyable trading experience. If you have any feedback, please reach out to us at feedback@btse.com or on Twitter @BTSE_Official.
Note: BTSE Blog contents are intended solely to provide varying insights and perspectives. Unless otherwise noted, they do not represent the views of BTSE and should in no way be treated as investment advice. Markets are volatile, and trading brings rewards and risks. Trade with caution.