As cryptocurrencies continue their broader rally, Bitcoin was in the spotlight this week. BTC is up 70% this year, and it's continuing with upward momentum.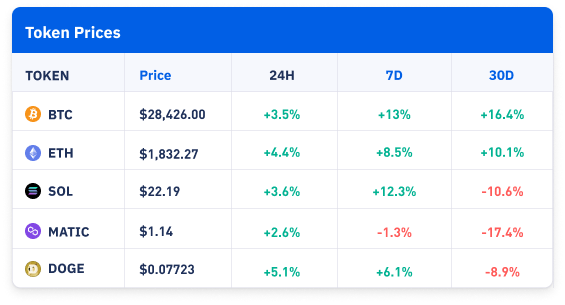 (as of 1:30 AM UTC, Mar 24, 2023)
Bitcoin received major public attention with Balaji Srinivasan betting on March 17 that BTC will reach US$1 million within 90 days. This was prompted by Twitter user James Medlock's (perhaps not-so-serious) call for a bet that the United States will not enter hyperinflation. Balaji took that bet and put down 2 million USDC for the wager. 
For BTC to reach US$1 million in three months, it would have to do better than 38x since March 17. That's a highly unlikely outcome, but Balaji's bold claim certainly placed attention on Bitcoin at a time when investors have concerns about traditional banking and the Fed's refusal to consider rate cuts.
The value of BTC is increasing while prices of all assets are rising. Housing market demand (especially in the United States) is increasing, and gold has so far gained 7.8% this year. Assets that can generate profit due to inflation are all rising, which may mean that fiat currency is undergoing debasement. 
With these factors converging at a critical moment, investors appear to be treating crypto as a safe haven. Despite the view that cryptocurrency can be turbulent, the space is still offering some level of security during a time of uncertainty in traditional finance. As the price of nearly every asset goes up, it's important to maintain an asset class that keeps up with or even outperforms inflation.
Reports
Kaspersky's report on cryptocurrency

use in the United States reveals that 24% of American adults own digital assets, with ownership varying by age. The survey found that 33% of crypto owners reported having crypto stolen, and 47% of those aged 18-24 reported thefts of crypto.

The report also highlighted poor user security habits, with 10% of respondents making no effort to protect their crypto and 27% keeping their crypto stored in an exchange account with no added protection.
The Biden administration released a

report criticizing the digital asset ecosystem

, including cryptocurrencies, for creating issues for consumers, the financial system, and the environment. The report cited various disasters in the crypto sector, such as the collapse of Terra, BitConnect, and FTX, and noted that "many [cryptocurrencies] do not have a fundamental value." The report said crypto-assets continue to cause risks for financial markets, investors, and consumers.
Crypto Tech
Users of the messaging app

Telegram can now send USDT within chats

, following its addition to the platform's @wallet bot. The move expands Telegram's capability to buy and sell cryptocurrencies and could encourage mainstream adoption.
Blockchain-based debt securities protocol Obligate has executed the

first bond issuance without any banks

involved using the Polygon blockchain. The issuer was Swiss physical commodities trading boutique Muff Trading AG, which sold tokenized corporate bonds using Obligate's marketplace. The development highlights the proliferation of on-chain debt markets in decentralized finance and is the latest example of crypto markets offering real-world financial services for businesses and investors.
Major Partnerships
Chainlink Labs has entered into a

strategic partnership

with PwC Germany to help accelerate enterprise blockchain adoption. Chainlink Labs will provide its middleware to PwC Germany to help companies interface with the blockchain economy, while PwC Germany will add its technical expertise and regulatory understanding to develop compliant and secure smart contracts and operate infrastructure. The collaboration aims to assist enterprises in developing bespoke blockchain solutions that harness the power of Chainlink middleware.
Regulations
The Financial Supervisory Commission (FSC) of Taiwan will become the primary regulator of cryptocurrencies across the island nation, according to Huang Tien-mu, the head of the FSC. The

new regulatory framework

will include laws and policies such as partitioning consumer assets from corporate money and implementing investor protection procedures. The FSC will focus on self-regulation initially and act according to directives from the Executive Yuan. Taiwanese legislators aim to approve a crypto legal framework by the end of March or April.
Hong Kong plans to

introduce stablecoin regulations

in 2024 and launch a licensing framework for Virtual Asset Service Providers (VASPs) in June 2022. The move is part of Hong Kong's efforts to become a regional hub for blockchain and digital assets, with over 800 fintech firms currently operating in the territory. The government has issued a policy statement on the development of virtual assets, allowing regulated entities to offer crypto products and operate Exchange-Traded Funds (ETFs) tracking virtual assets.

Hong Kong is also working on central bank digital currency (CBDC) projects, including testing a digital renminbi for cross-border payments and examining the feasibility of issuing a digital Hong Kong dollar.
The US Internal Revenue Service is considering whether to

tax non-fungible tokens (NFTs)

on a par with other collectibles such as stamps, works of art, and fine wine. The proposed guidance represents the first move by the US tax authority in a while to clarify the tax treatment of digital assets, addressing a vacuum that has left some taxpayers guessing about their liability. The IRS is looking for people to comment on the proposal by June 19, on issues such as when an NFT constitutes a work of art. In the meantime, the tax authority says it will treat any NFTs like their underlying asset, whether that's an artwork or a gemstone.
Web3 Gaming
Sony Interactive Entertainment has filed a patent application to

integrate non-fungible tokens (NFTs)

into its gaming consoles. The patent outlines plans to create a standardized format for NFTs so they can be used across different game platforms and simulations, and transferred to different end-users. The integration of NFTs could enhance game functionality and potentially be used as rewards in e-sport tournaments or across different annual versions of a particular video game title.
CCP Games, the developer of EVE Online, has raised US$40 million to develop a new Web3 game using blockchain technology, set within the EVE universe. The new game will feature on-chain systems, persistence, composability, and truly open third-party development to create a new relationship between virtual worlds and players. The new game will be CCP's first move into Web3 gaming.
Stories You Might Have Missed
A man believed to be Do Kwon, the fugitive crypto mogul wanted in connection with the collapse of his company Terraform,

has been arrested in Montenegro

. The collapse of Terraform is estimated to have cost investors more than US$40 billion. South Korea and the US have charged Kwon with fraud. His company, based in Singapore, collapsed in May 2022, triggering a sell-off in major cryptocurrencies.
Timeless Wallet has launched the

first social wallet designed for Web3 builders

and those curious about cryptocurrency. The Silicon Valley-based company aims to accelerate Web3 adoption by providing a user-friendly experience that is simple, secure, and social. The Timeless Wallet integrates with DeFi protocols and dApps, making it easier to manage digital assets on the go. Users can create a wallet in seconds, own their username, design their avatar, and interact with like-minded individuals in communities.
---
Our aim is to create a platform that offers users the most enjoyable trading experience. If you have any feedback, please reach out to us at feedback@btse.com or on Twitter @BTSE_Official.
Note: BTSE Blog contents are intended solely to provide varying insights and perspectives. Unless otherwise noted, they do not represent the views of BTSE and should in no way be treated as investment advice. Markets are volatile, and trading brings rewards and risks. Trade with caution.