Welcome to the latest edition of our Market Roundup, where we cover the highlights of the past week in the rapidly evolving world of blockchain and decentralized technologies.
After weeks of trading in the red, token prices rallied across the board this week, with BTC rising above US$30,000 on Thursday, the highest point since April. Some investors were heartened by BlackRock, the world's largest asset manager with more than US$10 trillion worth of assets under management, applying to launch a Bitcoin exchange-traded fund (ETF), followed by firms like Invesco and WisdomTree doing the same.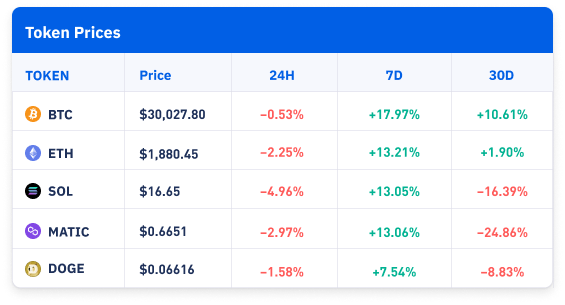 (as of 1:30 AM UTC, June 23, 2023)
TradFi is moving into crypto in a more serious way than ever before. If any of these ETF applications are approved, it will enable anyone to invest in Bitcoin without managing crypto assets on their own, and other TradFi-developed crypto products would likely be released later.
It's easy to read these developments as TradFi attempting to absorb crypto, but we believe that these entries signal that crypto is about to go mainstream in a significant way. Firms like BlackRock, Invesco, and WisdomTree are recognized names that investors know and trust, and they have the means to give investors around the world exposure to on-chain assets.
Besides, the fact that these firms are pursuing Bitcoin ETFs signifies that there is demand among their clients to invest in crypto. There's no better measure that leads to the conclusion that millions of investors are about to benefit from the wealth-building opportunities that digital assets offer — if any of the ETF applications are approved.
Investing in crypto may become incredibly convenient soon, and crypto might be entering an exciting new phase.
Web3 News
Stories You Might Have Missed
---
Our aim is to create a platform that offers users the most enjoyable trading experience. If you have any feedback, please reach out to us at feedback@btse.com or on Twitter @BTSE_Official.
Note: BTSE Blog contents are intended solely to provide varying insights and perspectives. Unless otherwise noted, they do not represent the views of BTSE and should in no way be treated as investment advice. Markets are volatile, and trading brings rewards and risks. Trade with caution.