Win a prize pool of $15,000 by trading at least one of our upcoming listings – Pepe (PEPE), pogai (POGAI), Turbo (TURBO), or Wojak (WOJAK) during the campaign period! 
Campaign Period
:
May 9, 2023 – May 12, 2023
How to Participate
:
1. Participants must trade a minimum of $10 worth of PEPE, POGAI, TURBO, or WOJAK during the campaign to be eligible to win the prize pool.
2. Participants must have passed email verification on the BTSE platform.
https://trade.btse.com/tradePEPE
Trade POGAI Now:

https://trade.btse.com/tradePOGAI
Trade TURBO Now:
https://trade.btse.com/tradeTURBO
Trade WOJAK Now:
https://trade.btse.com/tradeWOJAK
Terms and Conditions
:
1. The minimum trading volume to participate is $10 worth of PEPE, POGAI, TURBO, or WOJAK tokens.
2. All rewards will be credited to winners' accounts within 30 business days after the release of the official results at the end of the competition.
3. Multiple registrations of BTSE accounts are strictly prohibited. Users who violate this rule will be disqualified from this event.
4. BTSE reserves the right of final interpretation for all aspects of this event, and the right to disqualify any participant if, at BTSE's sole discretion, it reasonably believes that the participant has attempted to undermine the event's legitimate operations by cheating, deception, or other fraudulent behavior, or annoys, abuses, threatens or harasses other participants or BTSE's event administrators.
5. BTSE reserves the right to amend the Terms and Conditions of this event without prior notice.
6. Participants must comply with all terms and conditions as well as other BTSE policies.
7. BTSE employees are not permitted to participate in this event.
BTSE Will List PEPE, POGAI, TURBO, and WOJAK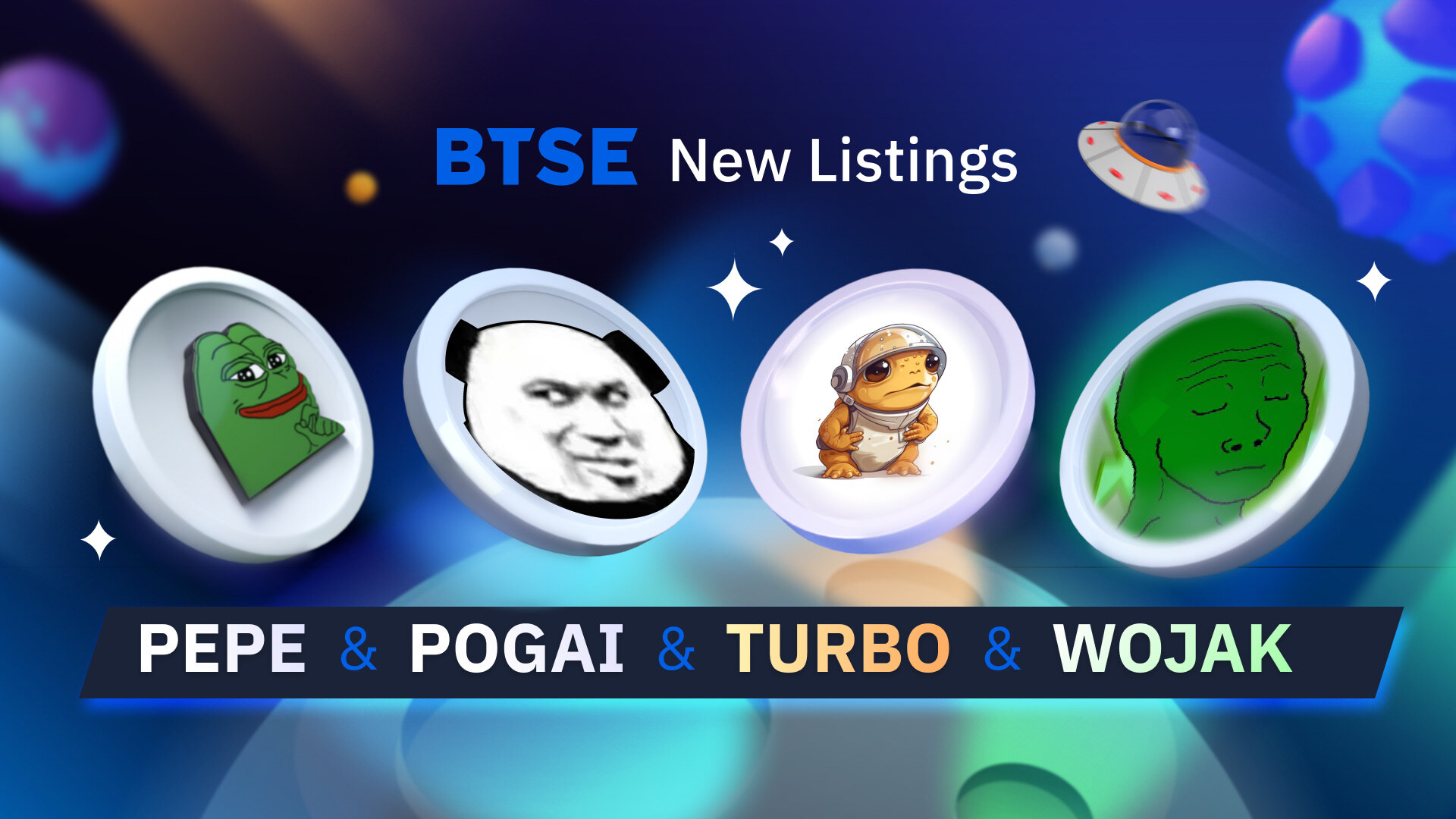 BTSE will add four new tokens – Pepe (PEPE), pogai (POGAI), Turbo (TURBO), and Wojak (WOJAK) onto its platform on Wednesday, May 10, 2023, adding to its users' selection of quality digital assets. Additionally, they will be listed on BTSE's wider ecosystem of 10+ white-label crypto exchanges, enabling better liquidity and pricing. 
Key Dates
1. Deposits enabled: May 9, 2023 (supported network: ERC-20, Arbitrum)
2. Trading enabled: May 9, 2023
3. Withdrawals enabled: May 10, 2023
PEPE: A Deflationary Memecoin on Ethereum
PEPE is an Ethereum-based deflationary meme coin created as a tribute to the Pepe the Frog internet meme. The project seeks to capitalize on the popularity of meme coins, such as Shiba Inu and Dogecoin, by leveraging the iconic character's fame and implementing a no-tax policy, a redistributive staking system, and a burning mechanism to ensure PEPE's scarcity.
POGAI: A Pure Memecoin
pogai (POGAI) is a meme token inspired by the popular collection of Chinese Pandaren emoticons. This nickname for Pandaren represents the emoticons and serves as the token's name. POGAI tokenomics are refreshingly simple, featuring no tax slippage, LP lockup, contract abandonment, or model, making it one of the purest meme tokens. There are no taxes or permissions, and the future is entirely community-driven, with no predefined roadmap. All tokens are distributed, with the founder retaining 100 million for themselves, emphasizing a truly decentralized experience.
TURBO: Revolutionizing the Crypto Landscape with AI-Driven Memecoin Development
Turbo (TURBO) is an innovative meme coin that has taken the crypto market by storm, reaching a market cap of over $30 million within just a week of its launch. Created by digital artist Rhett Mankind as an experiment, Turbo was crafted using the popular AI tool ChatGPT, which played an instrumental role in its development from inception to launch. ChatGPT not only helped Mankind choose the coin's name and branding, but also generated the smart contract code, tokenomics, and whitepaper for Turbo. 
With unique features such as no taxes, renounced contracts, no presale, and an anti-whale mechanism, Turbo was designed to outshine its competitors and secure a top 300 rank on CoinGecko. Despite initial challenges during its DEX launch, Turbo emerged stronger thanks to ChatGPT's strategic advice on crowdfunding, social media promotion, and airdrops. With a total supply of 69 billion tokens, Turbo demonstrates the power of AI-driven development in the ever-evolving world of cryptocurrency.
WOJAK: Uniting the World Through the Power of Memes and Blockchain
Wojak (WOJAK) token is a project designed to revolutionize the way people connect through the power of memes. Inspired by the widely recognized internet meme Wojak, the project plans to develop a platform that leverages blockchain technology to create a secure and transparent ecosystem for meme enthusiasts. According to the project, the WOJAK token will serve as the platform's native currency, enabling users to buy, sell, and trade memes, participate in community-driven events, and connect with like-minded individuals globally. WOJAK's mission is to empower individuals to build communities based on shared values and experiences by fostering connections and relationships through the universal language of memes.
Trade on the go — download the BTSE mobile app (iOS/Android)
---
Our aim is to create a platform that offers users the most enjoyable trading experience. If you have any feedback, please reach out to us at feedback@btse.com or on Twitter @BTSE_Official.
Note: BTSE Blog contents are intended solely to provide varying insights and perspectives. Unless otherwise noted, they do not represent the views of BTSE and should in no way be treated as investment advice. Markets are volatile, and trading brings rewards and risks. Trade with caution.