Written by Antonio Liao, Researcher at BTSE
At a Glance: 
Although the NFT market is currently undergoing a downturn, coupled with the "crypto winter," calling the downturn a "demise" of NFTs may be an overstatement.
The overall market performance of NFT cannot be simply judged by their values, but as well as their users and trading volumes, which are all indicating a positive outlook for this novel technology.
NFTs' underlying blockchain technology has enabled them to be more than collectibles and artworks. In fact, NFTs have various real-life utilities that can be more attainable and highly beneficial to us.  
A Little About NFTs 
Non-fungible token (NFT) is a term that no one had really ever heard of before early 2021. In a matter of weeks, it became one of, if not the most talked about topics in DeFi. An NFT, at its core, is a tokenized set of blockchain data for any digital or physical object. And the blockchain-enabled unmodifiable data provides immutable proof of ownership. 
From digital artworks to real estate, or even wine, each NFT is unique, with no two identical NFTs. The scarcity and authenticity of an NFT collection had fueled the hype surrounding NFTs, driving up the values of some NFTs on par with those of some Renaissance artworks. The logic behind the hype is simple: regardless of how many copies of the Mona Lisa there are around the world, the one in the Louvre will always be the one and only. 
To date, the most expensive NFT ever sold is Everydays: The First 5000 Days by Beeple, which was sold for $69.3 million, followed by Clock, which was sold for $52.7 million. Of course, you can copy and paste any of these NFTs and make them your desktop wallpaper, but you still do not own the NFT. 
Not all NFTs are sold at Sotheby's or Christie's, as the immense popularity of NFTs has lowered the entry barrier, in which anyone is able to purchase an NFT for as little as 0.08 ETH by an amateur artist or as much 1,000 ETH for a BAYC on NFT marketplaces. 
To tap the lucrative NFT space, celebrities around the world have launched their own NFTs, whether they are digital artwork or songs. While many of their floor prices plummeted shortly after launch, NFTs have quickly become one of the most popular tools to create buzz. 
However, the question is whether the $3-billion NFT ecosystem can sustain itself as the hype wanes, coupled with the worst-ever "crypto winter." 
So, Is This the End? 
The short answer is No, but let us first delve into the case for NFT's demise. 
Last year and earlier this year, we have seen the meteoric rise of NFTs in popularity translated into billions of dollars in sales. From practically an unheard-of DeFi project to the most sought-after darling of entire Web3, NFTs had bloated into a $41 billion market in 2021.  
NFT sales, however, plummeted by 92% this year from 225,000 registered sales per day in September 2021 to a mere 19,000 in early May, according to the data presented by the Wall Street Journal. 
Another indicator, albeit less prominent and more referential, is the dwindling searches for the keyword "NFT" on Google, according to Google Trends. Despite soaring interest in NFTs and metaverse in 2021, Google Trend shows that, since 2022, searches for NFTs dwindled by 70+% in May 2022, hitting a new low.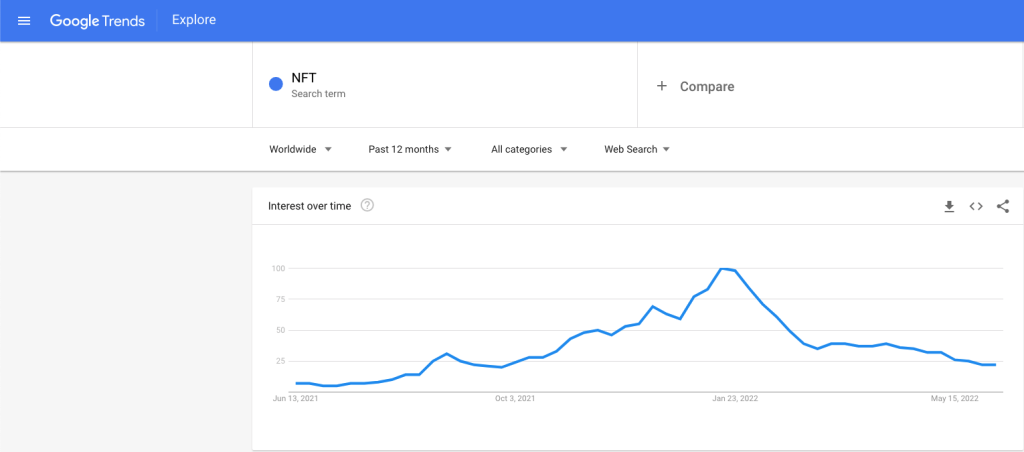 Meanwhile, on the creators' side, the year 2021 saw a horde of celebrities flocking into the NFT space, dropping their own collectibles, ranging from artworks or audio files. However, the hype on which many celebrities planned to capitalize was rather short-lived, as shown by the nosediving floor prices of most celebrity NFTs after their launch. Today, most celebrity-NFT projects seem more like mere gimmicks than collectible artworks. 
Not only are amateurish celebrity NFTs suffering, but wildly popular NFT projects such as CryptoPunks, Moonbirds, and Bored Ape Yacht Club are also suffering from tumbling floor prices amid the worst crypto turbulence ever seen. 
For example, compared to late April, the floor price for a Bored Ape Yacht Club NFT is now down 78% and has fallen below $100,000 for the first time since August 2021. Meanwhile, the floor price of a CryptoPunk NFT has dipped to 48 ETH from its all-time high of 123 ETH.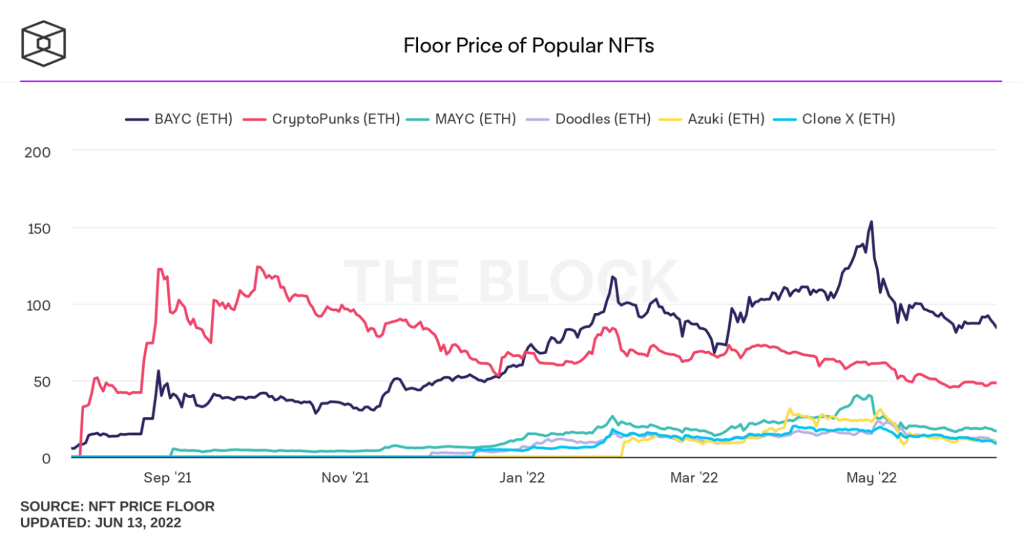 The nosedive in the values of some popular NFTs has forced celebrities to rethink their NFT promotional drive, as we see a number of them facing backlashes and removing NFT-related content from their social media accounts. 
While the nosediving floor prices and values of NFTs have caused some sleepless nights for investors, they only tell one side of the story. 
Now, here is why NFTs will live on. 
According to a recent report by market research firm MarketsandMarkets, the NFT market is expected to grow from US$3 billion in 2022 to a whopping US$13.6 billion by 2027, which will be largely driven by a burgeoning GameFi industry. Meanwhile, the rising popularity of various to-earn projects will even fuel faster growth of the NFT space. 
To tap the lucrative opportunities, major centralized crypto exchanges such as Crypto.com, Coinbase, Kucoin, Ledger, and Kraken have all recently made forays into the already crowded NFT space by launching their own NFT marketplaces. Traditional tech companies such as eBay, Shopify and even Gamestop, a sunsetting brick-and-mortar retailer, are all tapping the lucrative NFT space. 
In April, Ethereum-based OpenSea heated up the competition with its biggest competitor Magic Eden, by enabling Solana-minted NFT trading on OpenSea, reshaping the NFT competitive landscape. 
Since the so-called "Crypto Winter" began, NFT trading volumes across major marketplaces for top NFT collections such as Bored Ape Yacht Club, Mutant Ape Yacht Club, Crypto Punks, and Sorare have seen an increase in trading volume as investors flocked in to take advantage of the tumbling floor prices, which largely correlate the crypto market. Many of them believe the values of these collections will rebound once the "winter" ends.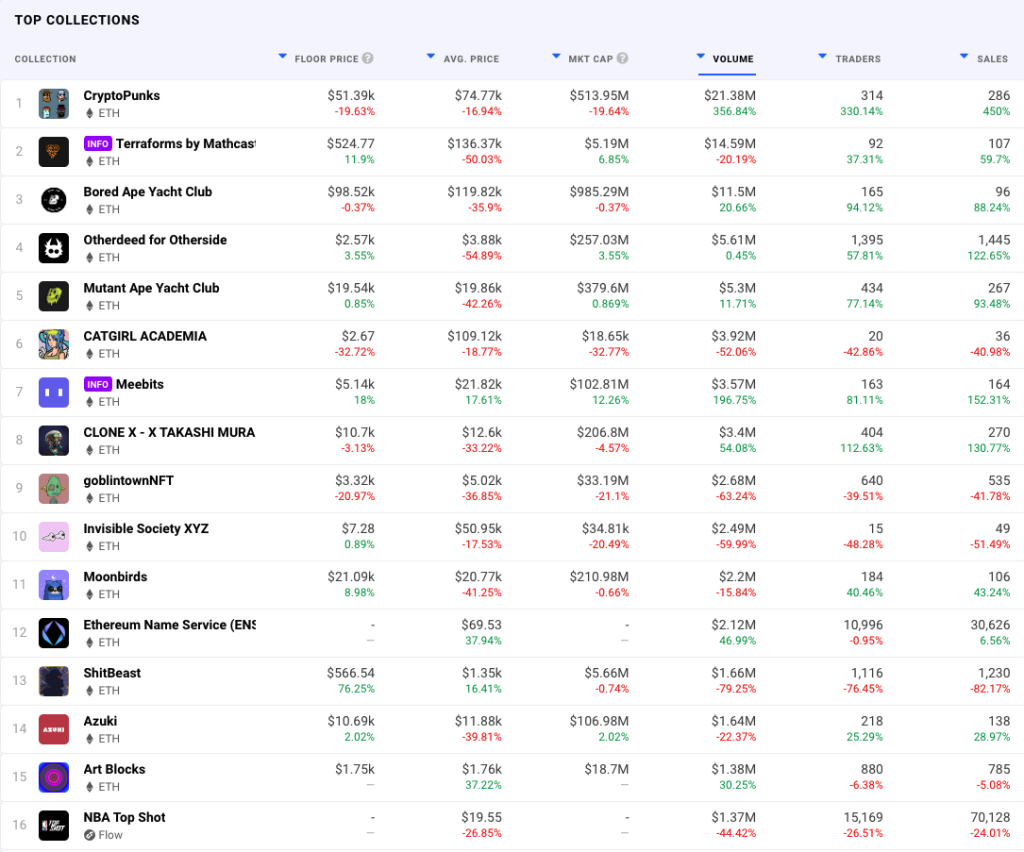 That said, given the engrained interest in NFTs and their collectibility, NFT buyers and sellers continue to demonstrate their beliefs in NFTs with actions. As seen from the graph by blockchain data platform Dune Analytics below, the number of traders in recent weeks, despite the market turbulence, has been rather stable. 

More Than Just Pixel Art Images
To most people, NFTs have become a synonym of exclusivity reserved for the rich and privileged, with the floor prices of popular NFT collections such as BAYC and Cryptopunks kept breaking record highs. Even under the current climate, these NFTs are still unattainable for most. 
However, NFTs, thanks to their blockchain technology, have utilities well beyond being artworks and collectibles. In fact, as fancy as NFTs can be, they are gradually becoming adopted by some of the most conventional industries and businesses. 
Apart from artworks and collectibles, real estate is one of the first non-crypto industries to adopt NFTs. By snapping on various characteristics – traceability, interoperability, immutability, authenticity – of an NFT's underlying blockchain technology, real estate transactions, and ownership can become more streamlined. Essentially, the transfer of ownership of a piece of real estate can be done within minutes with the transfer of the property-backed NFT. 
Another real-life use case of NFTs takes place in the supply chain industry, where traditional businesses such as aquaculture and agriculture companies work with blockchain solution providers to optimize supply chain management and quality assurance. Although a nascent idea, an NFT's traceability, and immutability allow goods to be tagged and tracked across the supply chain that stretches beyond borders to ensure the authenticity and value of their products.  
As businesses capitalize on NFTs to streamline and optimize their operations, another group that has benefited greatly from the rise of NFTs is independent artists. Not only do NFTs and Web3, in general, offer a level playing field for rising artistic talents, but artists are also now given immutable ownership of their works, without a middleman. Interactions between artists and their supporters are also redefined with the sale and distribution of NFTs. 
With all that said, NFTs are more than what they are advertised to be, and their use cases are so numerous that they can easily warrant an article on their own. 
Closing Thoughts
Indeed, the heyday of the NFT frenzy may be long gone, but that does not necessarily mean the demise of NFTs is around the corner. The blockchain industry, not to mention NFT or cryptocurrencies, as a whole is still in its infancy, which, unavoidably, is still rife with risks and speculations. However, it does not warrant the case for the demise of NFTs or even the death of Bitcoin during this market downturn. 
With the rise of the metaverse and all types of dApps that come along with it, NFTs will play an increasingly indispensable role to complement the technology. Whether it is virtual concert tickets or virtual real estate purchases in the metaverse, none of these activities can take place without NFTs. 
Looking ahead, how prevalent  NFTs will become in real life still remains to be seen. But it is an indisputable fact that, as soon as the "crypto winter" is over, NFT collectibles and artworks will live on, perhaps more vibrantly than ever. 
---
Our aim is to create a platform that offers users the most enjoyable trading experience. If you have any feedback, please reach out to us at feedback@btse.com or on Twitter @BTSE_Official.
Note: BTSE Blog contents are intended solely to provide varying insights and perspectives. Unless otherwise noted, they do not represent the views of BTSE and should in no way be treated as investment advice. Markets are volatile, and trading brings rewards and risks. Trade with caution.