BTSE has introduced updates to its withdrawal confirmation process to bring convenience and strengthen security. In this new update, when withdrawing or sending fiat and cryptocurrencies from BTSE, users must enter a one-time password (OTP) via email and the Google two-factor authentication (2FA) code to complete the withdrawal process.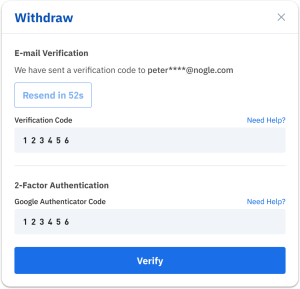 In the past, withdrawing or sending fiat and cryptocurrencies from BTSE required users to confirm and log in via the confirmation email. The latest updates make it faster and easier for users to withdraw cryptocurrencies while enjoying added security and convenience without sacrificing one for the other. As ever, BTSE aims to enable users to trade confidently, upholding a high bar in security standards that also contribute to users' convenience. 
Happy trading, and thanks for your support!
---
Our aim is to create a platform that offers users the most enjoyable trading experience. If you have any feedback, please reach out to us at feedback@btse.com or on Twitter @BTSE_Official.
Note: BTSE Blog contents are intended solely to provide varying insights and perspectives. Unless otherwise noted, they do not represent the views of BTSE and should in no way be treated as investment advice. Markets are volatile, and trading brings rewards and risks. Trade with caution.