Easy-to-use tools are essential when trading cryptos, allowing investors faster decision-making and better control over their assets.
BTSE responds to these needs with a wallet that gives users a simple and secure way to manage their fiat and crypto assets. This article provides users with a guide to the main wallet functions on BTSE, namely:
BTSE Wallet Overview

Fiat Deposits and Withdrawals

Crypto Deposits and Withdrawals

Sending Funds to Other BTSE users
BTSE Wallet Overview
To use the BTSE Wallet you will need to sign up to the BTSE platform and submit the basic required information.
BTSE emphasizes security as a top priority. When registering your account, you will be asked to verify your email and activate the two-factor authentication, providing an additional level of security to your account.
After logging in, you can click on "Wallets" on the top right to access your BTSE wallet.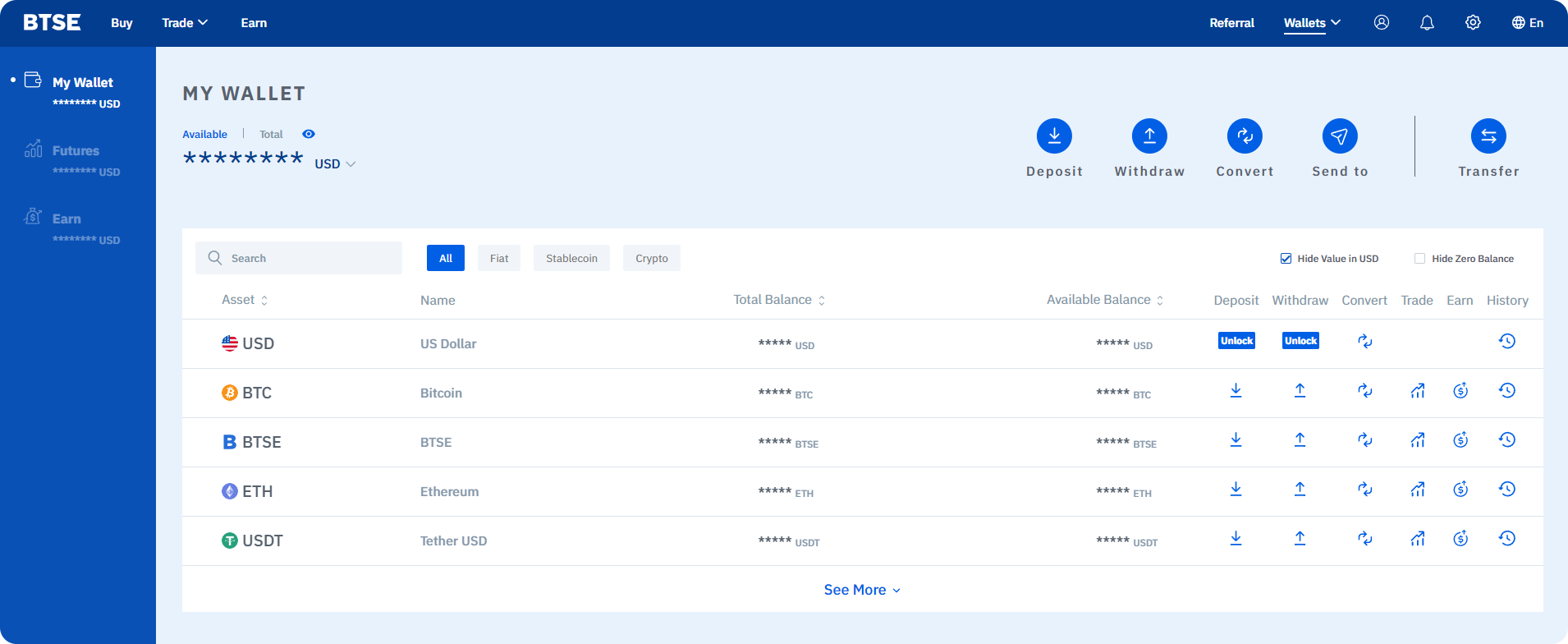 It will show you the total balance of your assets — in the currency you set — and all the currencies supported by BTSE.
Next to each asset you will find several functions:
Deposit

and

Withdraw

;

Convert

– An easy-to-use asset conversion that is fee-free and instant;

Trade

– Redirects you to the trading platform, where you will see details for the selected asset, including price charts;

Earn

– This option is shown if the selected asset is also offered as a BTSE Earn product;

History

– Shows your past transactions involving that asset.
Also, at the top of the page, you will find the "Send to" function for sending funds to another user – with all the advantages that we will cover later.
Overall the BTSE Wallet provides several functions that allow users to manage their assets with a wide range of actions available.
The wallet is also easy to navigate: you can choose to view and manage your assets by categories and bookmark your favorite ones to find them faster after logging in.
Rather than just telling you, let us show you the different transactions you can make with your wallet, with both cryptocurrencies and fiat currencies.
How to Deposit and Withdraw Fiat on BTSE
The first step is to complete your account verification as part of the sign-up process. The platform asks for standard personal details, documents and proof of address, for greater account security and compliance with global KYC (Know Your Customer) standards.
Once your account is approved and verified, you will be able to use fiat with your BTSE wallet, for both deposits and withdrawals.
You can easily check the availability of fiat for your account from your dashboard. If you see "Unlock" next to the fiat currencies when visiting the wallet page, it indicates you have not yet complied with the requirements.
Once verified, you will be able to deposit funds with credit cards. For first-time credit card deposits, you will need to add a card and accept the terms and conditions. 
Otherwise, you can also use bank transfers to deposit. You can choose among more than a dozen different fiat currencies to top up your wallet. BTSE is continuously adding to the available fiat currencies, responding to the needs of its global user base.
If you want to withdraw to your bank account, you can go to the fiat currency of your choice and select "Withdraw". As a security measure, you will receive an email asking you to confirm your transaction.
How to Deposit and Withdraw Crypto on BTSE
For crypto-to-crypto transactions, it is not necessary to verify your account beyond the initial email verification. However, as a matter of general good practice, you are advised to complete the full KYC process in order to utilize all the fiat channels offered by BTSE.
As noted at the start of this article, the BTSE Wallet is designed to be intuitive and user-friendly.
From your dashboard, you are able to filter the assets to easily find what you are looking for. With cryptocurrencies, you can further filter the list to view/select only stablecoins. This tool is especially useful when you consider the number of cryptocurrencies that BTSE currently supports.
From the wallet page, simply locate the cryptocurrency you want to use and select "Deposit" to fund your account with the selected crypto and "Withdraw" if you wish to retrieve your funds.
When you select "Deposit", BTSE will create a wallet address for you to either copy or scan as a QR code, so you can send cryptos to your BTSE Wallet. Do consider, however, that BTSE does not support funding via smart contracts.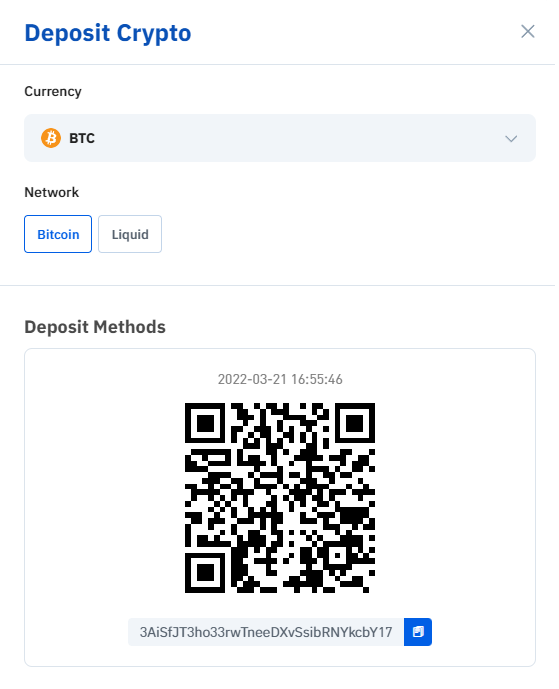 To withdraw, enter the withdrawal amount and add the wallet address you want to send your cryptos to (destination address).
How to Send Funds to Another BTSE User
If sending funds to another user on BTSE, the platform provides you with an easy-to-use tool for its users' convenience. What's more, the advantages of such a transaction are that it is instant and fee-free.
You will need to obtain the recipient's username and email address to use this function. To submit the transaction details, click "Send to" in My Wallet and input the required details as follows:
Amount and currency of funds you want to send;

Recipient's username; and

Their email address (as registered with their BTSE account).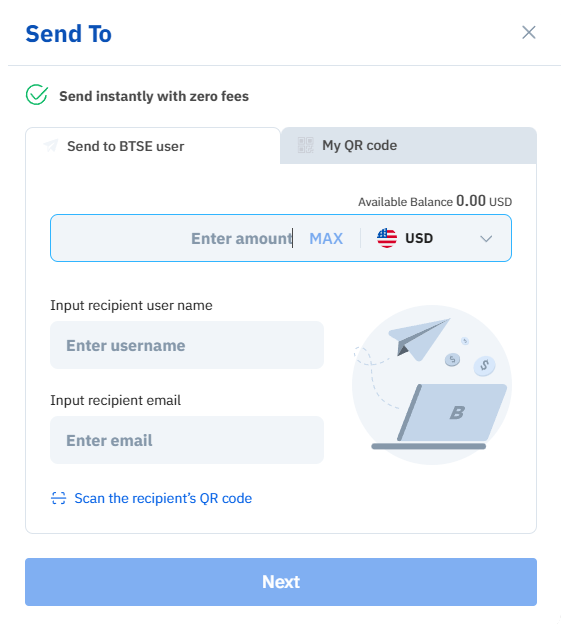 There is also the other tab/window "My QR code", which provides the QR code you would use to receive funds. The same function is possible for sending funds to a fellow BTSE user – you can scan the recipient's QR code, if available. 
These fast and easy steps are among the perks of sending or receiving funds within the BTSE community, available for both cryptocurrencies and fiat.
Takeaways
The BTSE Wallet is designed to be intuitive and easy to use. It allows you not only to store your cryptocurrencies and fiat, but also to easily deposit and withdraw funds, convert, send funds to other BTSE users for free, and to check your transactions history.
All of which makes it possible for you to manage your trades and transactions securely and efficiently across one comprehensive platform. The wallet features covered in this article are available also on the BTSE mobile app. 
---
Our aim is to create a platform that offers users the most enjoyable trading experience. If you have any feedback, please reach out to us at feedback@btse.com or on Twitter @BTSE_Official.
Note: BTSE Blog contents are intended solely to provide varying insights and perspectives. Unless otherwise noted, they do not represent the views of BTSE and should in no way be treated as investment advice. Markets are volatile, and trading brings rewards and risks. Trade with caution.