Funding your BTSE Futures wallet is the first step to profiting from trading futures contracts. 
Funding your BTSE Futures wallet requires minimal effort – that's by design rather than luck. In this tutorial, we show you just how to do that: to start, you can transfer funds from your spot wallet to your futures wallet.  
If you want to know more about BTSE futures and how to trade them, please read our BTSE Futures tutorial.
Steps for Funding Your BTSE Futures Wallet
You can follow these steps to fund your wallet and start trading futures contracts on BTSE. 
1. Register your account
From BTSE's homepage, click "Register" and fill in the required fields. 
To create a safer environment for you, BTSE will ask you to confirm your identity and set up a 2-factor authenticator. After verification, you will be able to deposit fiat currencies through credit cards or bank transfers.
2. Add funds to your wallet using your preferred payment method
To fund your BTSE wallet you can choose from:
For fiat currencies, you can fund your BTSE wallet by depositing with your credit card, through Visa or Mastercard. 
When it comes to cryptos, you can choose among a growing range of tokens that BTSE supports to fund your wallet. 
3. Transfer your funds
After adding funds to your Spot Wallet (My Wallet), you can now transfer them to your BTSE Futures Wallet. 
From your "My Wallet" dashboard, click on "Transfer".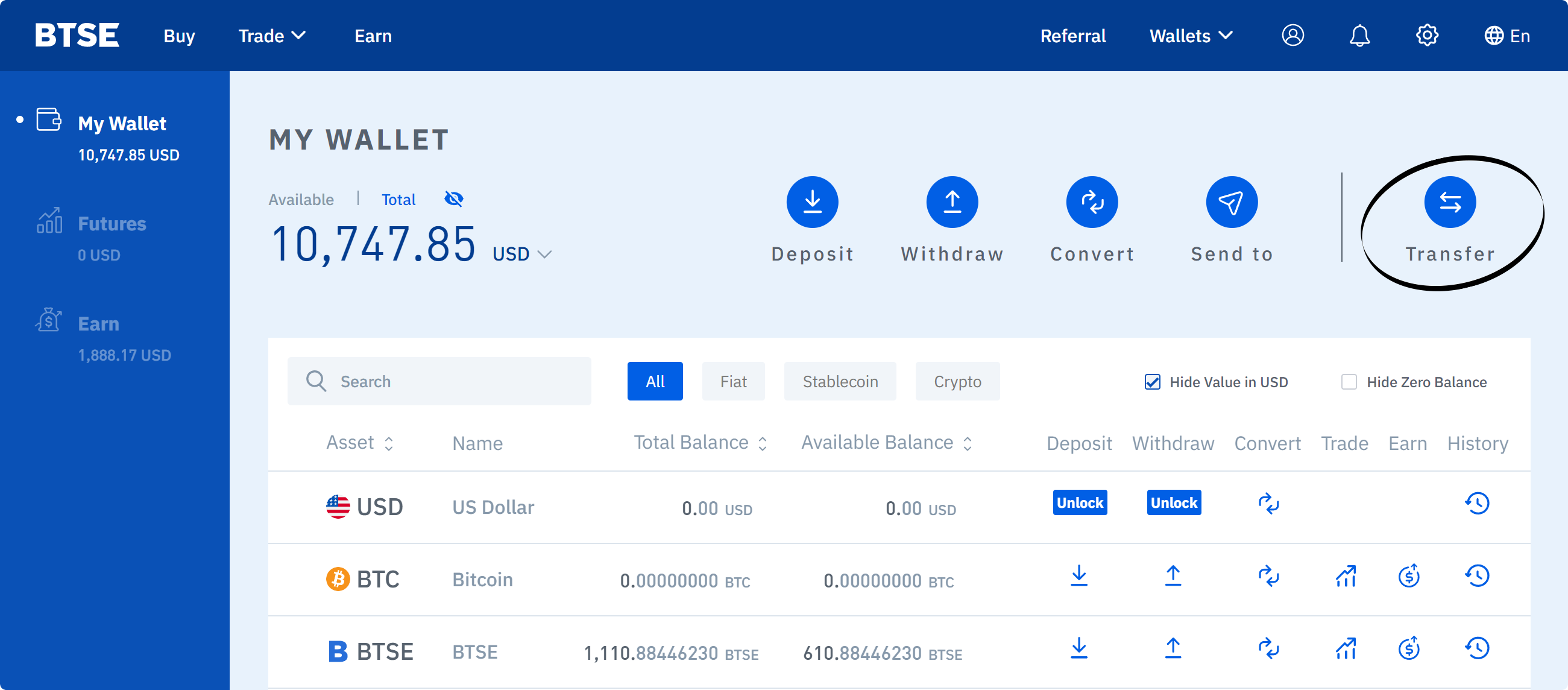 From the drop-down menu, select "Spot Wallet".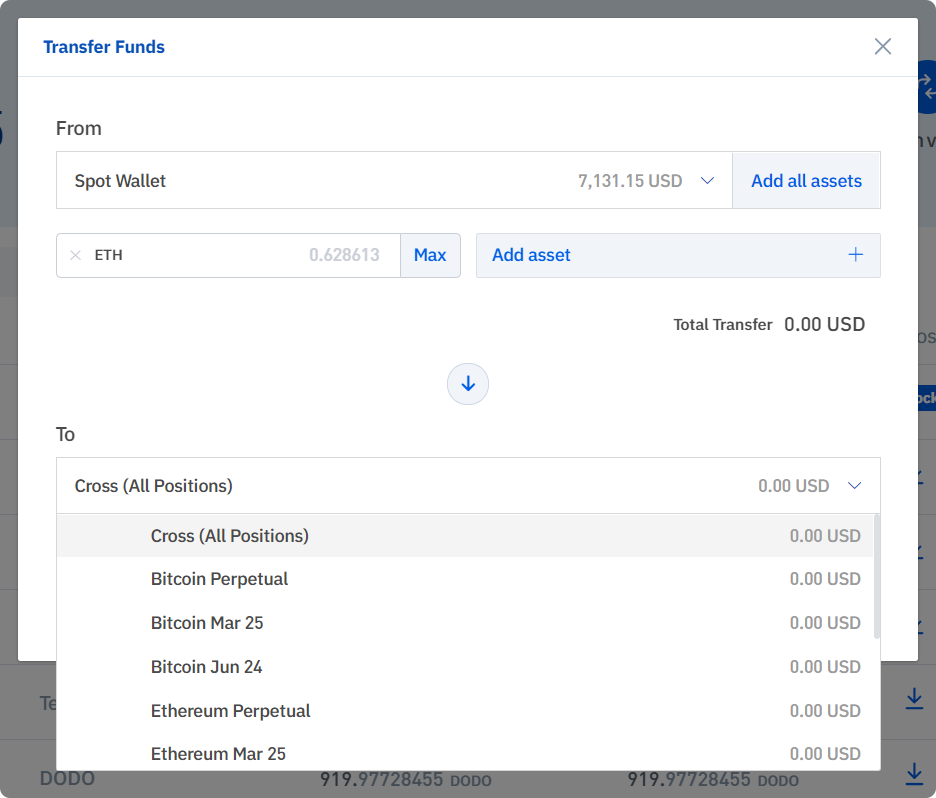 Now, you can select one of the options supported by BTSE. 
The first option is "Cross", which will allow you to add funds to all futures positions. 
Otherwise, you can choose one of the BTSE futures contracts, including Bitcoin Perpetual, Ethereum Perpetual and Litecoin Perpetual, among others. 
Once the transfer is complete, you can visit the "Futures" section of your dashboard to check that the transfer was successful. 
Moreover, you will find your BTSE futures funds on BTSE's futures trading page. 
4. Check BTSE's futures trading platform and start trading
Select "Trade" and choose "Futures". The BTSE futures trading platform will appear.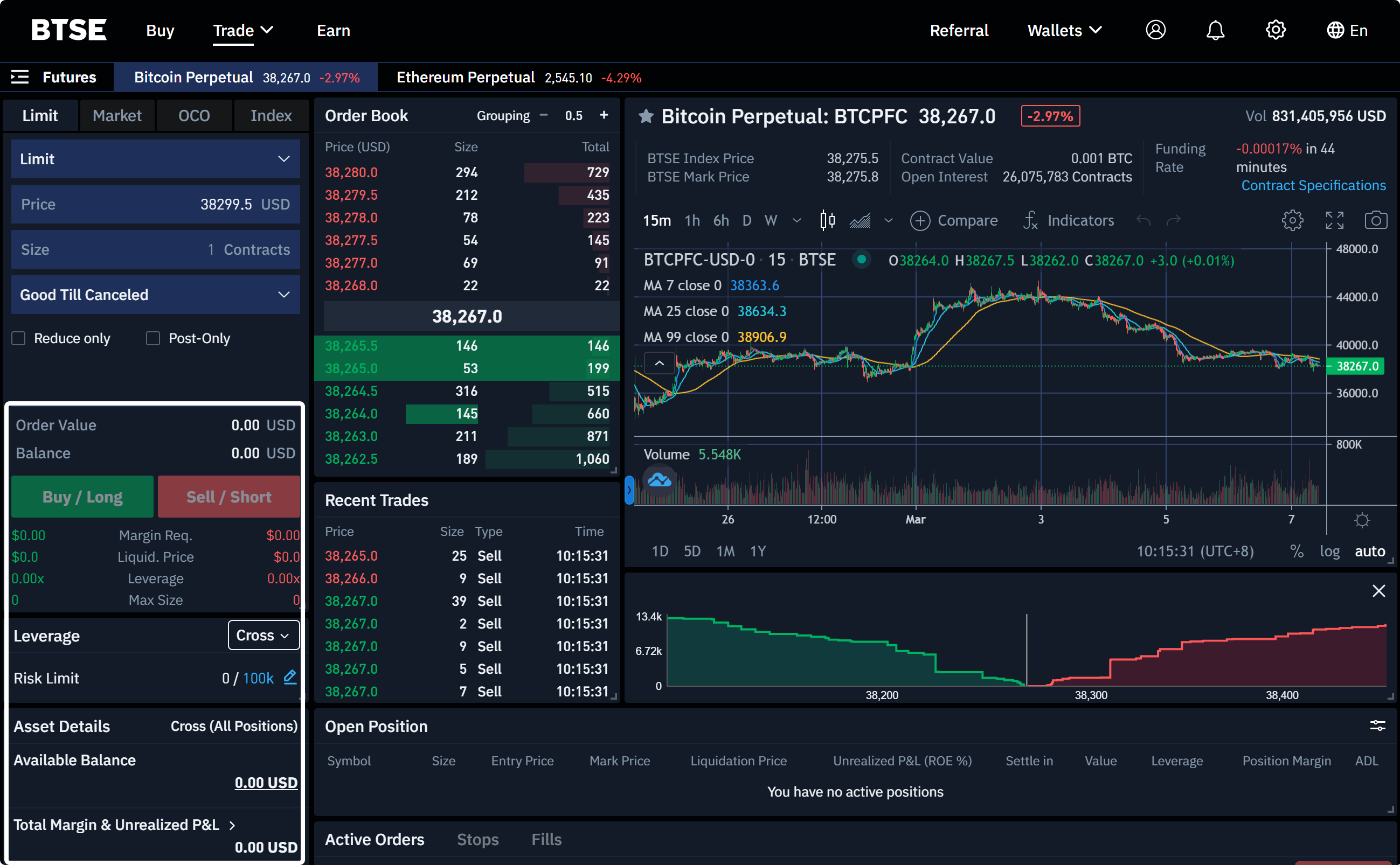 From the platform, you can check the funds available under the order details, according to the contract you chose from the "Futures" section – or for all positions. 
The available balance is calculated considering wallet value, total margin, and unrealized profit and loss (P&L). 
Now you are ready to start trading BTSE futures contracts and benefit from the advantages of this kind of derivatives. 
Takeaways
It is important to keep in mind that cryptocurrency futures trading is subject to high risk with potential losses due to the market's volatile nature.
Still, futures contracts offer a few advantages that can help traders decrease risk and increase profits. Towards those goals, BTSE Futures offers a growing range of crypto futures with varying time frames, giving traders and investors more choices and greater trading versatility.
---
Our aim is to create a platform that offers users the most enjoyable trading experience. If you have any feedback, please reach out to us at feedback@btse.com or on Twitter @BTSE_Official.
Note: BTSE Blog contents are intended solely to provide varying insights and perspectives. Unless otherwise noted, they do not represent the views of BTSE and should in no way be treated as investment advice. Markets are volatile, and trading brings rewards and risks. Trade with caution.