The security of our users and their funds has always been a priority at BTSE. We continuously seek to enhance measures on our exchange that enable efficiency as much as ensure security in the fiat and digital assets solutions we provide. 
BTSE's streamlined know-your-customer (KYC) measures are supported by global reg-tech leaders Onfido and Cynopsis and further bolster security, mitigate fraud, anti-money laundering (AML), and counter-terrorism financing (CTF).
The enhanced security measures also come with exciting and convenient functions that can be unlocked at different stages of the verification process. Here's a step-by-step guide on how to complete all KYC verification on BTSE.
1. Email Verification – Crypto Deposits and Withdrawals
When registering a new BTSE account, you will be asked to verify your email address. Email verification is required for all crypto deposits and withdrawals.
If you did not verify it initially, you can still find it under Account > Verification.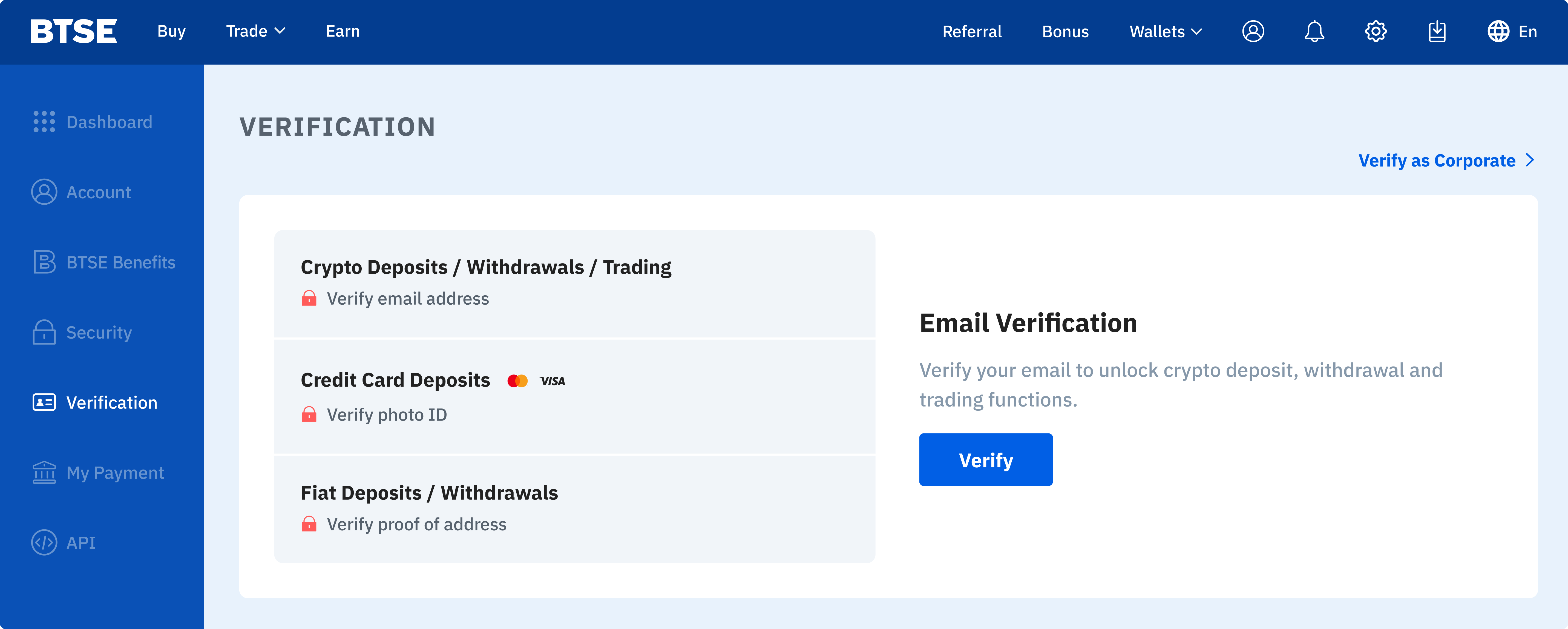 After clicking "Verify", you will receive an email with a one-time password (OTP). Enter the OTP on the BTSE site to complete the email verification process.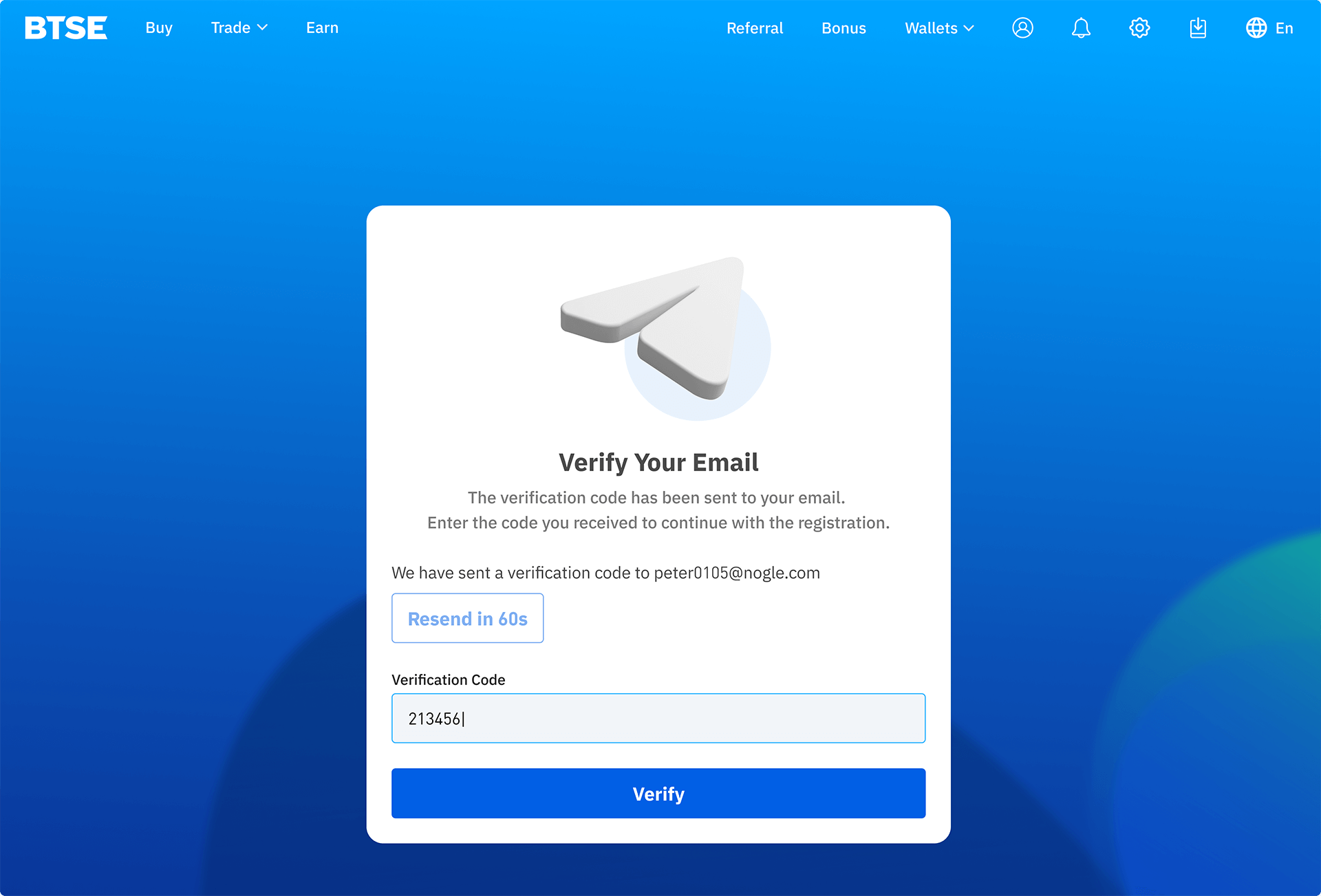 2. Photo ID Verification – Credit Card Deposits  
Photo ID verification is a prerequisite for accessing fiat-related functions on BTSE. After verification, you will be able to unlock the credit card deposit function for convenient fiat-to-crypto conversions. 
To start this verification, go to Account > Verification and click "Verify".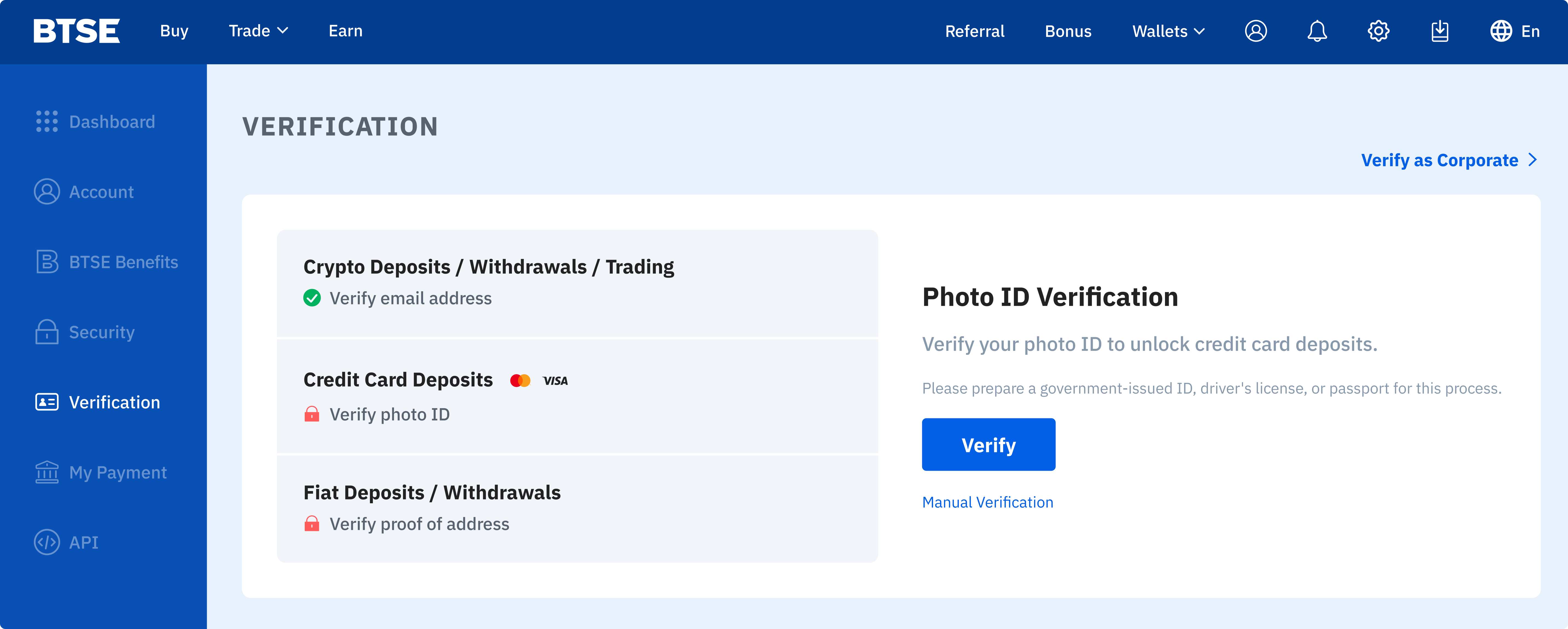 You will then be asked to complete a short form before proceeding.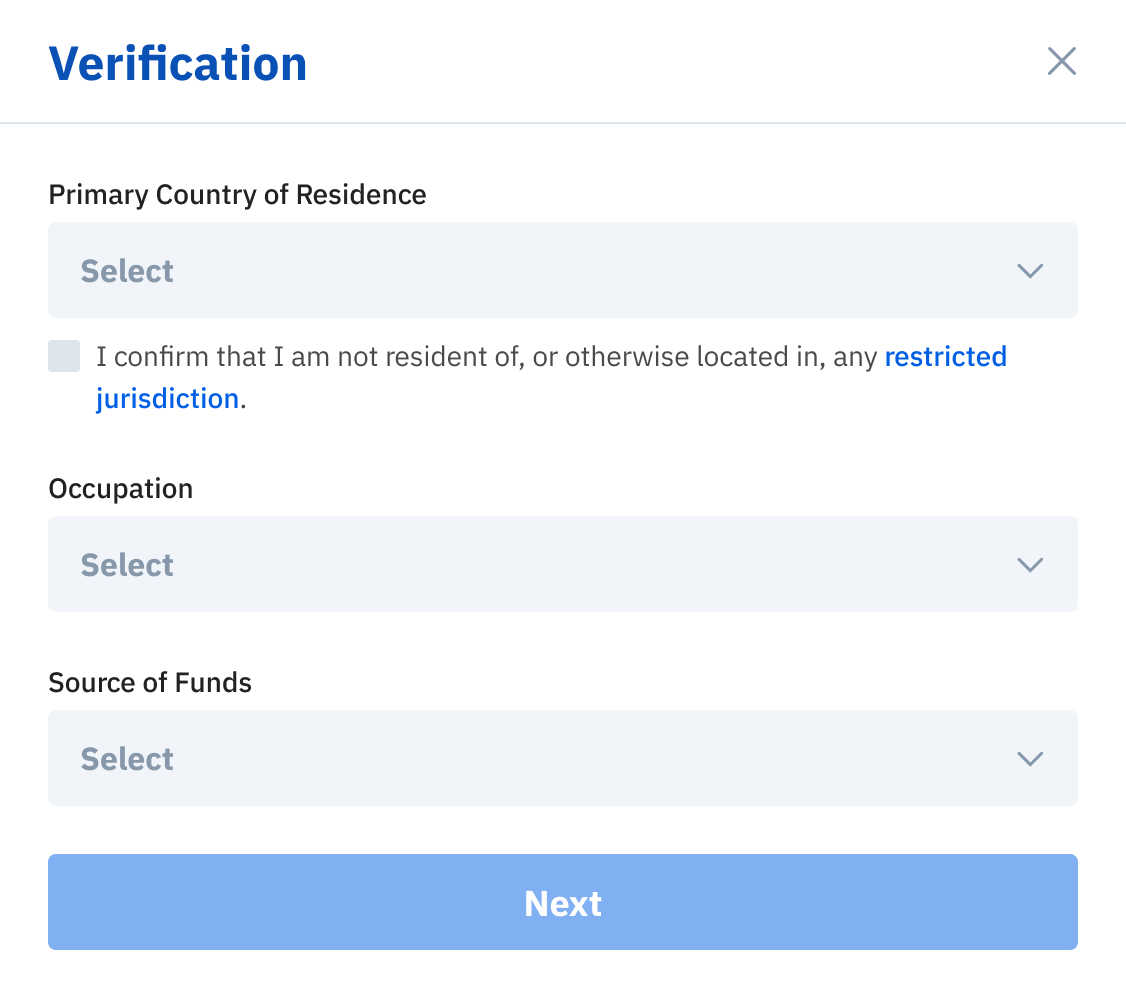 After clicking "Next", choose a document type for uploading to proceed to the photo ID verification. Here we use a driver's license as an example.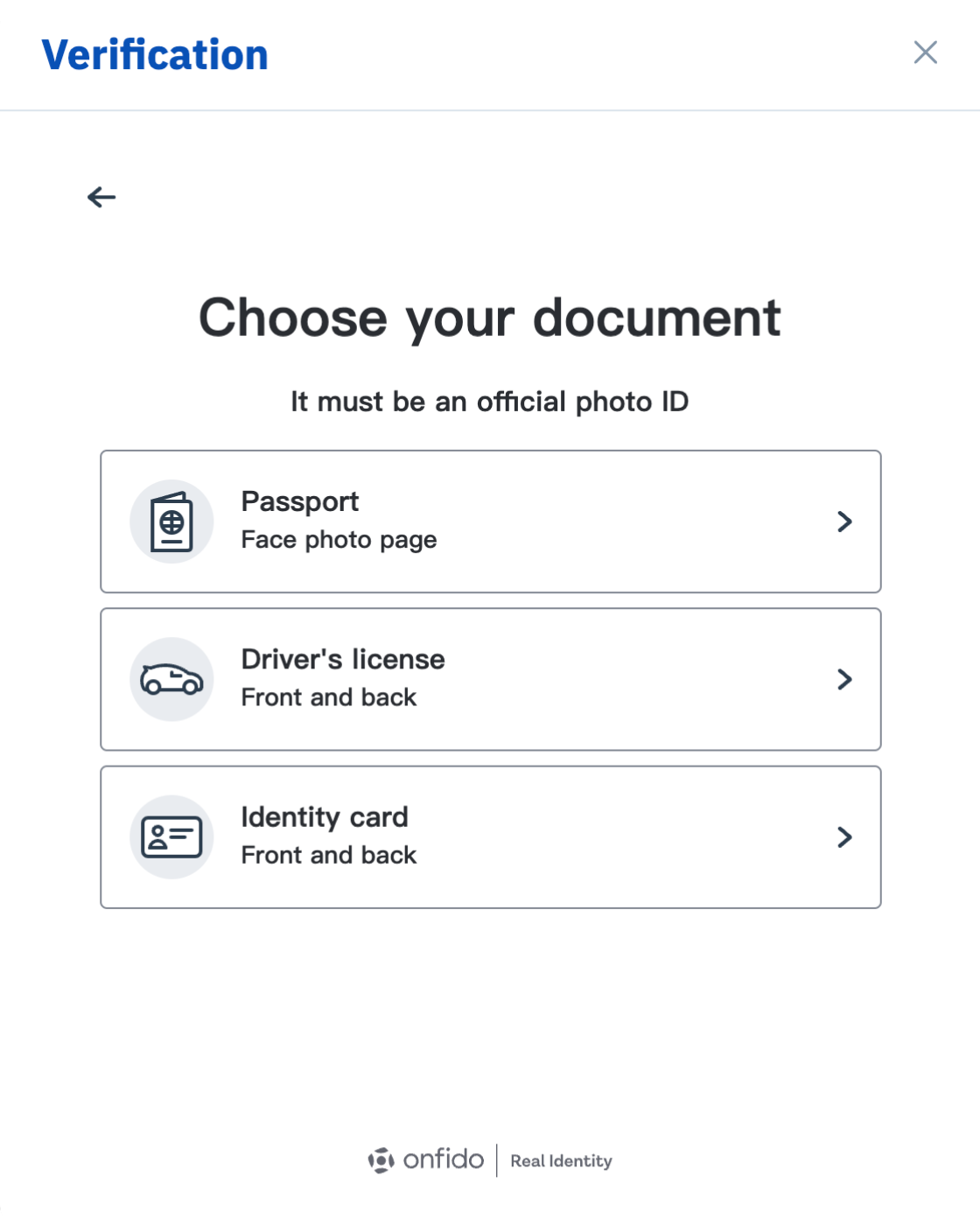 Select "Driver's license" to upload your ID images and follow the instructions to ensure all requirements are met.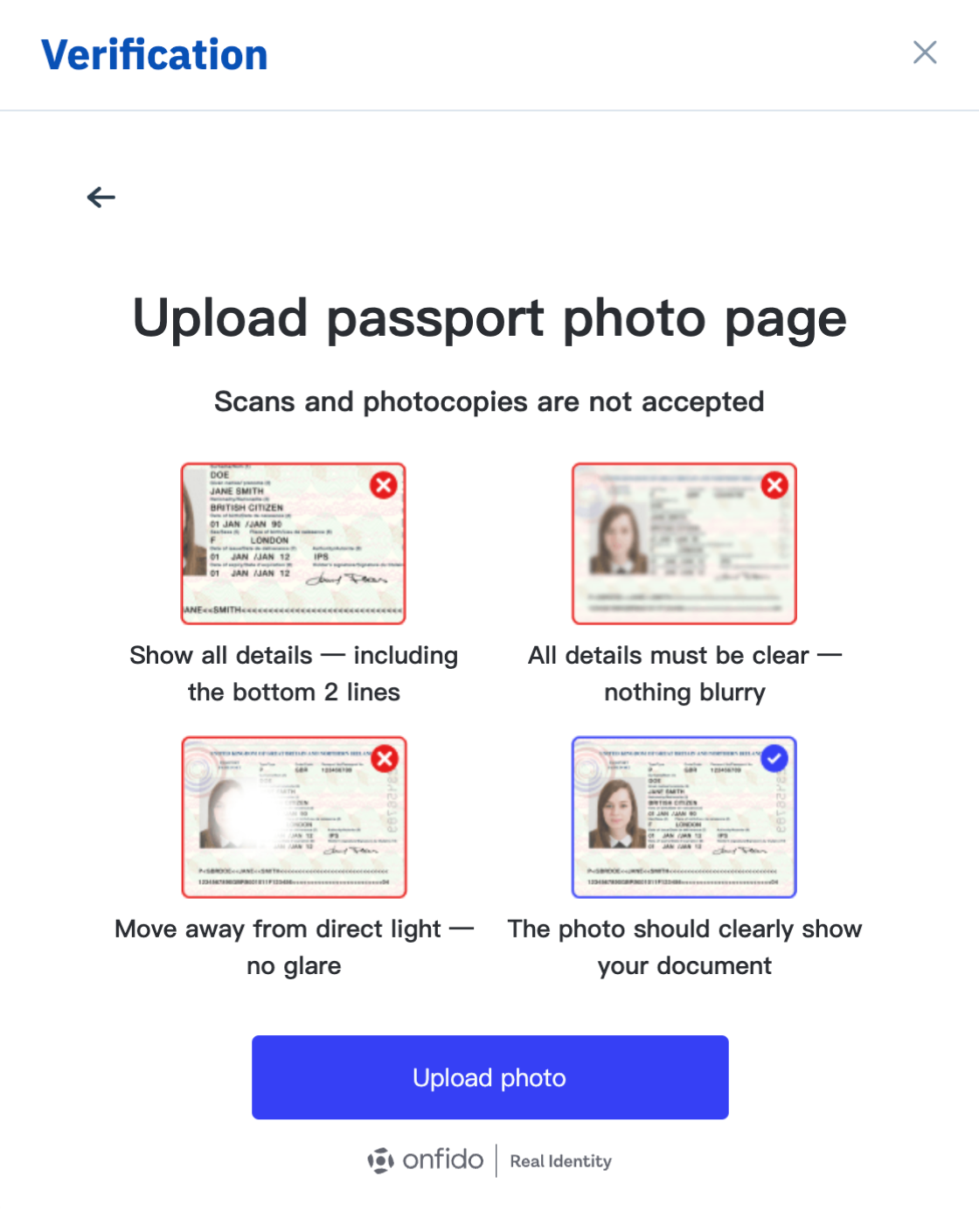 Before submitting, confirm the uploaded document images are correct and clearly legible.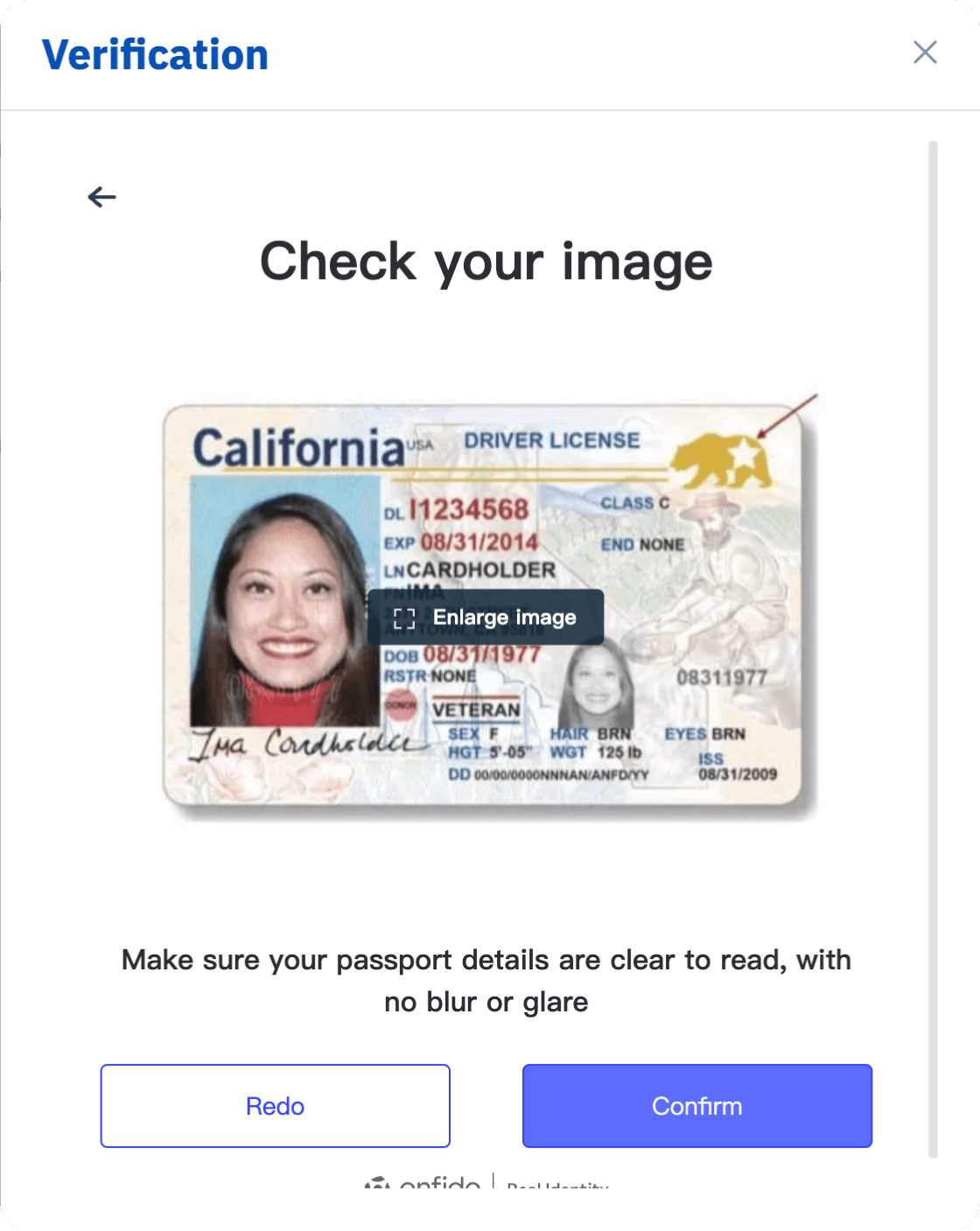 Next, you will be asked to take a selfie while holding the ID used in this process.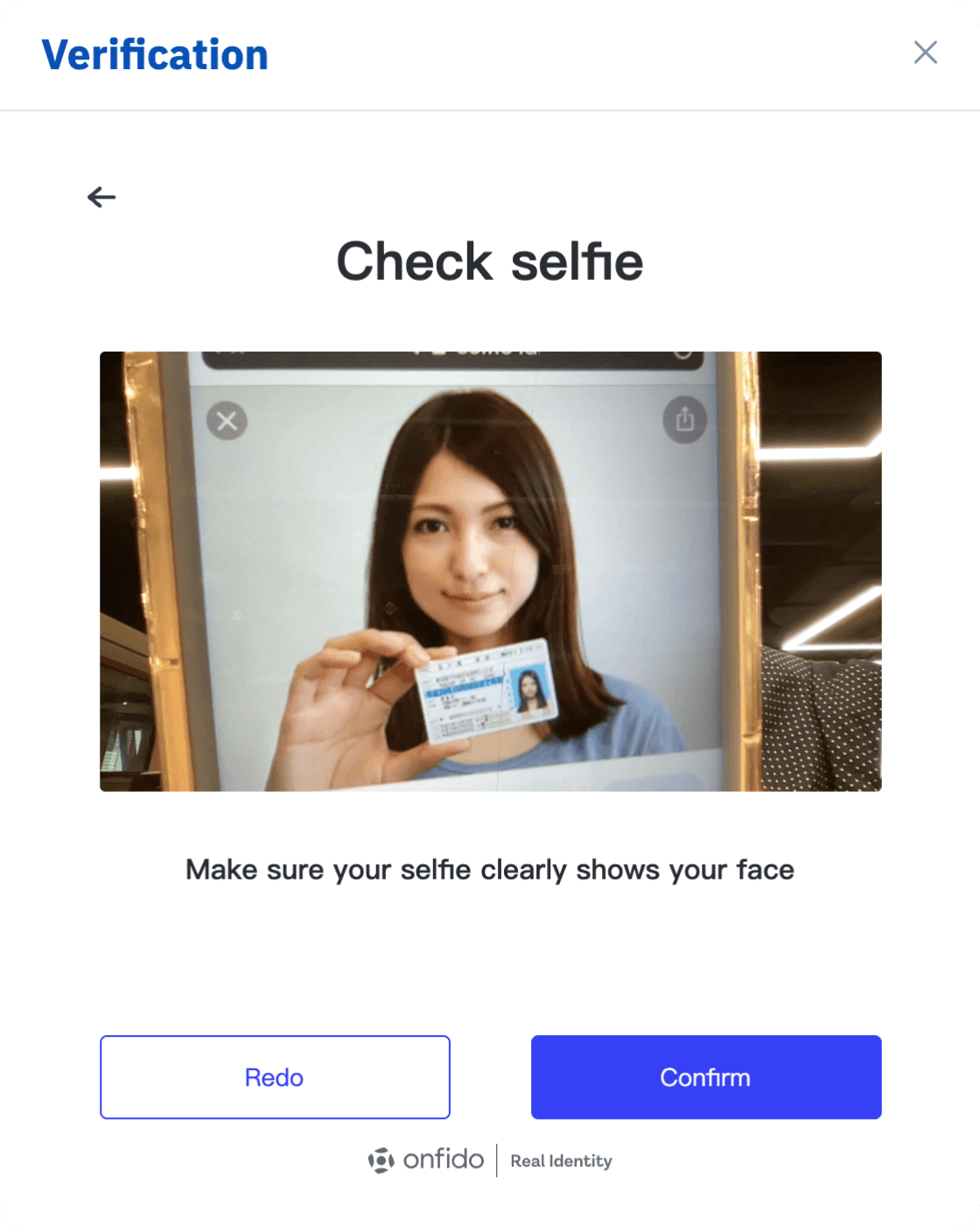 Submit the photo by clicking "Confirm" and be sure to wait for the results to be processed, which may take 5-10 minutes.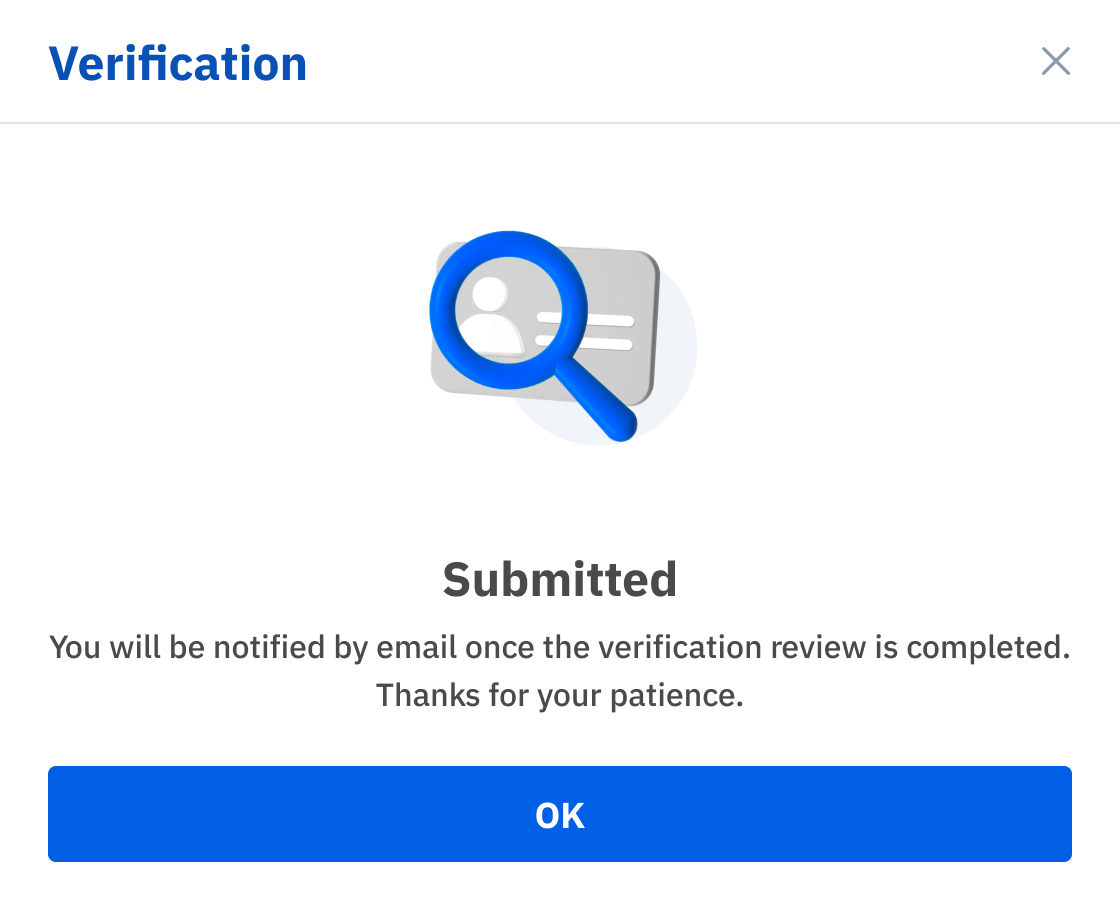 3. Proof of Address Verification – Bank Transfer
Proof of address (PoA) verification is the final step of the KYC process on BTSE. Completing this enables you to conduct bank transfers of various fiat currencies to/from BTSE. 
To start the PoA verification, go to Account > Verification and click "Verify".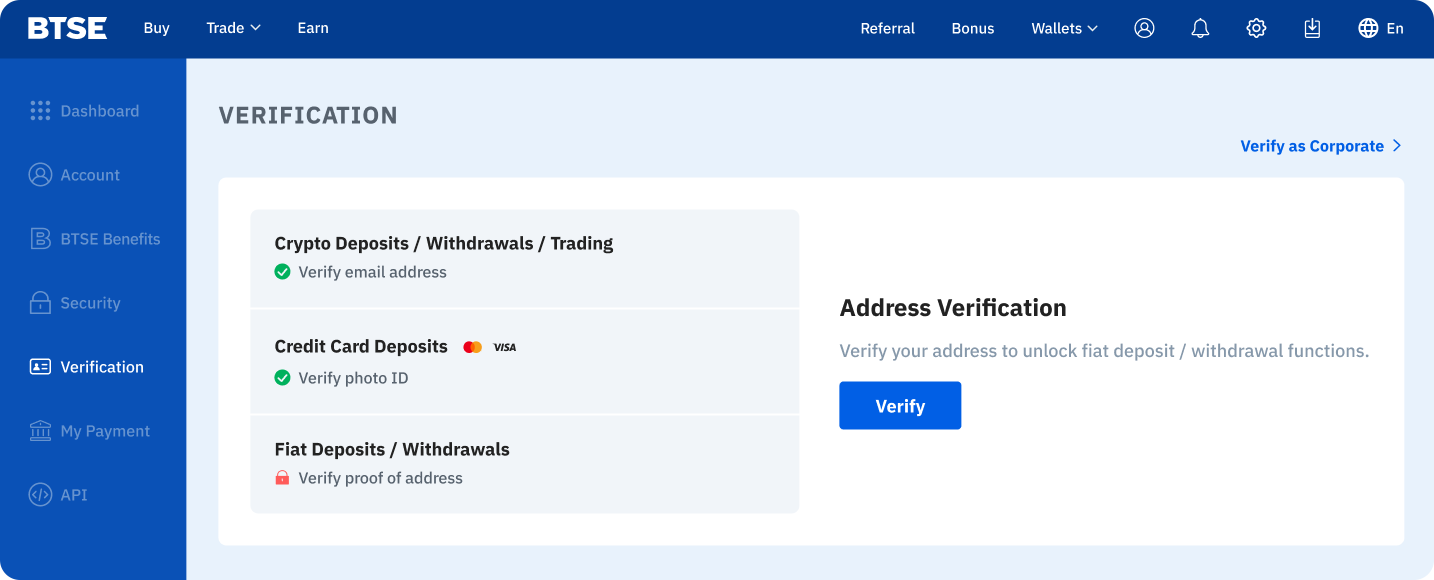 Upload your PoA documents that meet the requirements. Examples of proof of address include utility bills, credit card statements, lease agreements, and some company payslips, to name a few.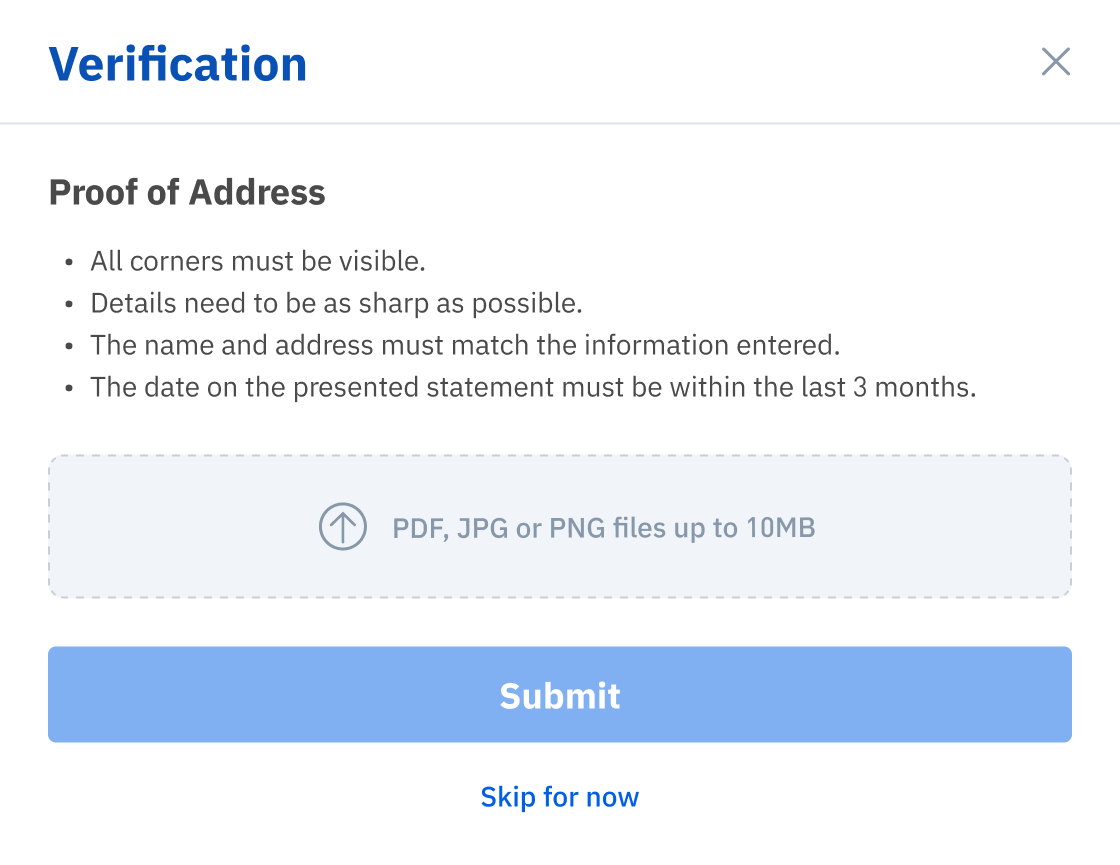 After submitting your documents, please wait for the review to be completed, which may take around 2-3 days. Once the review is completed, you will receive an email notifying you of your verification results.
At BTSE, we have streamlined the verification process to make it easier and more secure for you. It is part of our ongoing commitment to enhancing your user experience so you can trade even more confidently. 
Click here to check your verification status and complete the simple steps now!
---
Our aim is to create a platform that offers users the most enjoyable trading experience. If you have any feedback, please reach out to us at feedback@btse.com or on Twitter @BTSE_Official.
Note: BTSE Blog contents are intended solely to provide varying insights and perspectives. Unless otherwise noted, they do not represent the views of BTSE and should in no way be treated as investment advice. Markets are volatile, and trading brings rewards and risks. Trade with caution.