For new crypto investors, the flood of new information and procedures may make their first dive into Bitcoin or any other cryptocurrency feel daunting. But worry not.
BTSE is designed to provide you with various easy, secure ways to buy and trade cryptos. 
After verifying your BTSE account, you can choose to deposit fiat currencies – a dozen major currencies are available, from USD to EUR to the Indian Rupee (INR) – using credit cards or bank transfers.
With funds transferred into your BTSE wallet, you are then ready to start trading your first Bitcoin. Here are a few ways to buy your favorite cryptos on BTSE: 
Buy (OTC)
BTSE's OTC real-time inquiry provides 24/7 OTC quotes on most major tokens listed and one of the widest transaction thresholds in the industry, from USD1 to USD100,000.
This feature allows single-button inquiry for convenient and fast transactions, while the quotation is final, so there is no slippage. What's more, individuals and businesses can leverage its API for ease of use and even higher speed.
To access this feature, click the "Buy" tab on the top left corner of the home page.   

Follow these quick steps to obtain an OTC quote:
1. Select the Buy or Sell tab
2. Select the target cryptocurrency to buy/sell and settlement currency for your quote
3. Enter the size of either your target or settlement currency
4. Click "Get Buy/Sell Quote"
5. Select either "Accept Buy/Sell" to proceed if you accept the quote, or "Reject" if you want to see the next quote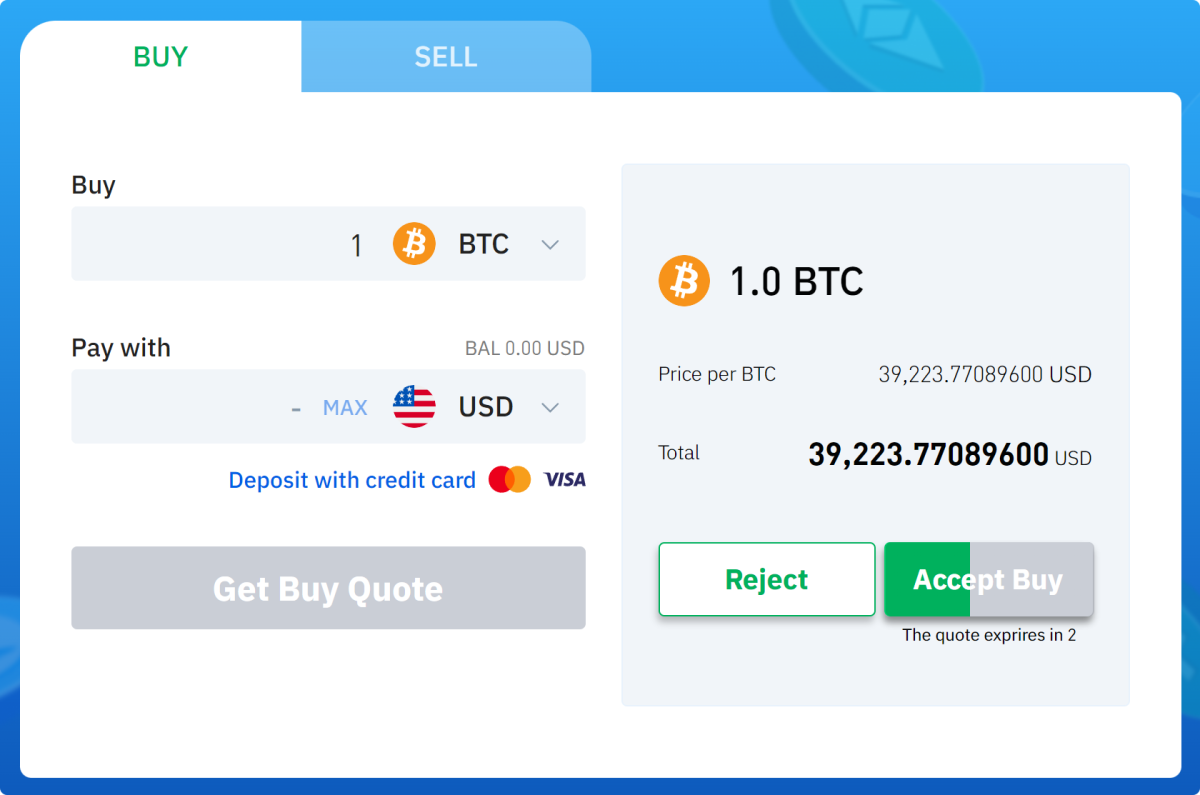 Spot
If you are familiar with stock markets, spot trading may be your go-to option when it comes to trading cryptos. BTSE's spot markets offer traders various charting functionalities and order types to ensure various trading needs are fulfilled. However, you can always start with something simple, like placing a limit or market order.
Click here for a complete guide on BTSE's spot trading.
To access BTSE's spot market, go to the Trade tab and click "Spot".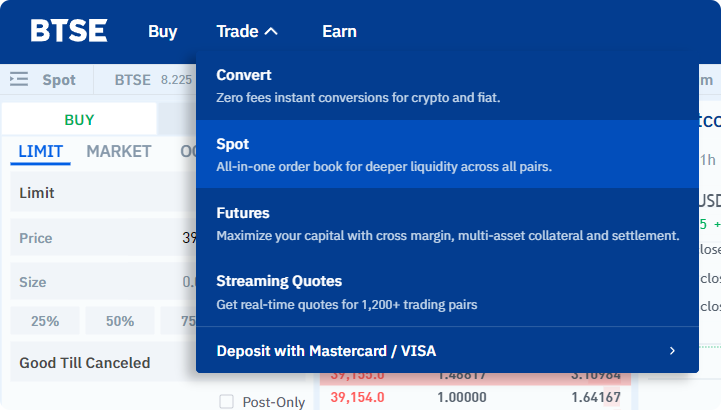 Convert
Convert is another convenient feature for users to purchase cryptocurrencies. Located under the Trade tab, Convert allows fee-free instant conversion based on the current conversion rate on BTSE and is available for the growing range of currencies supported on BTSE. Users can also convert between different fiat currencies. 
To use Convert, select your currency pair and enter the amount you want to convert. After agreeing to the conversion shown, click "Convert Now" to complete the transaction.

Streaming Quotes
BTSE offers a free streaming quotes service for OTC trading under the Trade tab, allowing instant prices updated in real-time.
Also known as real-time quote (RTQ), it is available for various trading pairs at no additional fees, providing both buy and sell prices.
To buy or sell, enter the size of the token or the amount of the quote currency you want to trade, and simply click "Buy" or "Sell" to complete the transaction.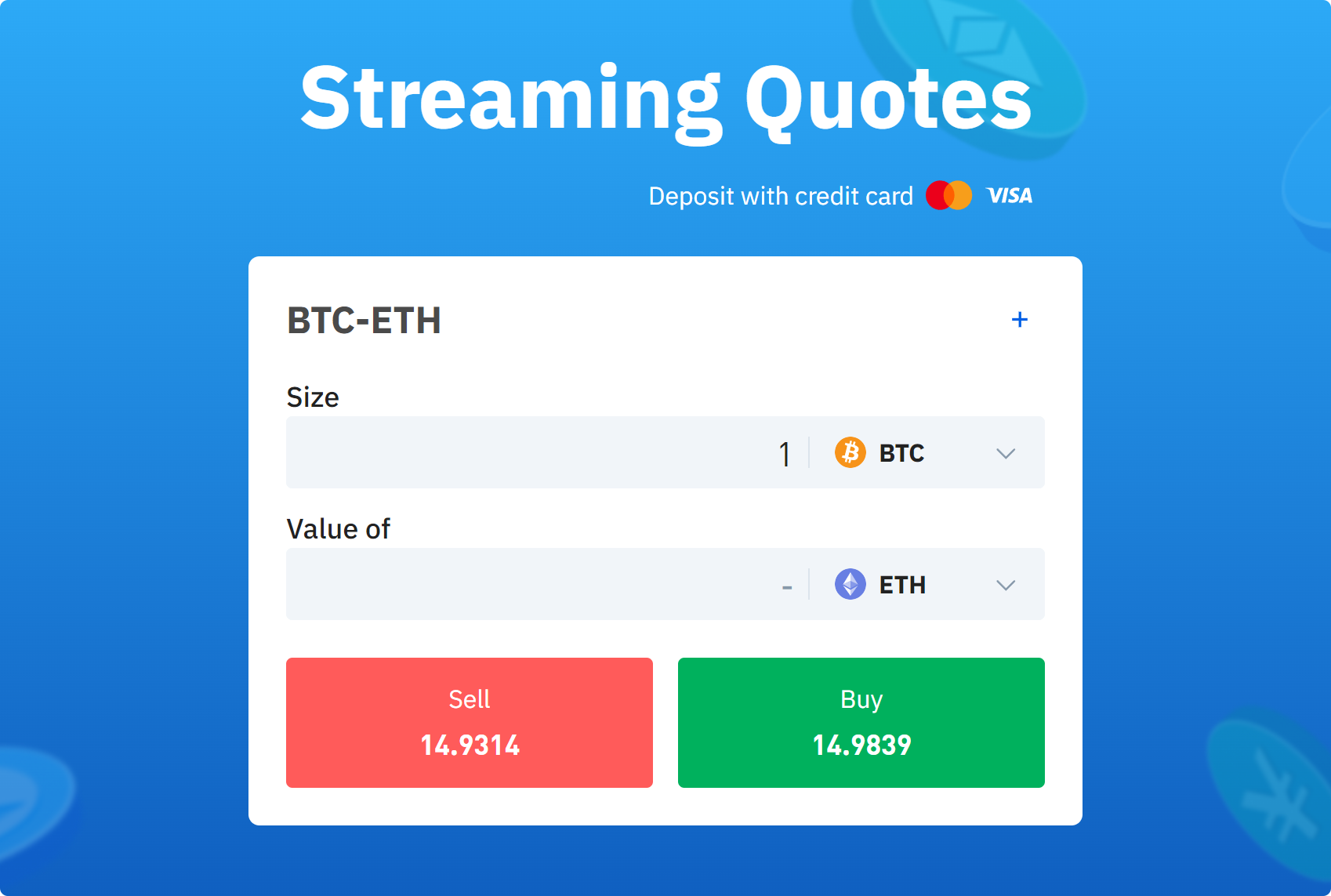 Takeaways
We understand it can be daunting for beginners to dive into the crypto world. At BTSE, we provide several options for you to trade cryptocurrencies, from something as easy as Convert to more advanced orders like spot trading. The aim is always to give you the freedom to explore those options and find the one that aligns best with your needs and strategy.
---
Our aim is to create a platform that offers users the most enjoyable trading experience. If you have any feedback, please reach out to us at feedback@btse.com or on Twitter @BTSE_Official.
Note: BTSE Blog contents are intended solely to provide varying insights and perspectives. Unless otherwise noted, they do not represent the views of BTSE and should in no way be treated as investment advice. Markets are volatile, and trading brings rewards and risks. Trade with caution.