BTSE is excited to sponsor GeckoCon 2022 to present to all event attendees a special offer – 100% APY on USDC with BTSE Earn and a chance to win 1 of 5 limited BTSE x GeckoCon 2022 The North Face winter jackets.
100% APY Rewards
Attendees can find a link through our virtual booth at GeckoCon 2022, where they can subscribe to a special Earn product titled "Warpspeed USDC" under Funds in BTSE Earn. This special offer allows users to stake between a minimum of 100 to a maximum of 1,000 USDC with 100% APY for 14 days. 
Limited Edition Merchandise and More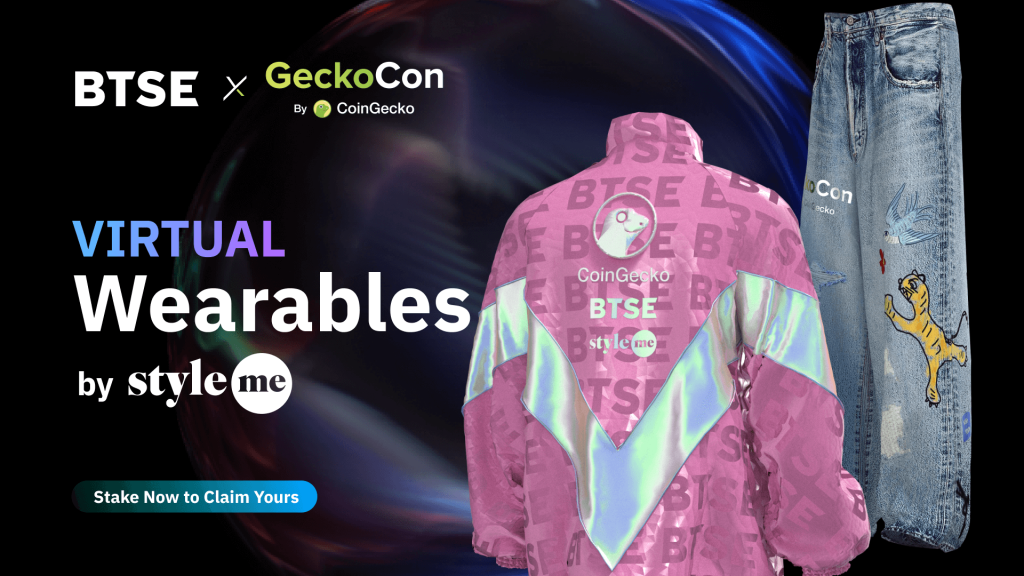 Once subscribed to the special "Warpspeed USDC" product, users will be automatically entered into a prize draw for a chance to win 1 of 5 limited BTSE x GeckoCon 2022 The North Face winter jackets. Furthermore, those who subscribed will also receive a BTSE x GeckoCon 2022 themed metaverse apparel package that is also Decentraland-compatible supported by Style.me and are invited to join Style.me's first metaverse fashion show.
To participate:
Join the event by clicking "Enter Now" at BTSE's virtual booth in GeckoCon 2022 and register for a BTSE account if you do not already have one.

Find the special offer and stake between 100 to 1,000 USDC for the duration of 14 days.

The special event will take place during GeckoCon 2022, from July 14, 2022, 9:00 EST – July 15, 2022, 15:00 EST.
Terms and Conditions
Participants must be attendees of GeckoCon 2022 to be eligible for the special offer.

Users must have an email-verified BTSE account before participating.

This event can only be accessed from BTSE's virtual booth at GeckoCon 2022.

Only USDC held in your BTSE spot wallet can be used to enter the event.

The USDC staked will be locked for 14 days after entering the event.

Only users who subscribed 100 USDC or more will be entitled to the limited BTSE X GeckoCon 2022 The North Face winter jacket prize draw.

The GeckoCon special offer can only be subscribed once and the action cannot be undone.

Multiple registrations of BTSE accounts are strictly prohibited. Users that violate this rule will be disqualified from the giveaway event.

BTSE reserves the right of final interpretation for all aspects of this event, and the right to disqualify any participant if, at BTSE's sole discretion, it reasonably believes that the participant has attempted to undermine the event's legitimate operation by cheating, deception, or other fraudulent behavior or annoys, abuses, threatens or harasses any other participants or BTSE's event administrators.

Winners of the limited BTSE x GeckoCon 2022 The North Face winter jackets will be contacted by email (the one used to register on BTSE) and may be asked to provide their name, address, and other information required for prize distribution. Please allow up to 60 days for the rewards to be distributed.
---
Our aim is to create a platform that offers users the most enjoyable trading experience. If you have any feedback, please reach out to us at feedback@btse.com or on Twitter @BTSE_Official.
Note: BTSE Blog contents are intended solely to provide varying insights and perspectives. Unless otherwise noted, they do not represent the views of BTSE and should in no way be treated as investment advice. Markets are volatile, and trading brings rewards and risks. Trade with caution.