BTSE will add IoTeX (IOTX) and IoTeX Perpetual Futures Contracts (IOTX-PERP) onto its platform on Thursday, June 29, 2023, adding to its users' selection of quality digital assets. Additionally, IOTX and IOTX-PERP will be listed on BTSE's wider ecosystem of 10+ white-label crypto exchanges, enabling better liquidity and pricing. Users will be able to trade IOTX via the IOTX/USDT and IOTX/USDC trading pairs. 
Key Dates
1. Deposits enabled: 8:00 AM (UTC) on June 27, 2023 (supported network: IoTeX)
2. Trading enabled: 8:00 AM (UTC) on June 29, 2023
3. Withdrawals enabled: 2:00 AM (UTC) on July 1, 2023
Depositing IOTX with BTSE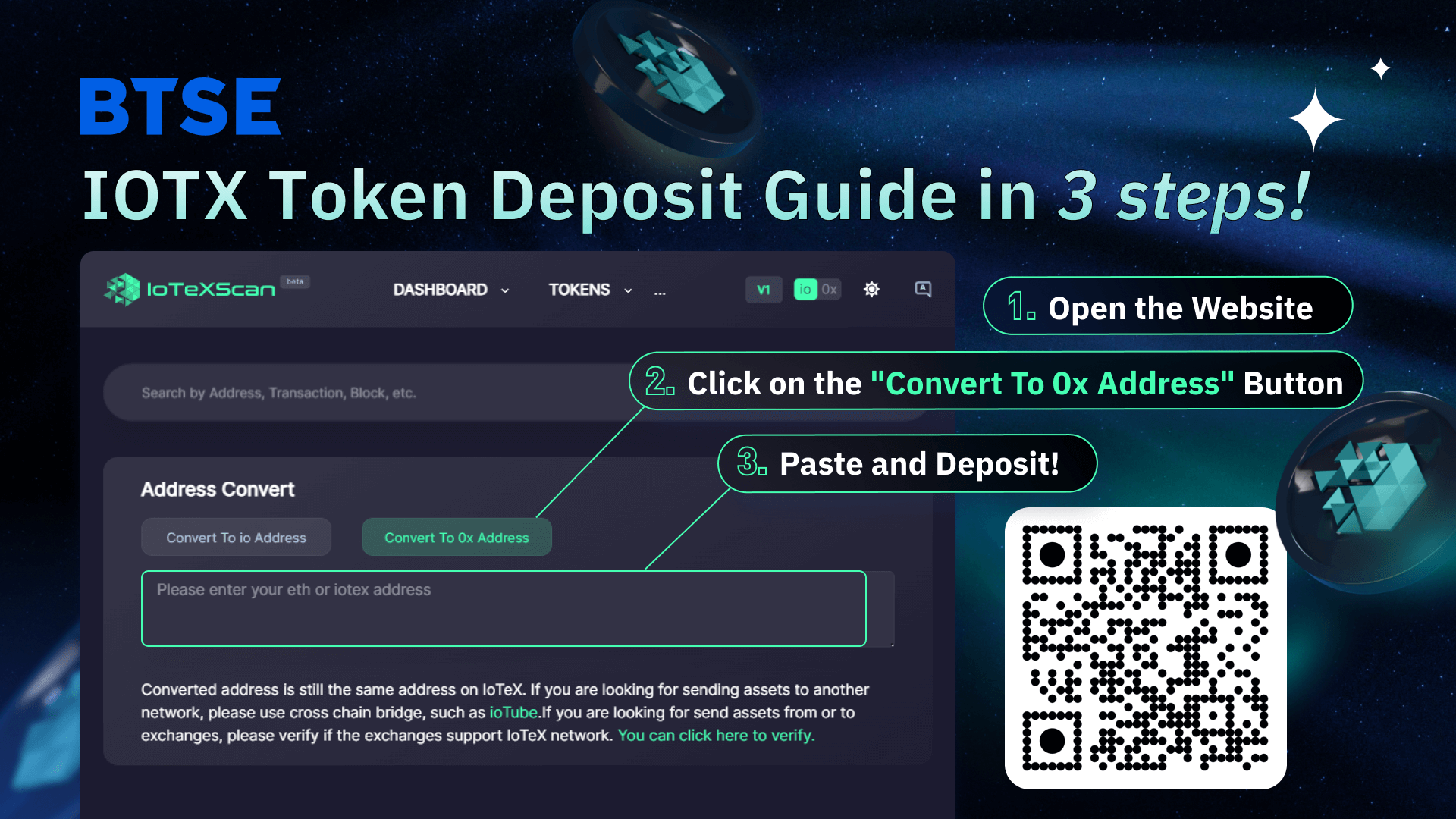 1. Navigate to: https://iotexscan.io/address-convert?format=io
2. Convert your io address to 0x address
3. Paste your new address and deposit!
IoTeX (IOTX): Creating a Connected World Through Blockchain
Market Cap: $186,556,500 (as of June 26, 2023)
Circulating Supply: 9,446,351,197 IOTX (as of June 26, 2023)
Max Supply: 10,000,000,000 IOTX
Established in 2017, IoTeX is a decentralized platform that aims to be the ecosystem for machine economics, creating a reliable space where machines and humans can interact under solid economic incentives. The team of over 40 research scientists and engineers behind IoTeX has developed their own EVM-compatible blockchain, employing a unique Roll-DPoS consensus mechanism.
Since its launch in April 2019, the blockchain, maintained by over 100 delegates worldwide, has processed over 10 million transactions. It has also facilitated the growth of EVM-based dApps given its fast, secure, and scalable nature. The IoTeX blockchain can also connect with other blockchains like Ethereum, BSC, and Heco through its own infrastructures like the ioPay wallet and the ioTube bridge.
The team behind IoTeX has designed several middleware solutions like decentralized identity, confidential computing, and secure hardware. These innovations allow for the development of self-sovereign devices such as Ucam, and real-world data oracles like Pebble.
Ucam is the world's first blockchain home security camera that provides a unique, blockchain-based security solution. Pebble, meanwhile, offers a bridge between the physical and crypto worlds, enabling innovative applications such as real-world NFTs, weather derivatives, and machine learning-as-mining.
What Traders See in IOTX
IOTX, the native token of the IoTeX blockchain, not only fuels the network but also governs its underlying blockchain protocol. It allows token holders to participate in the platform's governance, thereby playing an integral role in shaping its future. Additionally, IOTX can be staked, traded, and used to interact within the expansive ecosystem of IoTeX, encompassing a vast array of dApps, devices, and marketplaces.
Significantly, the distinctive Burn-drop economic model embedded within IoTeX leads to a steady decrease in IOTX supply as the number of devices orchestrated by the platform rises. This deflation model hints at a potential increase in the value of IOTX over time, contingent upon demand dynamics. Thus, IOTX presents a compelling proposition for traders seeking opportunities in crypto assets with robust utility and a deflationary supply mechanism.
Trade on the go — download the BTSE mobile app (iOS/Android)
---
Our aim is to create a platform that offers users the most enjoyable trading experience. If you have any feedback, please reach out to us at feedback@btse.com or on Twitter @BTSE_Official.
Note: BTSE Blog contents are intended solely to provide varying insights and perspectives. Unless otherwise noted, they do not represent the views of BTSE and should in no way be treated as investment advice. Markets are volatile, and trading brings rewards and risks. Trade with caution.