We are thrilled to unveil the Spot DCA Trading Bot, a fresh innovation from BTSE! This bot embodies a dollar-cost averaging (DCA) approach toward spot trading, enabling traders to automate the purchase or sale of a predetermined amount of assets at a specific interval.
This feature revolutionizes trading by empowering users to configure Spot DCA bots to execute transactions at an average price, mitigating the effects of market fluctuations. 
Understanding the Power of DCA
Dollar-cost averaging (DCA) is an investment technique of buying a fixed dollar amount of a particular asset on a regular schedule, regardless of the asset's price. This technique is geared toward minimizing the influence of market volatility over the aggregate asset acquisition.
For instance, rather than investing $1200 at once in Bitcoin or any other cryptocurrencies, by employing the DCA strategy, you could allocate $100 each month over the forthcoming 12 months. This method allows you to sidestep the risks associated with short-term downturns while reaping the advantages of long-term growth. 
Spot DCA Bot Defined
BTSE's Spot DCA bot is a handy tool designed to allow users to set the purchase amount, buying schedule, and selling point, thereby automating trades at predetermined intervals with the objective of accumulating profits over time.

This tool offers both novices and seasoned traders an efficient way to navigate the often volatile crypto market, capitalizing on price fluctuations without the need to constantly monitor the market. With its user-friendly interface and customizable settings, the bot provides a strategic advantage in achieving long-term investment goals.
Setting Up Your Spot DCA Bot: A Step-by-Step Guide
Step 1: Access your BTSE account, navigate to Trade > Spot > Select your preferred trading pair.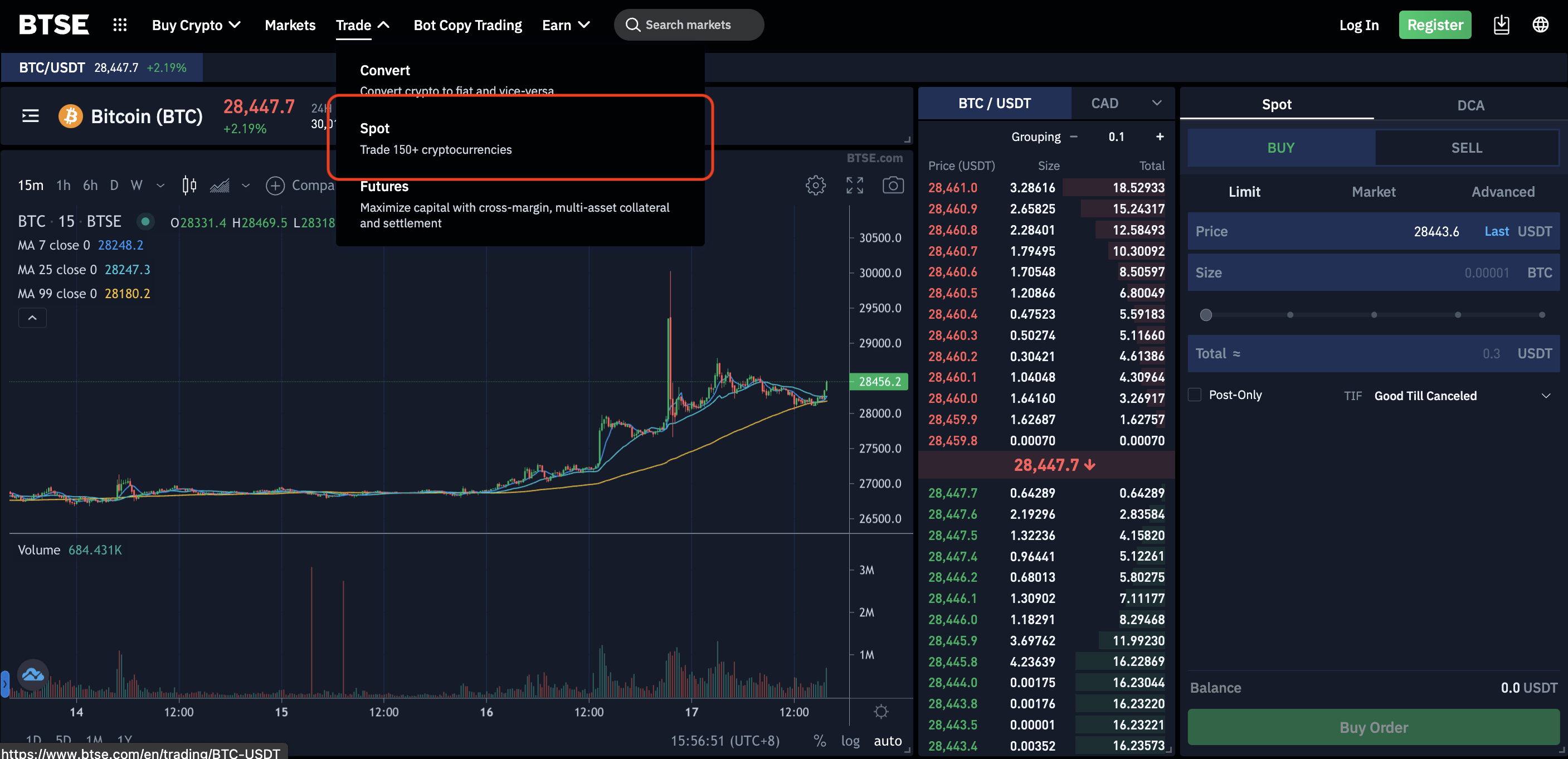 Step 2: Select "DCA" located at the top-right corner. Toggle between the "Buy" and "Sell" modes depending on whether you wish to purchase or offload a particular token.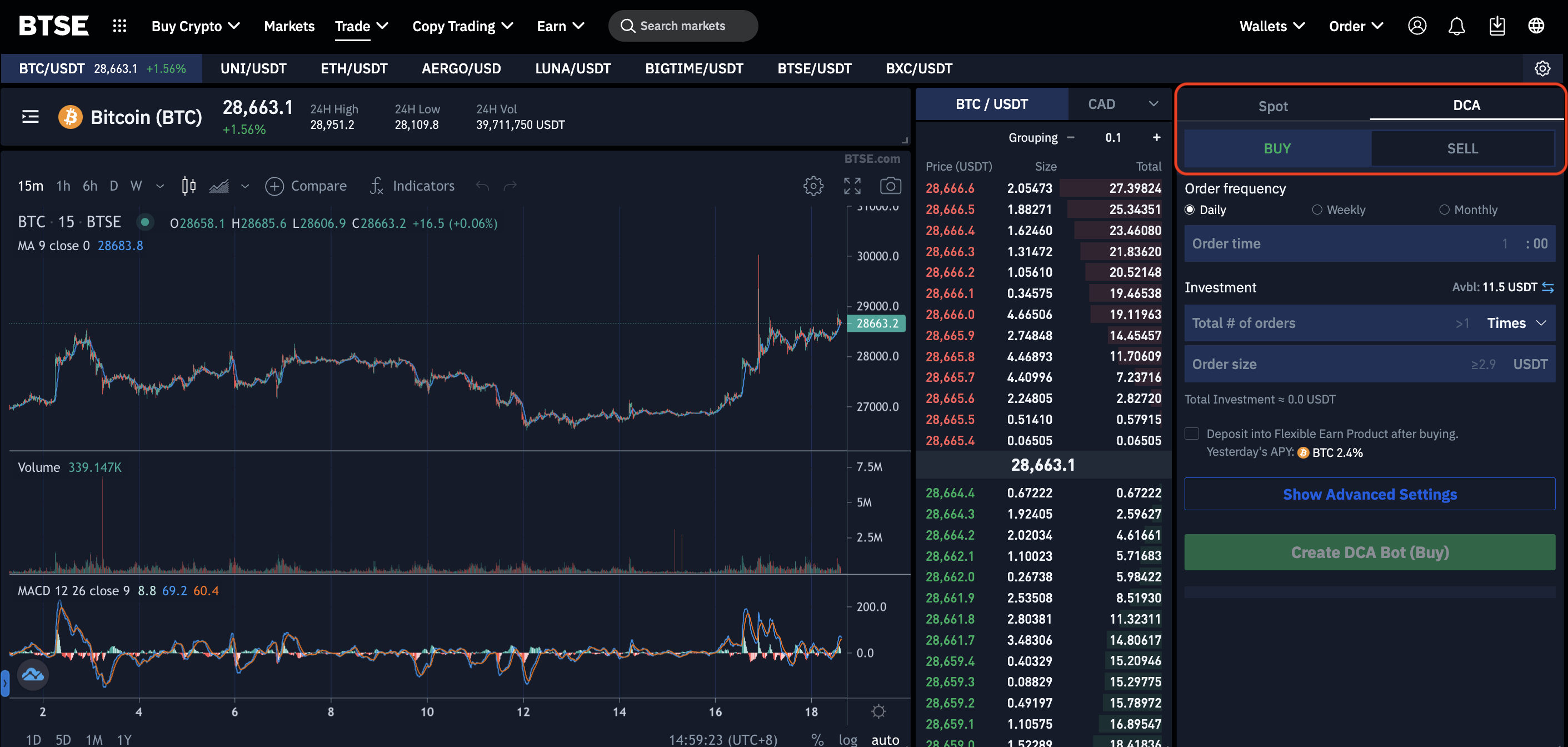 Step 3: Configure the fundamental parameters for your Spot DCA bot (e.g., Order frequency, DCA order sizes, and the maximum number of DCA orders), then hit [Create DCA Bot]. For those seeking a more tailored experience, advanced settings like slippage parameters are also accessible.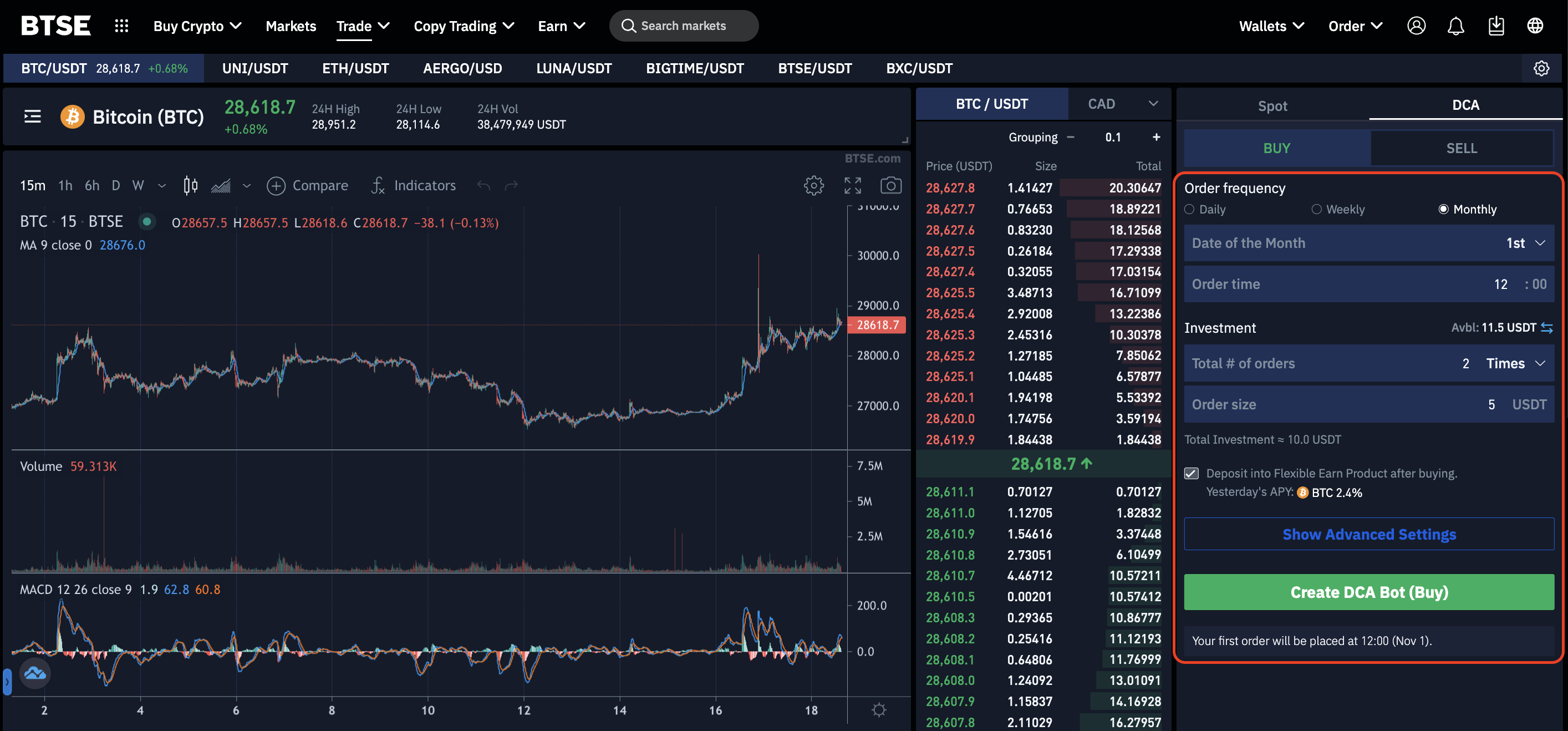 Step 4: Review the order specifics carefully before hitting [Confirm] to activate your Spot DCA bot.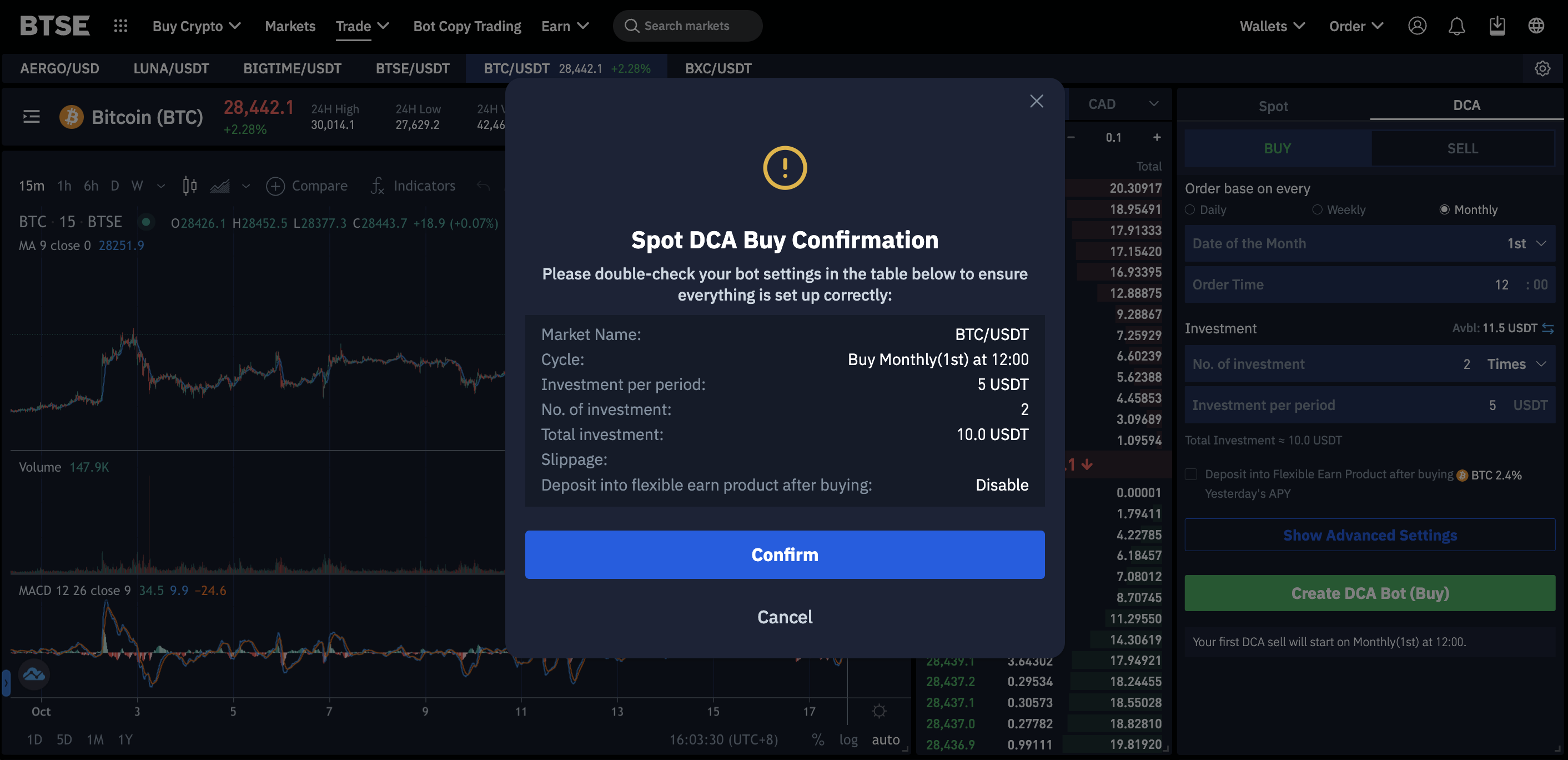 Dive into the community spirit! Not only can you subscribe to a fellow user's spot DCA bot from our vibrant Trading Bot Marketplace, but you can also showcase your own trading bot for the BTSE community to draw inspiration from! 
For more insights, please refer to our FAQ. Start your DCA journey today!
---
Our aim is to create a platform that offers users the most enjoyable trading experience. If you have any feedback, please reach out to us at feedback@btse.com or on X @BTSE_Official.
Note: BTSE Blog contents are intended solely to provide varying insights and perspectives. Unless otherwise noted, they do not represent the views of BTSE and should in no way be treated as investment advice. Markets are volatile, and trading brings rewards and risks. Trade with caution.