BTSE Futures allows users to trade crypto derivatives based on crypto futures contracts. 
This article offers a step-by-step guide to understanding how the BTSE Futures interface works and how to use all its features. 
If you want to know more about BTSE Futures, please follow the link to read our BTSE Futures tutorial. 
BTSE Futures Market Features
Let's check out the key elements that make up the BTSE Futures interface. 
1. Charts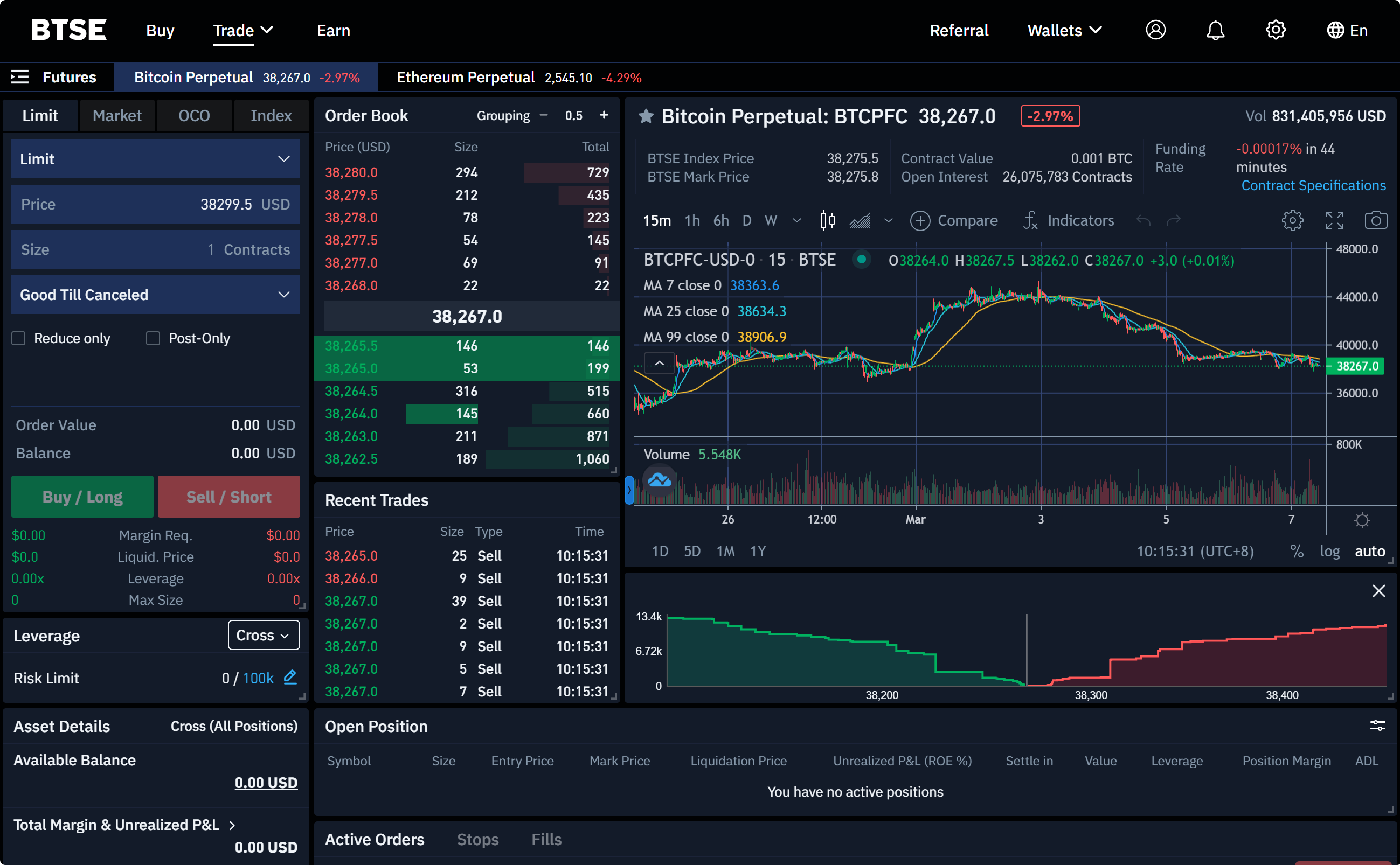 Charts show you price movements related to the asset you chose. You will be able to choose the type of chart view, whether candlesticks, line charts or other types.
You can also choose the time frame you want to analyze: 1/5/15/30 minutes, 1/4/6 hours, 1 day, 1 week, or 1 month. There's also the option to select and set your favorite time frames so you can find them more easily above the chart. 
For those who wish to better apply any specific trading strategy, technical indicators can be added directly to the chart. Moreover, you can choose to overlay charts in order to compare various assets simultaneously. 
Above the charts on the right-hand side, you will also find the funding rate for perpetual futures contracts.
2. Order book and recent trades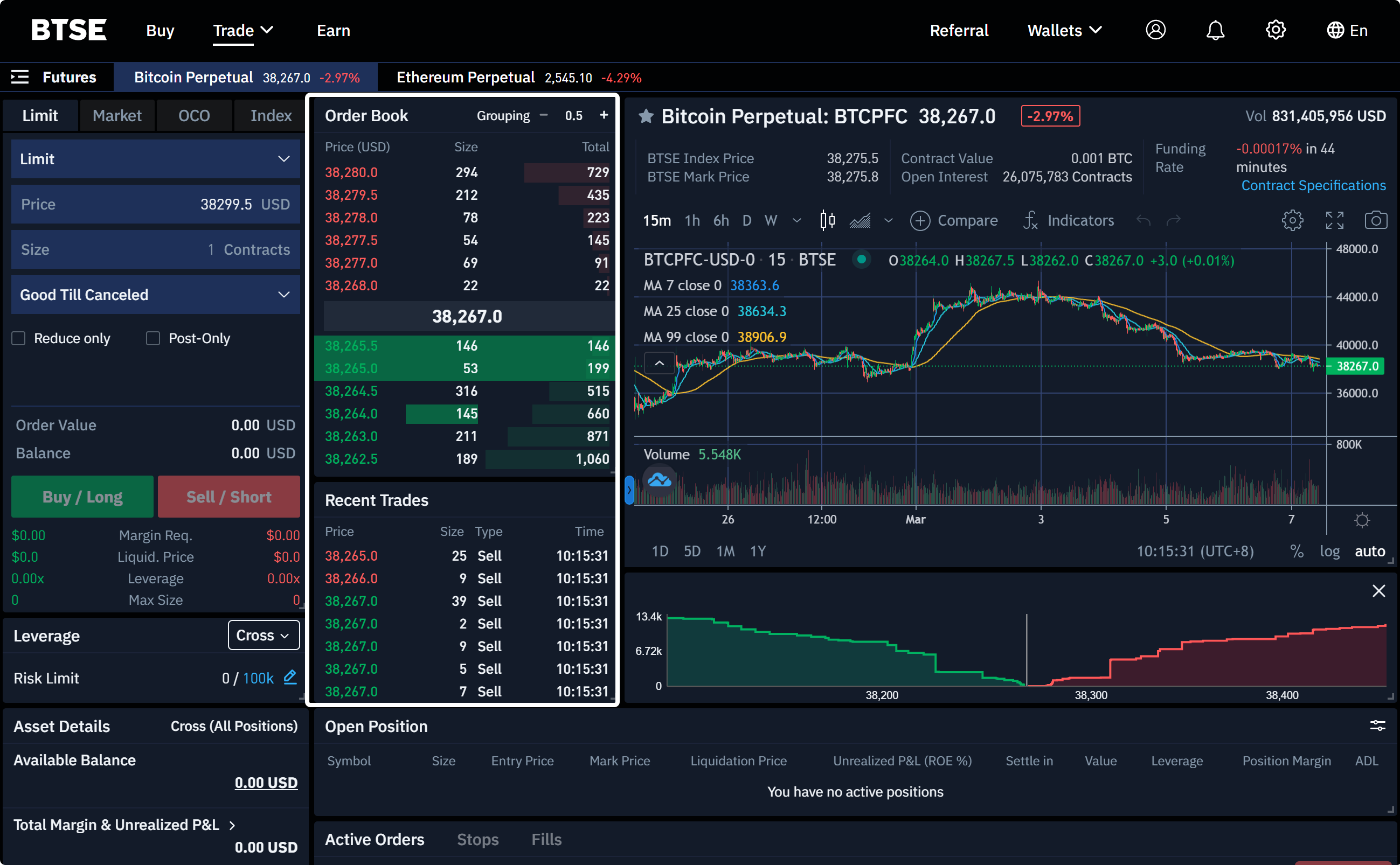 The order book shows what traders are selling and buying and at which price. 
This information is extremely useful, especially when you choose to open a limit order – helping you to understand what specific price you would want to buy or sell the contract and evaluate your opportunities and strategies. 
Under the order book, you will find the "Recent Trades" section, which will show you the latest movements covering both buy and sell orders. 
3. Order types and details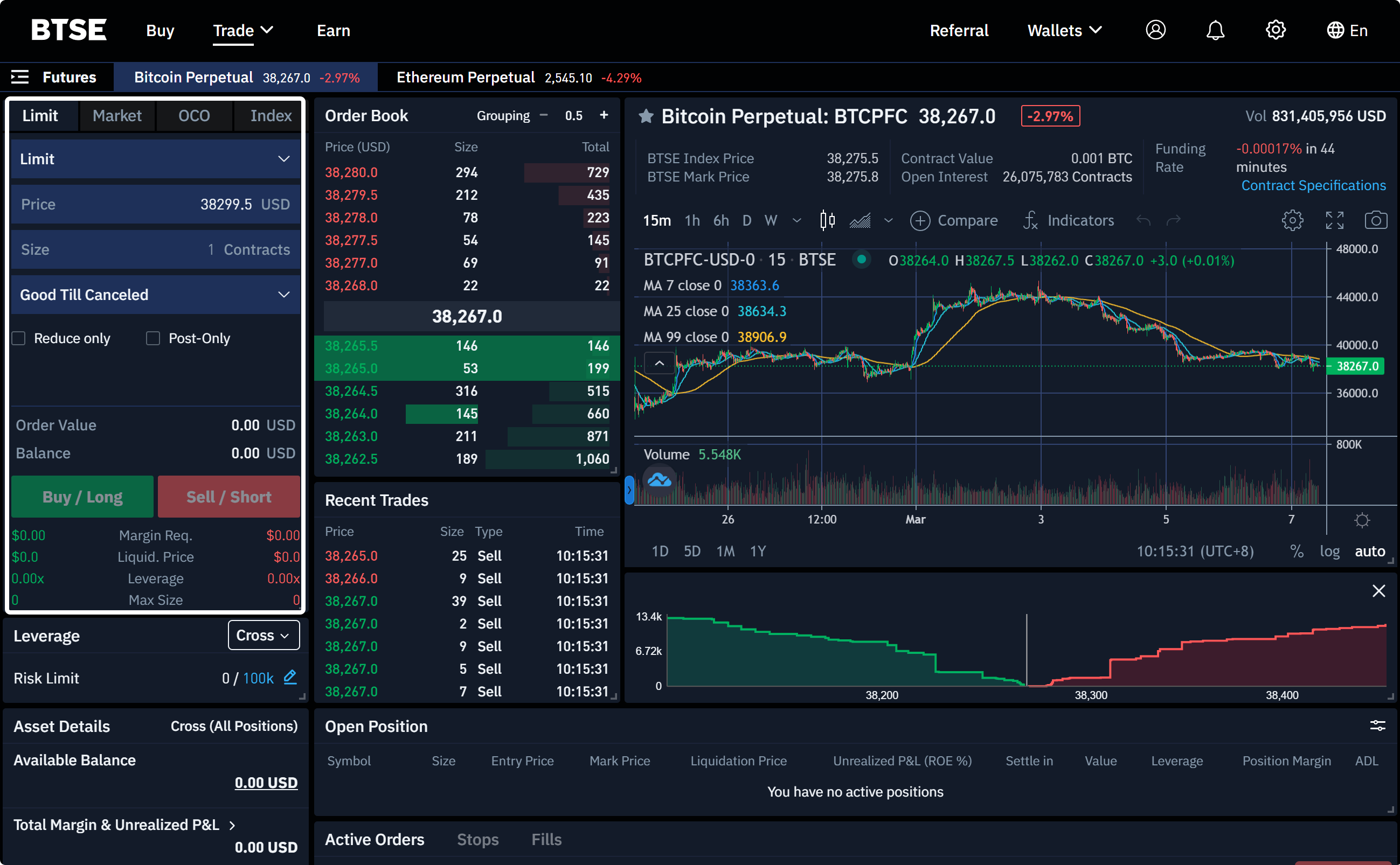 Once you choose a futures contract, you will be able to select the kind of order you want to open – limit, market, OCO, or index orders. 
For limit orders, there are a few more settings that you can make, including:
Post-only

: when you select this option your order won't execute unless it is a maker order. This means that the price you set has to be unique if you want your order to be executed. Traders select this option when they want to be sure that they are "making" the price because this allows them to pay fewer fees.




 

Reduce only

: this option allows you to decrease your position in case the price doesn't move according to your order;

Time in force

: this option allows you to set an order that will be closed – automatically or not – if it doesn't respect certain conditions. 
Now you will be able to fill order details, which would depend on the order type you chose. 
In this section, you can choose to open a long or short position. You will also see fields such as "Margin Required" – this depends on leverage, liquidation price (the price at which your position will be liquidated) – "Leverage" and "Max Size" allowed for your order.
4. Leverage, market depth and asset details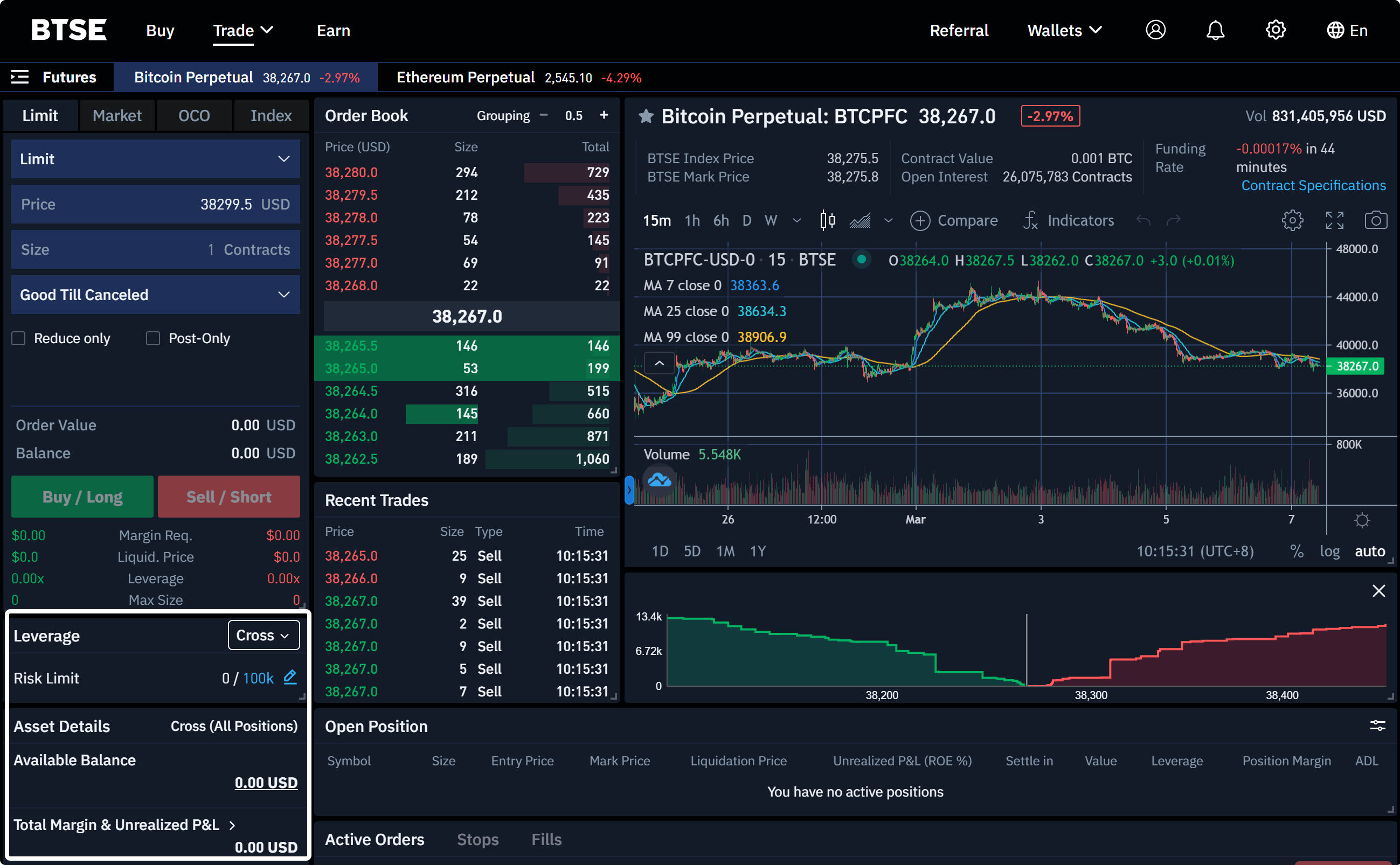 Below the section for order details, you will find three other useful elements: 
Leverage and risk limit: Leverage affects your margin level. If you do not set specific leverage, the margin available will be shared among all positions. But if you set specific leverage, then your margin is used only for this position. The risk limit represents the highest number of contracts you can hold.




 

Market depth: a visual representation of buy and sell orders that will help you to assess market liquidity.

Details: here you will find your available balance, margin, unrealized profit and loss (PnL), and the value of your wallet. 
Takeaways
As you can see, the BTSE Futures interface contains all the information you need to trade futures contracts. It also offers another particular feature – that is, allowing you to customize the layout by moving each boxed section according to your preference.
---
Our aim is to create a platform that offers users the most enjoyable trading experience. If you have any feedback, please reach out to us at feedback@btse.com or on Twitter @BTSE_Official.
Note: BTSE Blog contents are intended solely to provide varying insights and perspectives. Unless otherwise noted, they do not represent the views of BTSE and should in no way be treated as investment advice. Markets are volatile, and trading brings rewards and risks. Trade with caution.